December Studio Showcase: Mary K.
Taking a trip down memory lane can be fun...and that is just what we did when Mary K. became our December Studio Showcase winner. Mary found Stamp-n-Storage online in the early days when owner Brett Haugen was building and selling product out of his garage. Mary even came to the Haugen home to pick up her first Combo Holder. "I'm so proud to be one of his early customers" she says. Since that day, Mary has created a fun craft space just off the family room in her basement.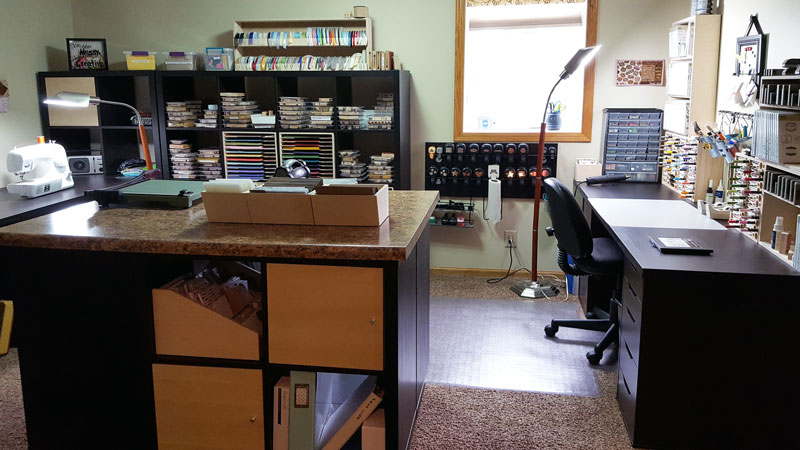 Mary uses the IKEA® Kallax furniture to store her 12x12 Paper Holders. What makes her setup unique is her 8.5x11 papers stored in the 12x12 Paper Holder with labels along the right sides. We think it's an awesome idea for organizing! "I thought the 12x12 gave me the most versatility" she says.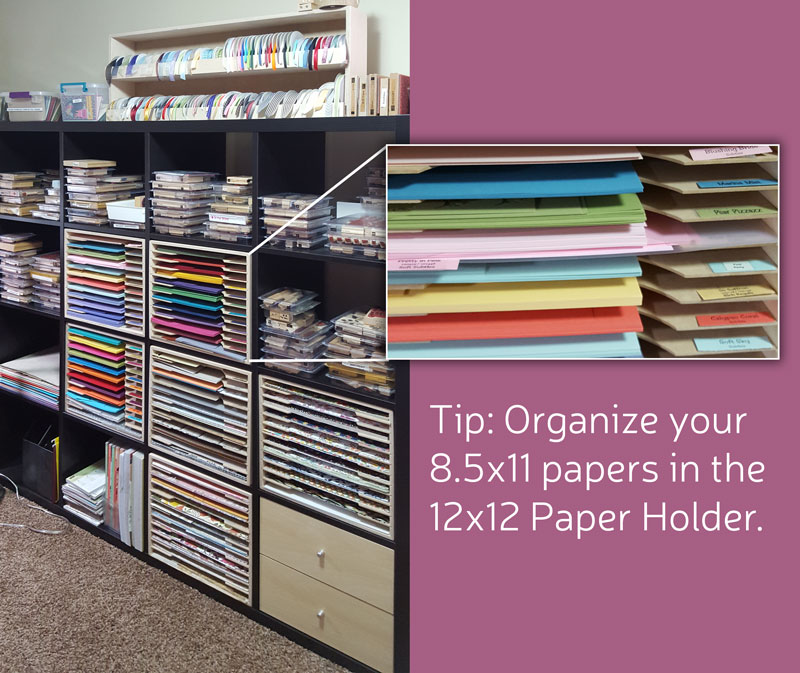 Her paper crafting desk is where all the creativity happens! Mary loves creating one of a kind cards for the special people in her life. "I have a hard time making cards without a specific person in mind" she says. With 6 children, 12 grandchildren, 8 great-grandchildren, siblings and friends there is never a shortage of cards to make! Her desk holds a 48 Combo Holder and 24 Combo Holder so her inks and markers are within an easy reach. She uses her double Stamp Case Shelf and two standard Stamp Case Shelves for storing her punches and coordinating stamp sets.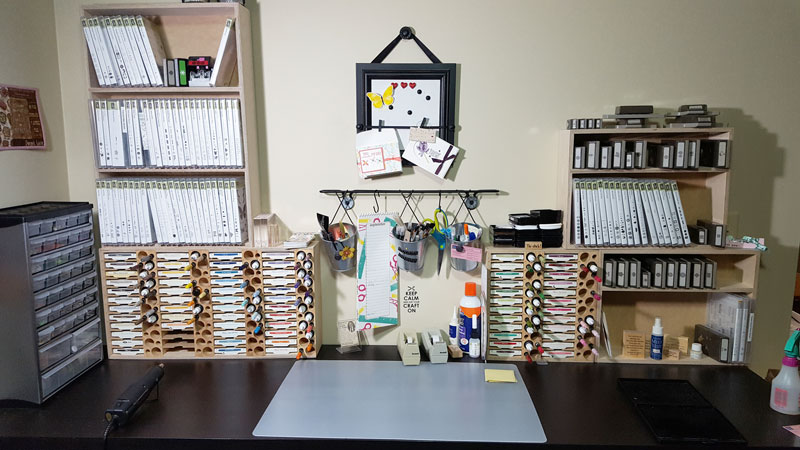 The most recent addition to Mary's craft space is her center island. It's the perfect spot for paper cutting and her BigShot and dies. Mary has two medium Wafer Die Totes and also an Embossing Tote on top. "I love the Magnet Cards" says Mary. Underneath the island she keeps her Pocket Scrapbook Holder and a 8.5x11 Paper Holder.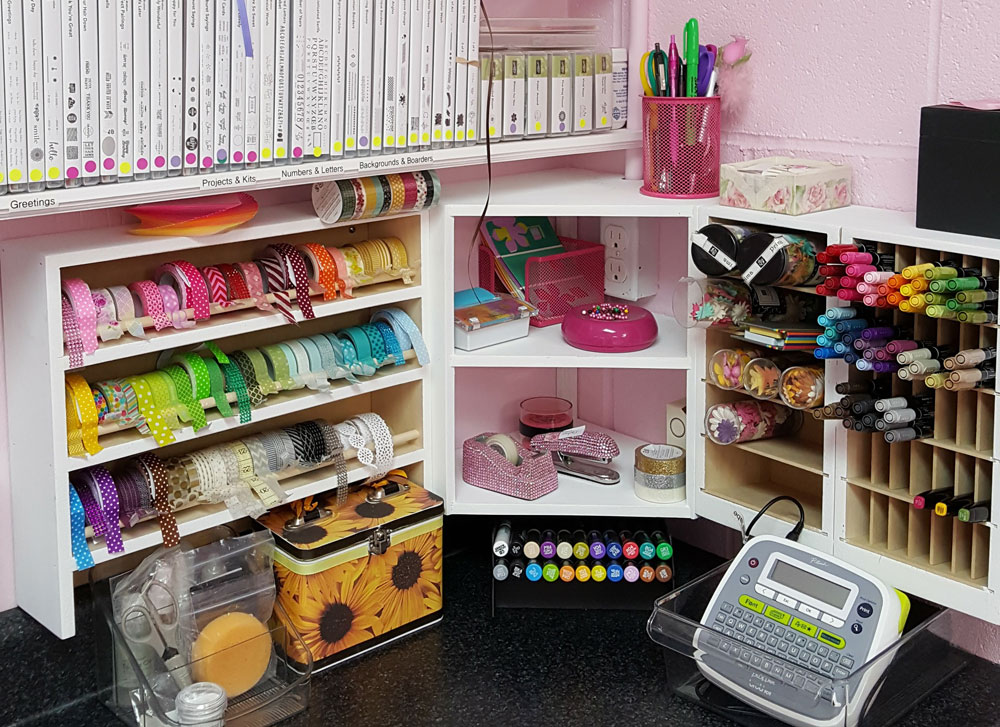 We hope you've enjoyed checking out Mary's space as much as we have! Mary also recently visited us at our warehouse sale and had a fun time with friends. "It's been fun watching the business grow. I'm so proud to be one of the early customers. Having Stamp-n-Storage products designed just for the items I use has helped me keep everything organized so I can always find what I need at the moment. It also has helped me put things away when I'm done so I can start with a new clean space" says Mary. Thanks for following us and being part of the Stamp-n-Storage family...we love the photo of you and your friends at our Warehouse sale!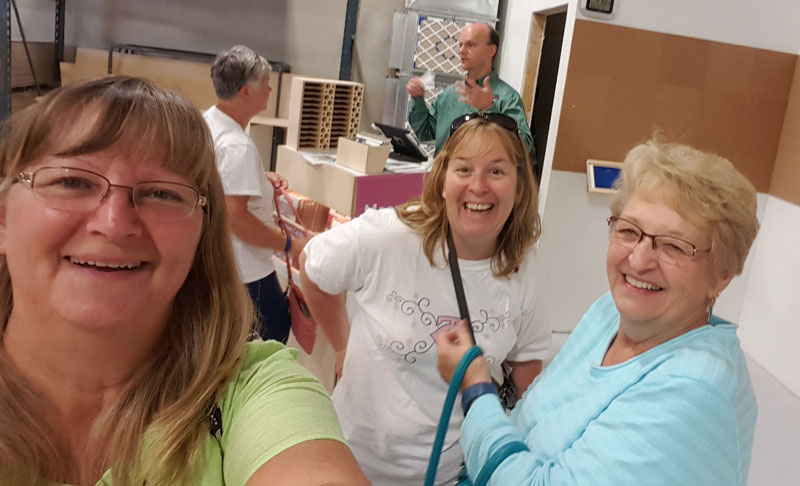 ----------------------------------------------------------------------------------------------------------------------------------------------------------
Would you like to be our next Studio Showcase winner and have the chance to receive $75 in store credit?
Here are a few hints: clean up your space, snap some photos (4 or more) from a few different angles, and include some comments about what you love about your area and your Stamp-n-Storage products. Then, you will be entered into our monthly drawing. Email your entry to: contact@stampnstorage.com.