August Studio Showcase Winner: Deneen
Our August Studio Showcase winner, Deneen, took a 9.5x10' space in her basement and transformed it into a beautiful and functional craft studio. Her space utilizes furniture she had, a few IKEA pieces, and storage solutions from Stamp-n-Storage.
Because Deneen was creating her studio from a clean slate, she used graph paper to draw out the area, making sure the layout would fit her needs. Deneen's room design was inspired by other craft rooms seen on Crafted Spaces and Pinterest.
"I thought about the things I use the most when I'm stamping and decided how best to keep them easily accessible. I know that if something is too difficult to get to, I probably won't be willing to use it!" says Deneen.
Deneen has two work areas in her space. Her main desk is height adjustable so she can choose to sit or stand during her crafting. On her desk she added the Marker Holder for Stampin' Blends and a 60 Combo Holder to organize her inks, refill bottles and markers, keeping them within arms reach.
"Stamp-n-Storage products take up very little depth on my desk and hold all of my most-used items! I love It!"
The Drawers below the desk hold stamping blocks, heat embossing tools, and miscellaneous supplies like clips or sticky notes.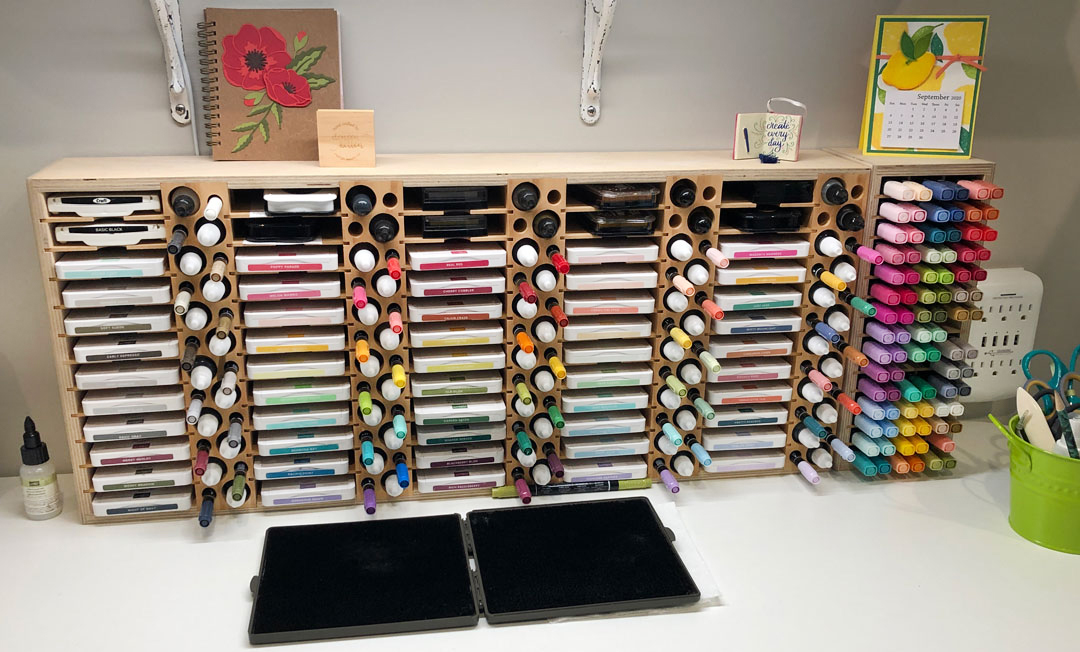 Next to the desk sits an IKEA® Kallax, where Deneen primarily organizes her paper in the 12x12 Paper Holder for IKEA®.
"I store my paper vertically so I can see them better while I'm at my desk. I like that the units can be easily turned to accommodate whatever works for you!

She added a Drawer Cabinet to the Kallax organizing sponge daubers, embellishments, embossing powders, and ribbon. She keeps each drawer labeled so she can quickly find what she needs for her project.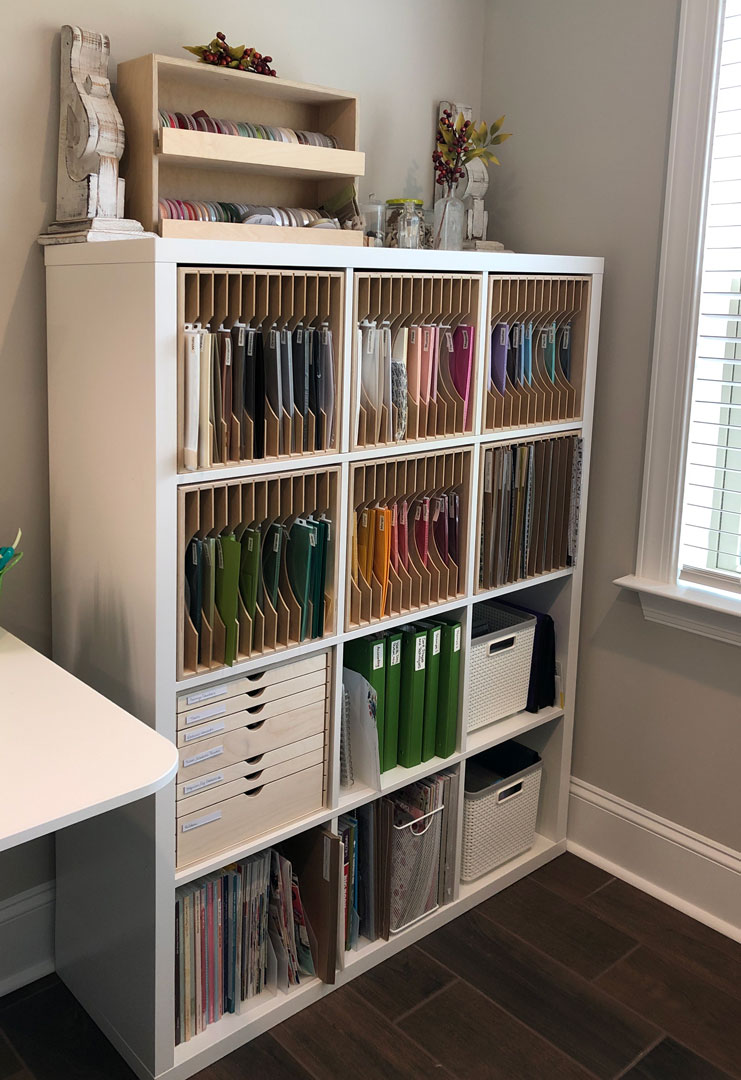 Across from the main desk is another work area used for die-cutting. Deneen has two Creative Crates to organize her dies on Stamp-n-Storage Magnet Cards.
"I store my dies in a fashion similar to my stamp sets, current in one box, and retired in another. The Magnet Cards make it easy to store them without fear of losing pieces. As soon as I get a new set of dies, I label a Magnet Card and put it in the box in alphabetical order. Super easy for workshops and personal crafting time!"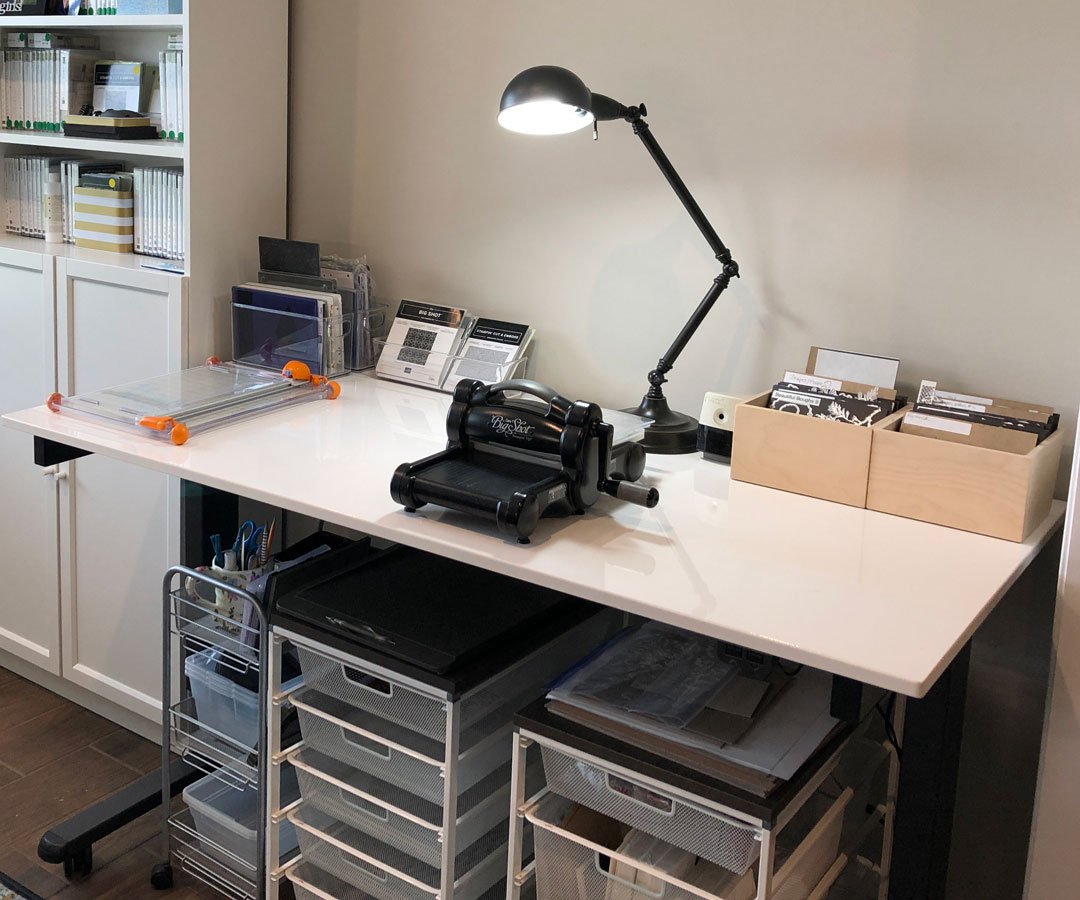 Next to her die-cutting station Deneen has a cabinet she uses to organize her stamp cases alphabetically and then broken down by current or retired. Her Lock-Down Punch Holder sits nearby, keeping her punches visible.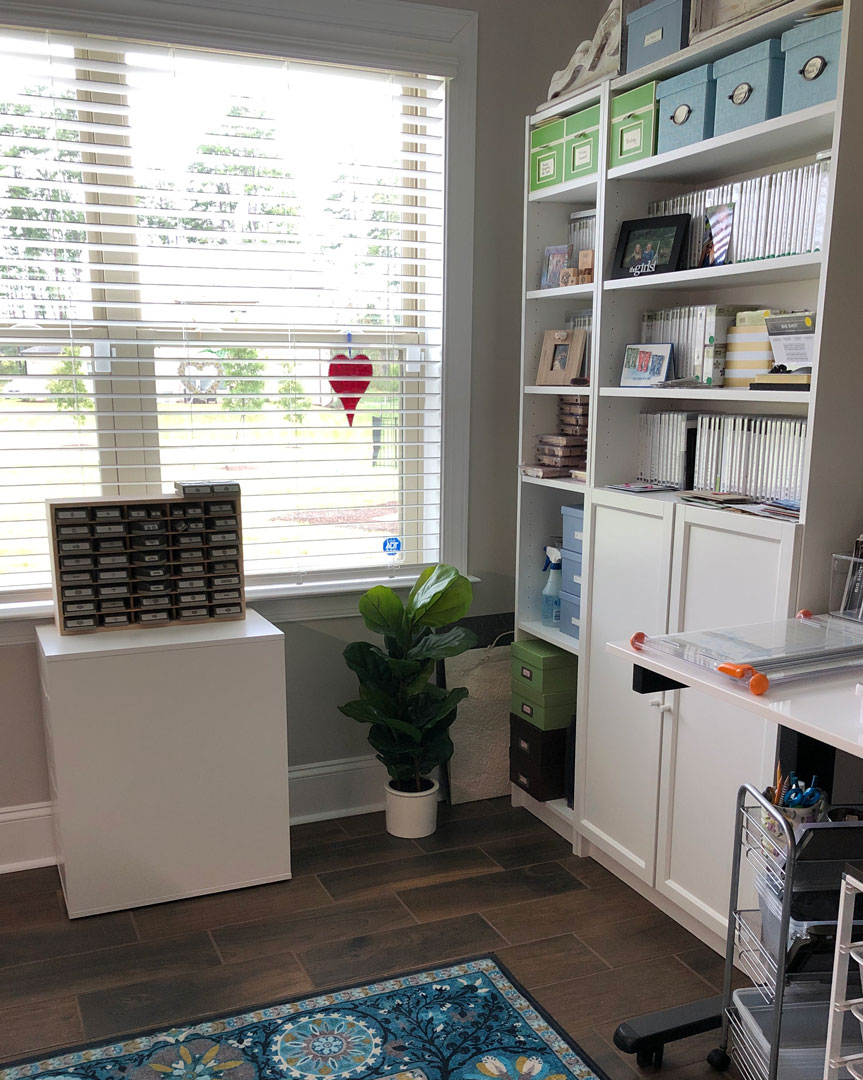 Adjacent to Deneen's craft studio is a larger space with a table she uses for hosting card workshops.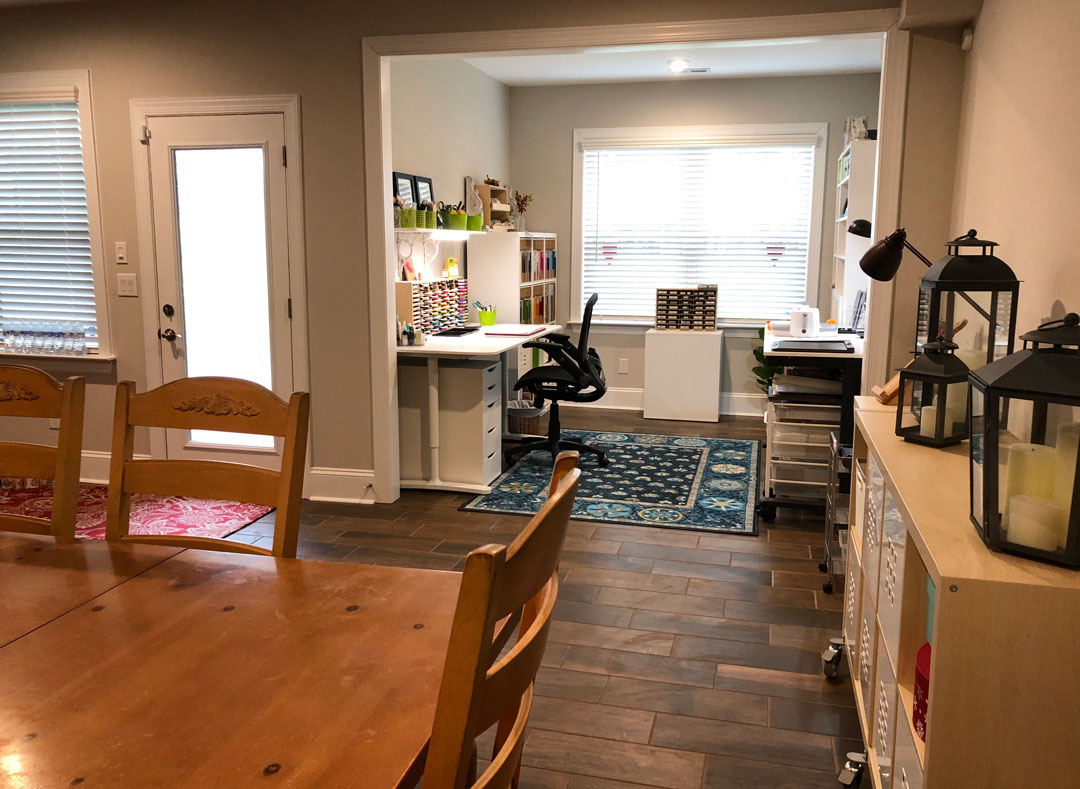 "I find that an organized craft space frees me to be creative. When I'm able to see my things easily and neatly, I am able to take the best advantage of my supplies and be creative."

---
Thanks Deneen for sharing your beautiful space with us! Would you like to be our next Studio Showcase winner and have the chance to receive $75 in-store credit?
Here are a few hints: clean up your space, snap some photos (4 or more) from a few different angles, and include some comments about what you love about your area and your Stamp-n-Storage products. Then, you will be entered into our monthly drawing. Email your entry to: contact@stampnstorage.com.