April Studio Showcase: Tina R
Tina R is our April Studio Showcase winner! She truly has one of the prettiest craft rooms that we've ever seen. The studio is very well-organized, color coordinated, and has some really cute stamp-themed decor!
Would you like to be our next Studio Showcase winner and receive $75 store credit? (Of course you do!)
Here are a few hints: clean up your space, snap some photos (4 or more) from a few different angles, and include some comments about what you love about your area. Then you will be entered into our monthly drawing. Email your entry to contact@stampnstorage.com.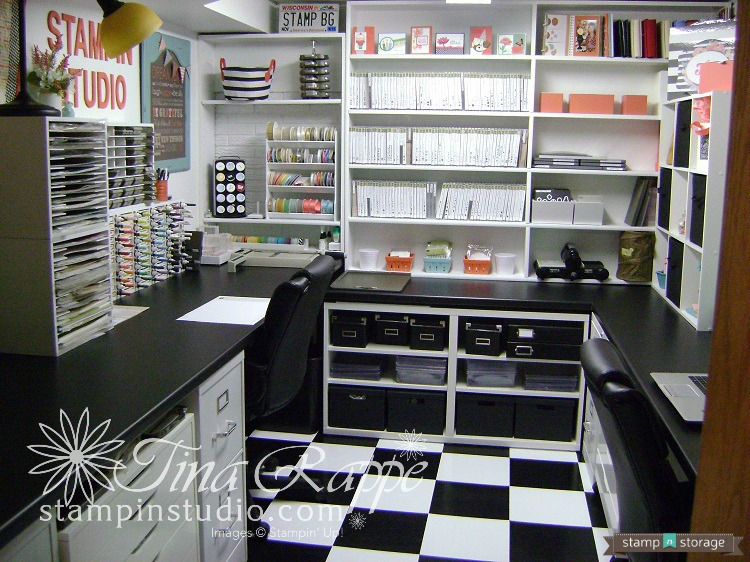 Tina's studio is in an 8'x11' room in her basement. She wanted to make the most of the space. In order to accomplish this, she painted the walls white and tiled the floors with a black and white checkerboard pattern. It gives the room a nice, clean pallet. What's great about going with the classic black and white look, is that it will always be easy for her to swap out accent colors down the road if she wants. Tina said, "I will be able to keep working with the main pieces that I've invested in making the purchase for, which makes it an even smarter choice."
The gorgeous, black counter tops go all the way around the room. It's nice that they are dark so that if any ink gets on the surface, it will remain unseen. The black counter tops rest on newly painted, white file cabinets and give the room such a fresh and clean look!
Did you notice her cute license plate on the top left shelf? We love it!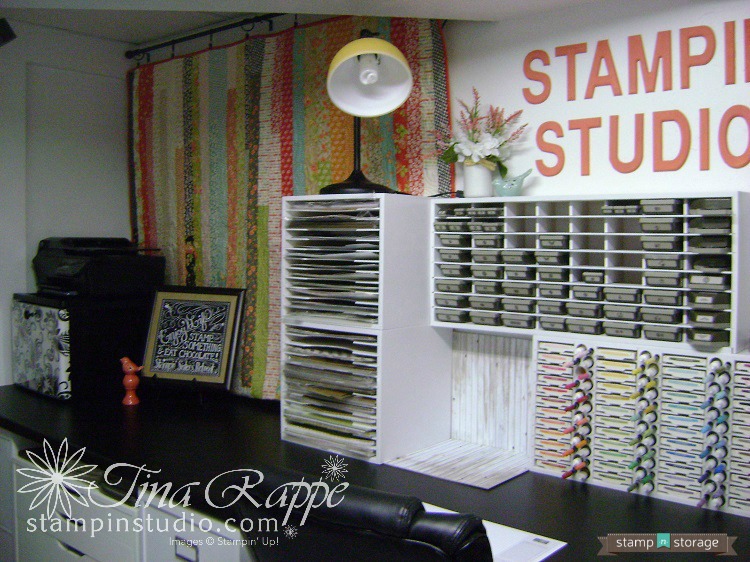 Here's her creation station. Tina says that this is where the Stampin Studio action happens! We'll share more about that below.
The sign that she created, which says "Enjoy Life. Stamp something & Eat Chocolate!" is adorable. What a nice personal touch for Tina!
Another great decor piece is the quilt that she made. It hangs to the back of the wall. She made it as a memory of Stampin' Up!'s® Founder Circle Retreat that she and her sister enjoyed attending. She has room in this area for her sister to create projects next to her. All she has to do is pull out her extra chair and her sister can join in on the fun! Isn't that sweet?
On the left are two 12x12 Paper Holders from Stamp-n-Storage. Stacked on top is the large Lock-Down Punch Holder. Did you notice that Tina stores her lock-down punches upside down so she can easily see the labels on the punches?
Below, you can see a 60 Combo Holder. She stores the current 48 Stampin' Up!® ink colors, as well as Memento™ Inks, StazOn® Inks, and VersaMark™ inks in the last column of the Combo Holder. Tina enjoys sorting her inks by rainbow color instead of by color family.
The area between the Lock-Down Punch Holder and the Combo Holder is where she takes photos of her cards for her blog. Isn't that so creative? The backdrop is made from paper that she attached to sturdy cardboard. When she needs more space on her counter top, it can be easily lifted up and removed.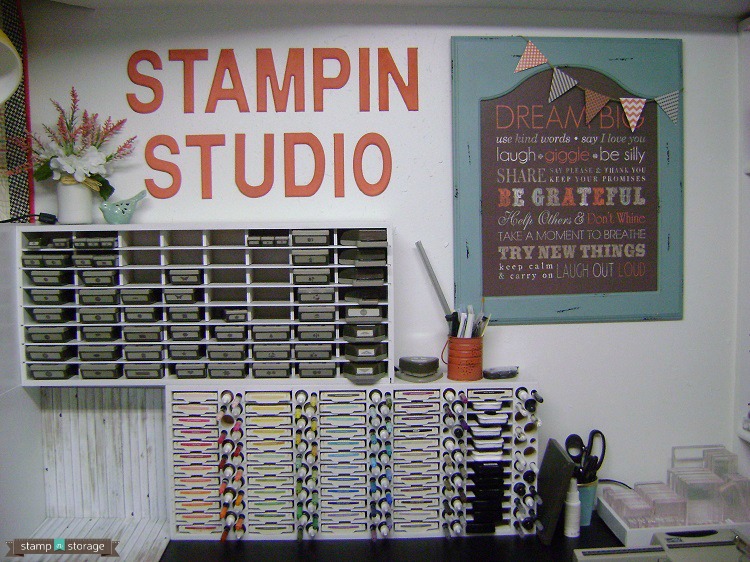 We love her inspirational sign that's next to the Stamp-n-Storage Lock-Down Punch Holder and 60 Combo Holder! It really fits the style of her room so well! (We have the same one in our Stamp-n-Storage office!)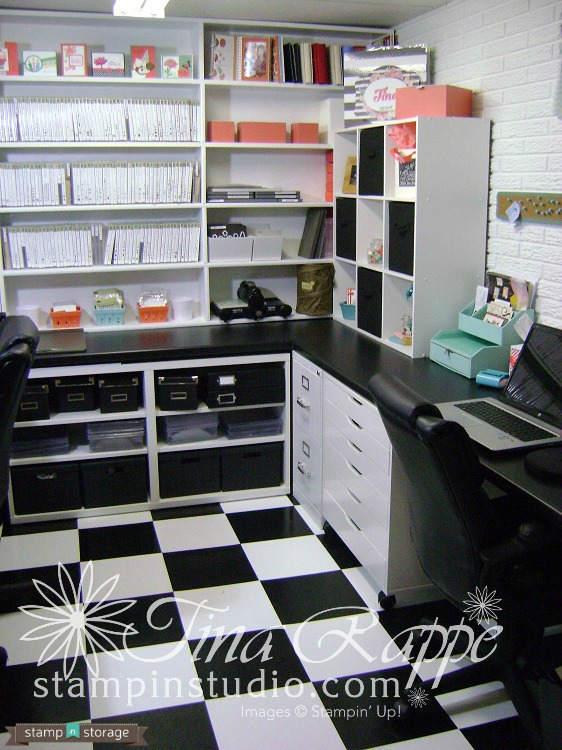 All of her current stamp sets are on the open shelves in the back wall. We love the card display area that she has at the top, as well as the cute baskets on the bottom shelf where she stores various embellishments.
On the right shelf is her Big Shot station area. Tina is able to easily access what she needs because everything is in an arm's reach and extremely organized. She has the small Stamp-n-Storage Embossing Folder Tote and the medium Wafer Die Tote with labeled Magnet Cards inside. Tina's totes look great spray painted white!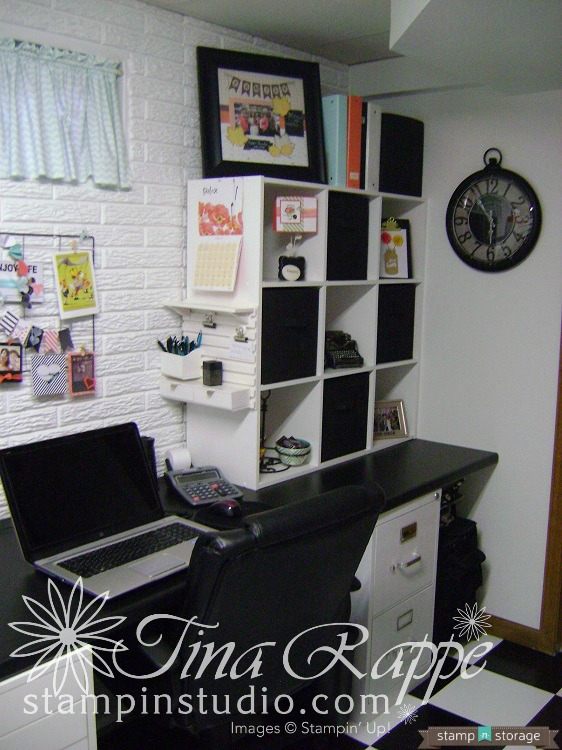 Here's another great part of the room. It's where Tina is able to place orders for her customers and blog for stampinstudio.com on her computer. She also is able to display some of her favorite photos and things in her display shelf next to her. (Watch her tour of the studio HERE!)
Here's what Tina told us, "For years I've dreamed about a pretty, organized, and functional stamp room. Being from a family of DIY fanatics, I wanted to do it myself and make it my own with the help of some very functional pieces. Back in November, during the planning stages of my Stampin' Studio, I purchased some Stamp-n-Storage items. I spent quite a few months moving them around to different areas of my room trying to decide how I best liked to work with them. What I love most about these pieces are that they are so compact and stream line, and I love the fact that they are modular so I can line them or stack them in any configurations I need."
We're overjoyed that Tina has the craft room of her dreams! It's sure to be enjoyed for years to come.