Touched Hearts: Barbara's Journey
Paper crafting is often about encouraging and inspiring others. Scrapbooks are created to cherish a memory, cards are made to touch someone's heart. Recently we heard the story of Barbara Miller and how paper crafting also provided healing, both emotional and physical. We were inspired by her journey and wanted to share it with all of you!

In 1995 Barbara and her husband Roy had five kids between them and four foster kids. Life was busy! Barbara was driving between kid sporting events when involved in a terrible head-on collision. She had lost 50% of her blood by the time she reached the hospital. Due to the seriousness of her injuries, she was flight lifted to a trauma hospital. Her family was told she probably wouldn't survive the trip. Barbara's right hand had been completely severed, she had seven broken ribs, a crushed right heel, a broken collarbone and broken knees. Six out of seven surgeons felt operating would still end in a loss. The seventh surgeon said he would operate even with the high potential she wouldn't make it. "I had an amazing surgeon, but God was in there too" says Barbara. Twelve hours later, Barbara would leave the operating room still alive and with her hand reattached. She spent three months in hospital care before continuing her journey home. "I was told I probably wouldn't walk again or regain use of my right hand...but God had a plan" Barbara says.

Barbara and Roy were sponsoring a few kids at a children's home after the accident. Roy knew Barbara would enjoy writing notes to the kids, so he went out and purchased blank cards for her. Around this same time he employed a young woman named Ada Marie to stay with Barbara while he was at work. She helped the family by doing laundry and some house cleaning. Ada Marie noticed Barbara writing notes to the kids and thought she would enjoy making the cards as well. She was the first person to introduce Barbara to stamping. From that first day when Ada Marie brought over her stamps Barbara was hooked. "I still have the first stamp I used, it was a tea set" says Barbara. Making cards became the therapy that would help Barbara slowly regain use of her right hand! Barbara knows Ada Marie was a gift from God.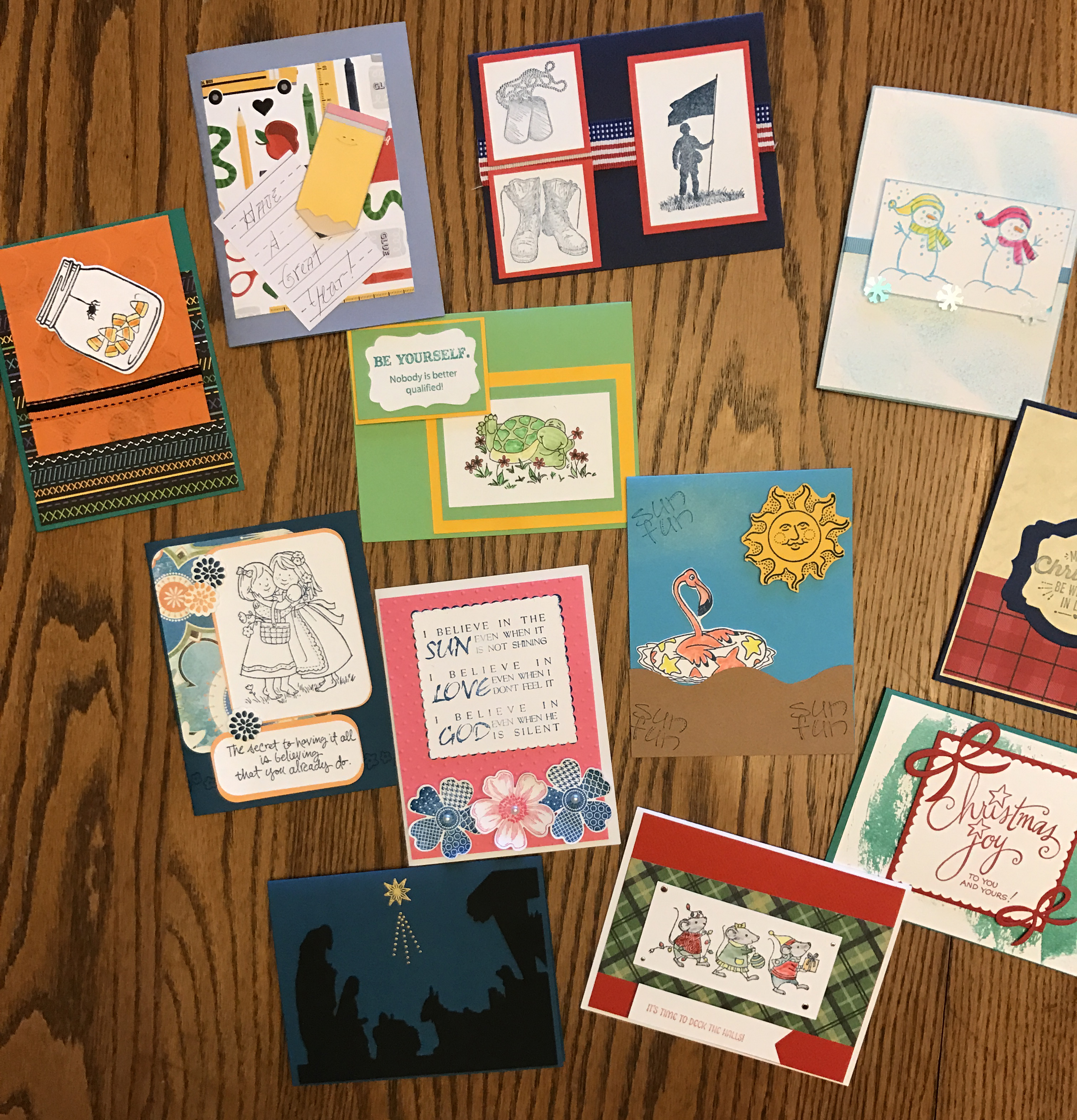 The card making continued as Roy would take Barbara to Stampin' Up parties. She began making cards for the 4 kids the family sponsored at Smokey Mountain Children's Home..then 20 more kids...then 60 more. Barbara now spends the first two weeks of every month making 200+ cards for every child at the Smokey Mountain Children's home and 4 other homes. She sends cards to encourage the kids, telling each one God loves them and has a purpose for their life. "We love kids, and want to see them achieve their fullest potential, that's why we do this" says Barbara. "I was told by a director at the children's home that each kid had a bulletin to put photos of their family. One boy had been there 2 years and didn't have a family so he put up my cards!" Barbara was his family and gave him something to look forward to with her monthly cards.

Fast-forward to 2017. Barbara and Roy have been married almost 34 years. They have 6 children (they later adopted a sixth) and have fostered 87 kids. She has 10 grandchildren and 21 foster grandchildren (many of the foster kids still call her mom). She uses her right hand to cut and color, she drives and she walks with the help of a walker. Barbara's life is a miracle...and she uses it every day to touch the lives of others through her cards. In addition to the 200+ cards for kids, she also writes to 25 women at a ministry center for widows, and is working on a project to make personalized pillow cases with scriptures in them for kids at children's homes.


Barbara's story inspires us to keep unleashing our creativity! It's amazing how that special card can encourage someone who's struggling, the healing that comes from being creative or the relationships that grow during craft time. Paper crafting is so much more then a personal hobby, it's a way to touch hearts!

Check out Barbara's craft space: