Studio Showcase Winner – October 2013 - Lynn Q
Lynn Q is the October Studio Showcase contest winner!
(Interested in being considered to win $50 like Lynn? There are two ways to win! Check it out whether you're new to Stamp-n-Storage or already a customer.)
As a Studio Showcase winner, she received a $50 refund. That's $50 easy cash!
Here's what Lynn had to say in her email:
Here are the "beginnings" of my StampnStorage collection, I hope to add more around the other side of the room.
Having all my product choices in front of me has made such a difference. I can see what I have and get a visual picture of combining them. I can reach everything easily instead of digging through drawers, and a place to quickly put things away instead of amassing a pile on my desk and losing everything. My products fit beautifully in the spaces provided.
Thanks for such a well made and sturdy product, with great customer service.
Lynn Q
Lynn has filled this corner of her room with quite a few Stamp-n-Storage products, and it looks great, and very functional!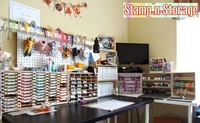 Shown above from upper left to lower right are the following Stamp-n-Storage products:
Accessory Holder
On the left wall, Lynn has a very functional space laid out, with the ribbon holder mounted above her peg board for all of her scissors and other items.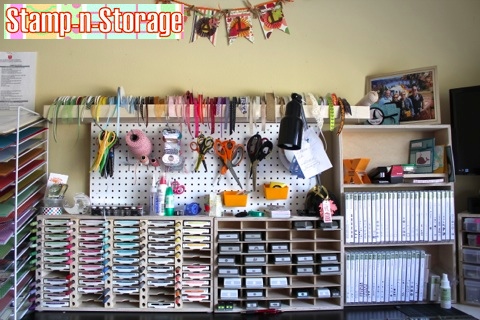 The accessory holder makes a great monitor stand! It should be right at eye level (reducing neck strain), plus there's the added benefit of all those great Creative Options totes right there with all that organizational goodness.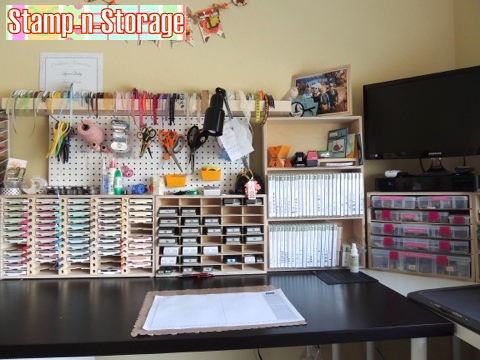 Finally, around her monitor is the ever-important Copic markers and Washi tape!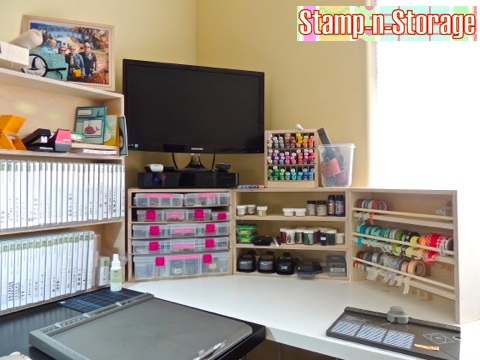 Very nicely done, Lynn! And congratulations on winning October's Studio Showcase (and $50!)!