Studio Showcase Winner – November 2013 - Vicki S
Vicki S is the November Studio Showcase contest winner!
(Interested in being considered to win $50 like Vicki? There are two ways to win! Check it out whether you're new to Stamp-n-Storage or already a customer.)
We're excited to share something a little different with you this month.
Here's what Vicki had to say in her email:
Attached are some pictures of the craft building that was built this summer. It's 12′ on two sides and 8′ on two sides. The door is in the fifth shortest side. (I was trying to come up with somethingbesides just a square building.)
It is built on concrete piers and is super insulated. I was planning to have a heating/cooling unit put in it, but I found out they have to have a large hole cut in the wall. So, I went with using an infrared heater. It will have to have a window air conditioner for the summer.
Anyway, it has to be super organized since it is a smaller space. I stained and put a clear coat sealer on the 8 1/2 x 11″ paper holders and the two punch holders you made. They look really nice and help to keep the smaller space super efficient.
I'll probably be ordering a 12×12″ paper holder in the near future.
Vicki
Here's her special work space. It's a grown-up version of a kid's play house! Scroll down to see how her Punch and Paper Holders look with stain!
There's space for a small work table along with some storage shelves along the walls.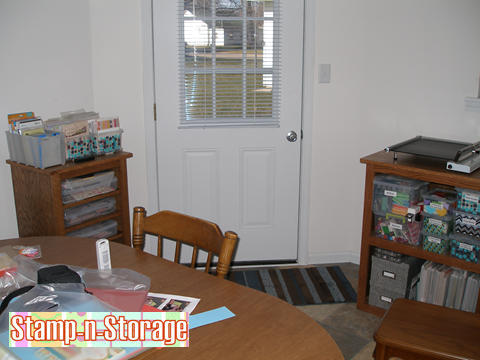 In this corner she's placed her four 8.5 x 11 Paper Holders along with a shelf for her stamp cases.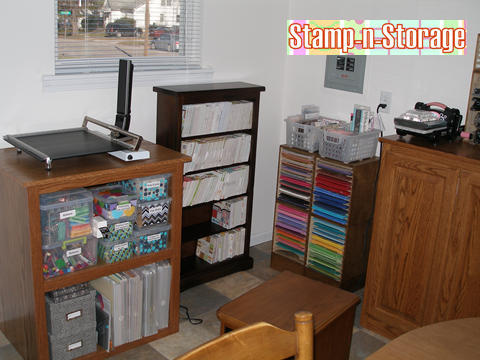 Vicki has a Whale Tail Punch Holder and 30 Ink Pad Holder on this cabinet against the wall.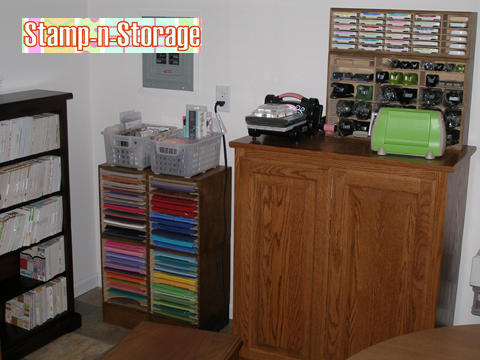 She definitely needs to use her space well, and her punches will be very close at hand with this setup!
Vicki did a great job staining her cabinets! here's how the Lock Down Punch Holder looks: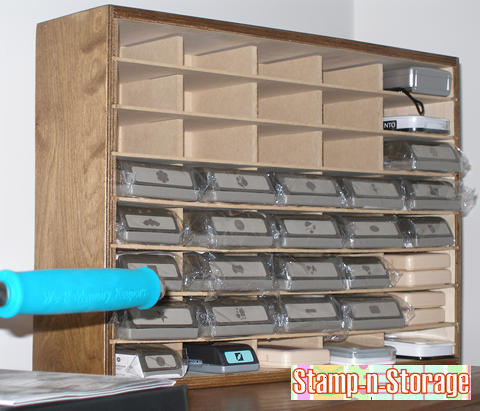 And here's how her paper holders look after staining and stacked next to each other.