Studio Showcase Winner – July 2013 - Dawn K
The July Studio Showcase contest winner is Dawn K!
(Interested in being considered to win $50 like Dawn? There are two ways to win! Check it out whether you're new to Stamp-n-Storage or already a customer.)
As a Studio Showcase winner, she received a $50 refund. That's $50 easy cash!
Before placing her order Dawn had done her homework, completing all the measurements for her space and comparing that to the sizes of our products. She knew that she wanted to have:
Lots of Drawer Storage space
Realizing that she had limited height but still desiring to make use of that room for storage, she asked if we could build a modified version of our Six-Drawer product. She knew it would fit if if the height was reduced from three drawers tall to two.
We were glad to help her out! (In fact, we love to hear from you with questions about alternate products!). We shared these sketches with her to make sure the final design would meet her needs.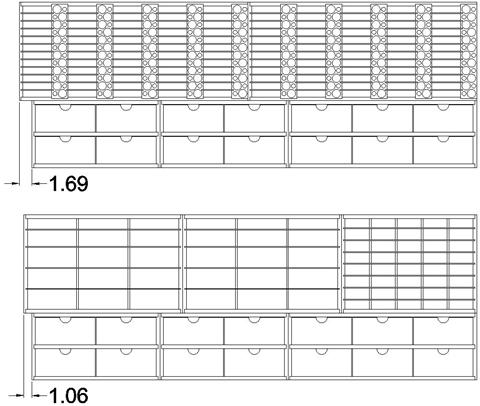 She agreed that they were just what she wanted, and the results are shown in the pictures below!
Here's what Dawn had to say about her purchase:
"I want to thank you for getting my products built and shipped so quickly. I really love my new space!! I hope that the pictures show your products to their best advantage. Even if I do not win your contest, I am really happy with my purchase."
This first picture shows the left side of her L-shaped work space. She has stacked two 60 Combo Holders on top of the custom drawer units we built for her. That's enough storage space for 120 ink pads, markers and refill bottles, with 14 large drawers underneath for all kinds of storage happiness!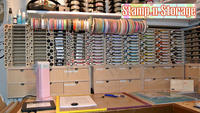 Ink Pad and Paper Punch Storage
The right side of her L-shaped area has three punch holders stacked on top of the drawer units. She's already managed store close to 70 punches in this space, and there's still room to grow! AND, there's 14 MORE drawers on this side to keep all kinds of embellishments, supplies and accessories under control!
Ink Pad and Paper Punch Storage
Do you have a unique storage problem that we could help you with? Please contact us and we'll see what we can do to help you out, just like Dawn!