Studio Showcase Winner – January 2014 - Robin T
Robin T – Winner of the January, 2014 Studio Showcase!
(Interested in being considered to win $50 like Robin? There are two ways to win! Check it out whether you're new to Stamp-n-Storage or already a customer.)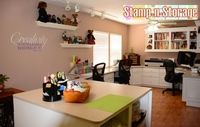 Robin posted her pictures on her blog, along with a great studio back story!
Many years ago, this room started out as two bedrooms; I used one room for my quilting and crafting and the other room was a guest room. One day, I had an idea (this is how most projects around the house start) and looked at my DH and said "I have an idea", he looked at me and said "Oh no, not again?" I told him about my plan and with a heavy sigh, he said OK (and something else under his breath that I did not quite hear). My plan was to eliminate the wall between the two rooms (we didn't need a guest room), and make one giant craft room with a large arched opening, a central island with cabinets underneath and lots of storage. The room turned out just how I had envisioned and was the perfect sewing/craft room; last year it went through a major revision since I had gone from quilting to stamping and paper crafts. Storage was the issue, I had floor to ceiling baskets from the Container Store filled with fabric, but stamping was completely different. My baskets were full of punches, ink pads, embossing powders, stamps (wood and cling) and, well, you know, everything else you need/want. I couldn't find anything it was all jumbled!!!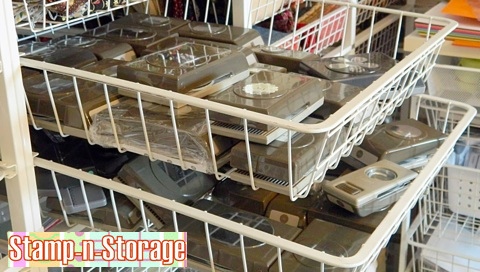 I was on Splitcoaststampers one day and saw a review for a wonderful storage system called Stamp-n-Storage. I liked that their units were made of wood and not plastic AND as a bonus, free shipping. I told my DH I had an idea…..at this point in our marriage he just says sure, go for it. I did the research, decided all the baskets of fabric had to go and made a large donation of fabric to Project Linus. I re-worked the area that housed the fabric and had a counter made with new mesh baskets from the Container Store. I then started taking measurements for the Stamp-n-Storage units. My first order was for the lock down punch holder, 60 ink pad holder and the Distress ink pad holder. My order came, beautifully packed, quality workmanship; I couldn't wait to make my next order. Well, several orders later, my room is finally organized and since it is a large room there will always be space for one more storage unit. Here are a few pictures of my room and I can't thank Stamp-n-Storage enough for their well thought out storage units.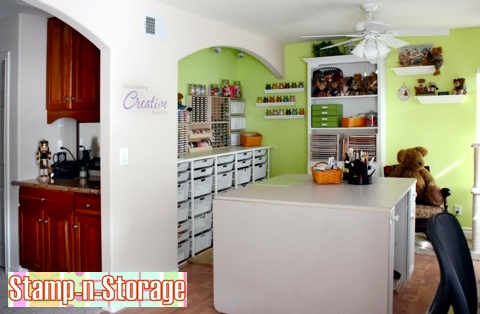 Here we see Robin's Ink Pad Holders and Ribbon Shelf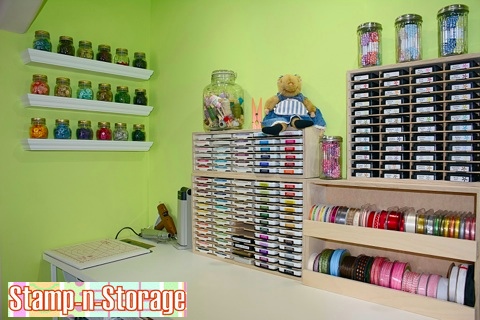 Against the far wall is a Double Stamp Shelf and two Lock Down Punch Holders.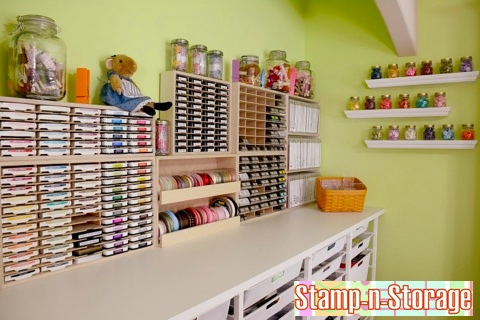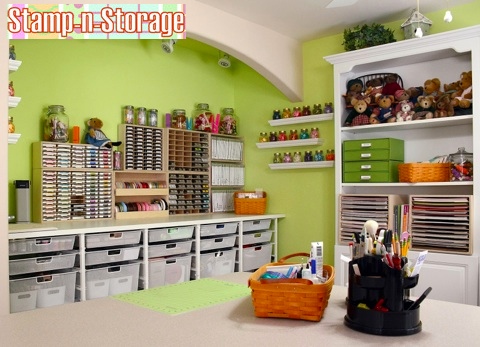 Robin's 12×12 Paper Holders look great in this shelf, keeping all the Teddy Bears company!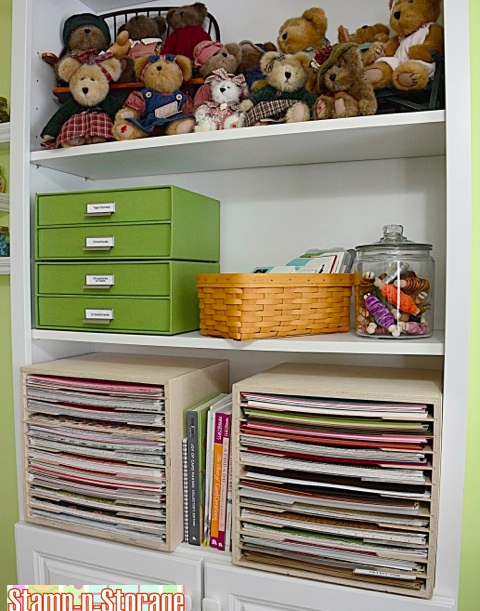 Across the room is a VERY organized marker station with four Marker Holders