Studio Showcase Winner – August 2013 - Lynn E
Lynn E is the August Studio Showcase contest winner!
(Interested in being considered to win $50 like Lynn? There are two ways to win! Check it out whether you're new to Stamp-n-Storage or already a customer.)
As a Studio Showcase winner, she received a $50 refund. That's $50 easy cash!
Here's what Lynn had to say in her email:
Love my crafting space!
It is a small loft, but now allows me to be very organized! My husband calls it my "Women Cave".
Thanks—for making my life so much easier and making my loft look so much better!
Lynn certainly has packed a lot into her loft! She has some very versatile furniture pieces in here, and that has helped her organize her space so that it doesn't look cluttered.
Let's start with her desk top. Here Lynn has two Six-Drawer Units, a 48 Combo Holder, a 48 Marker Holder, an Accessory Holder and a 12×12 Paper Holder (from upper left to lower right).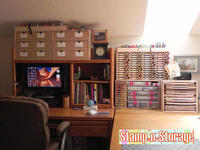 Under the peninsula of her worktop, are two Half Height Shelf Units, a Lock Down Punch Holder and a Whale Tail Punch Holder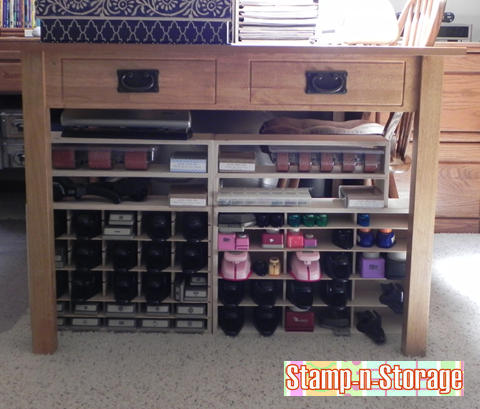 Against a different wall of her loft, Lynn has made excellent use of the space above two shelves. Each one holds an 8.5×11 Paper Holder and a Double Stamp Case Shelf.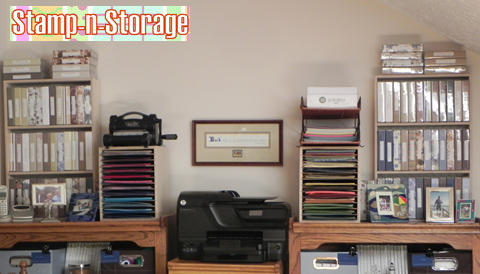 This is a very neat basket shelf that Lynn has in another area of her loft, and on top she's using a Full-Height Shelf Unit to store smaller stamp cases.
Below is a better view of the Shelf Unit.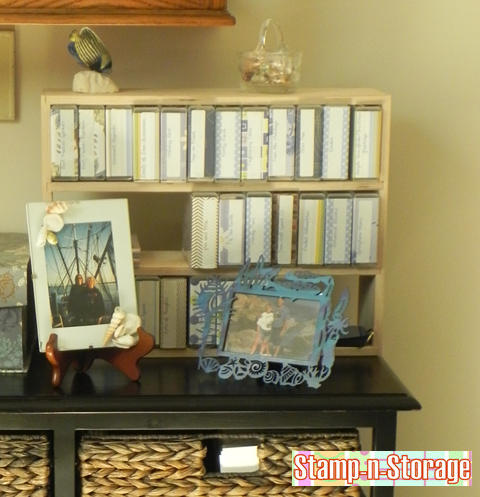 Nice job, Lynn! And congratulations on being August's winner of the Studio Showcase contest. Enjoy your refund!