September Studio Showcase: Debra
What do you do when you have two empty walls in a room? Turn it into a craft space of course! That is exactly what our September Studio Showcase winner Debra did. However, with two walls and a whole lot of craft supplies, it wasn't long before Debra realized things could get out of control.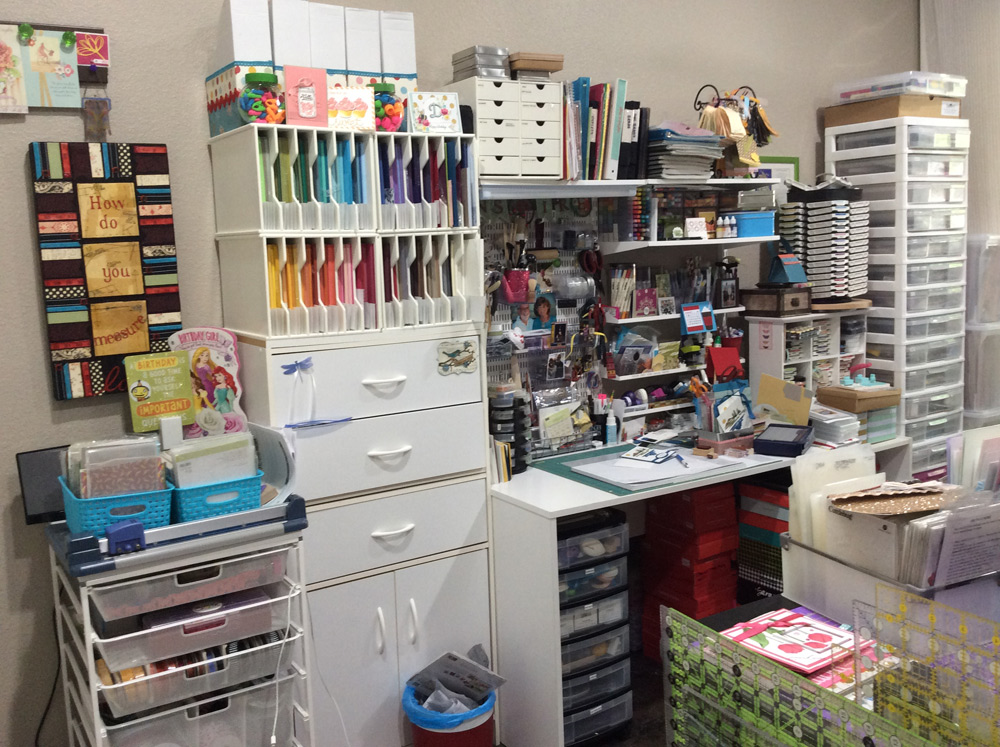 It was time for a remodel and Debra was inspired by Rachel Tessman's craft room as she planned out how to organize her space. "I began by sorting and I de-stashed, leaving only what I loved and wanted. I then used a piece of paper with the space dimensions to layout the walls and plan how to best utilize each inch of the space. I considered three different types of organizational companies. I researched each company, their products, and even made scale cutouts of different products. It was pretty easy to see that the IKEA® units with the Stamp-n-Storage products were exactly what I needed to maximize every inch of my space. No other company could meet my needs" Debra says.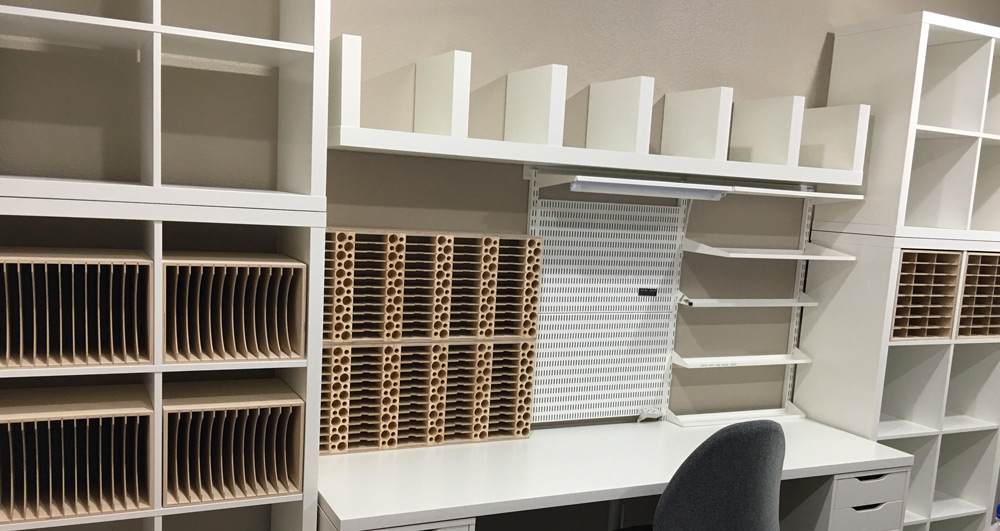 Debra added a larger IKEA® Desk and stacked two 60 Combo Holders and a Half-Height Combo Holder. "I chose the Combo Holder because when I can visually see all of my inks with matching markers and ink refills at one time, the creativity juices start flowing. I used to spend so much time looking for markers and going through the plastic container of the ink refills. The possibilities are as real as the colors before me. With everything at my fingertips, and organized, I can make cards or scrapbook so much more efficiently. Plus, due to the depth of the Combo Holders, I still have plenty of room to have a friend or my granddaughter crafting at the desk next to me."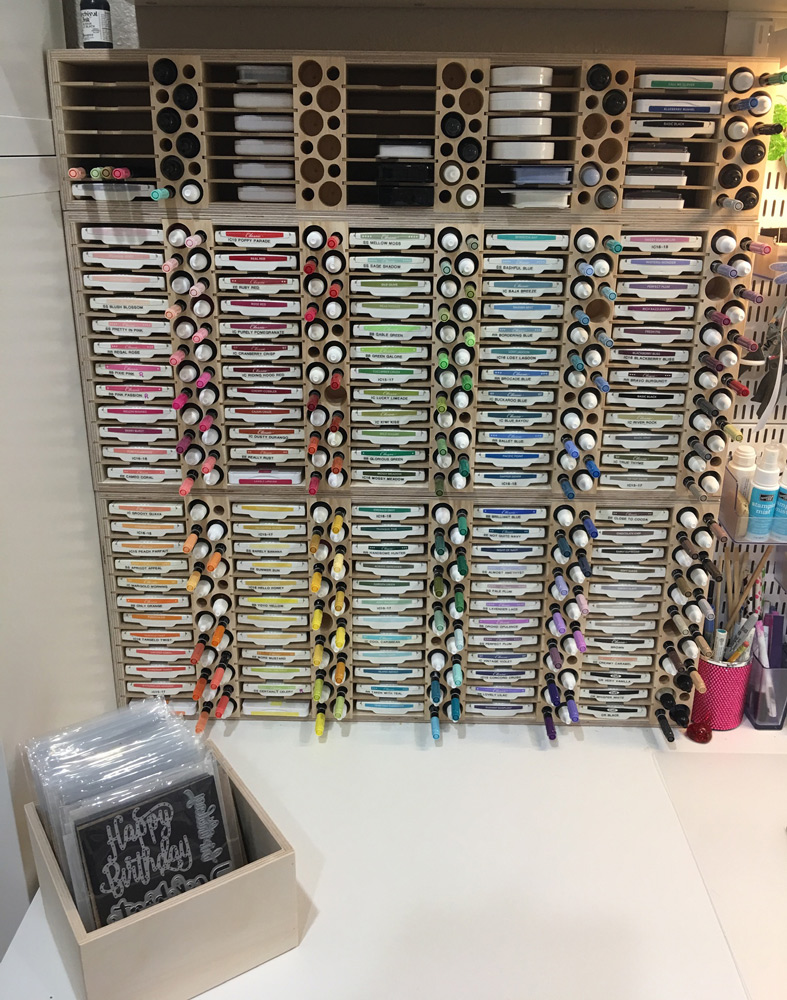 Debra keeps her paper right next to her desk. "It is so easy to find exactly what I need in the Paper Holder for IKEA®, especially when you add the Paper Holder Label System! I organize by color and I have the Paper Holders vertically for two reasons. First, I love seeing the rainbow of colors and find it easier to select a color. Second, by placing the Paper Holders vertically, the extra storage at the top is shorter in height but much wider than the extra storage would be if the Paper Holders were horizontally." Debra added 1" and 2" Drawers to the top of her Paper Holders so she can easily pull out the blue tins she uses for her 6x6 DSP papers and miscellaneous tools she doesn't use every day.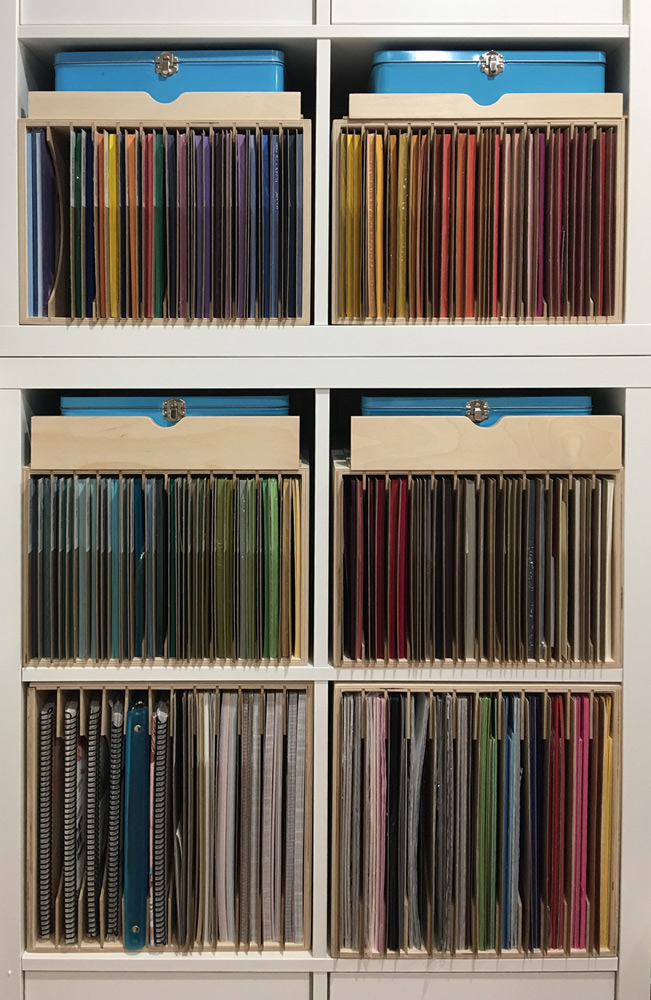 Debra has over 3,000 stamps and found it extremely frustrating finding a stamp for a project. "I now store all of my stamps by theme in Drawer Cabinets. I labeled each Drawer Cabinet using A, B, C, etc., and each drawer within that cabinet is numerical, 1-9. I have an itemized list, created in Excel, by Drawer Cabinet, and by drawer number. Within seconds I can look at my quick list and see flowers are in Unit A, drawers 2 and 3; or birthday cakes and candles are Unit D, Drawer 6." Debra uses the 2" drawers to store her wood block sentiments organized by theme. Because the Drawer Cabinet is such a versatile unit, she also uses it to store her Distress Ink pads, PowderPuff Chalk Inks and smaller miscellaneous chalks.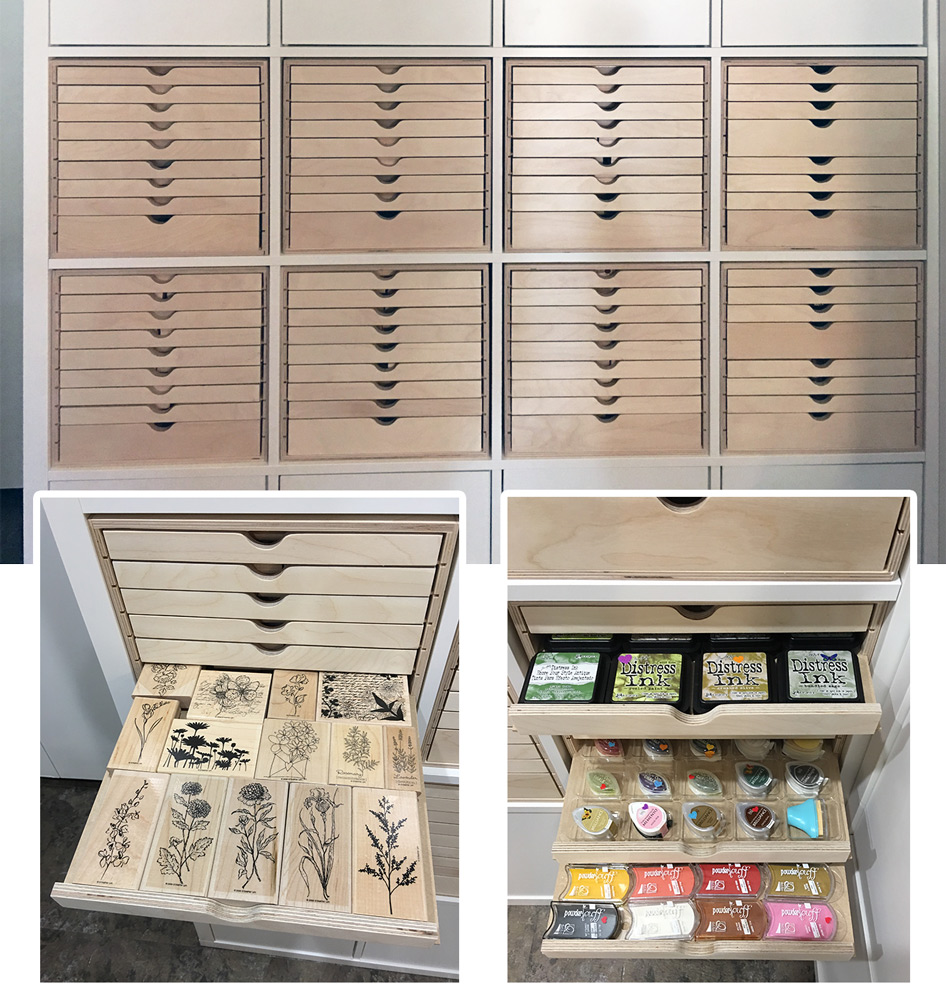 On the right side of Debra's desk she stores her markers with the Side-by-Side Marker Holder and the Marker Holder for Stampin' Blends. Both Marker Holders keep her markers laying flat. She stores her punches in the Lock-Down Punch Holder for IKEA® and ordered a custom Stamp-n-Storage Die Shelf to fit perfectly in her IKEA® unit.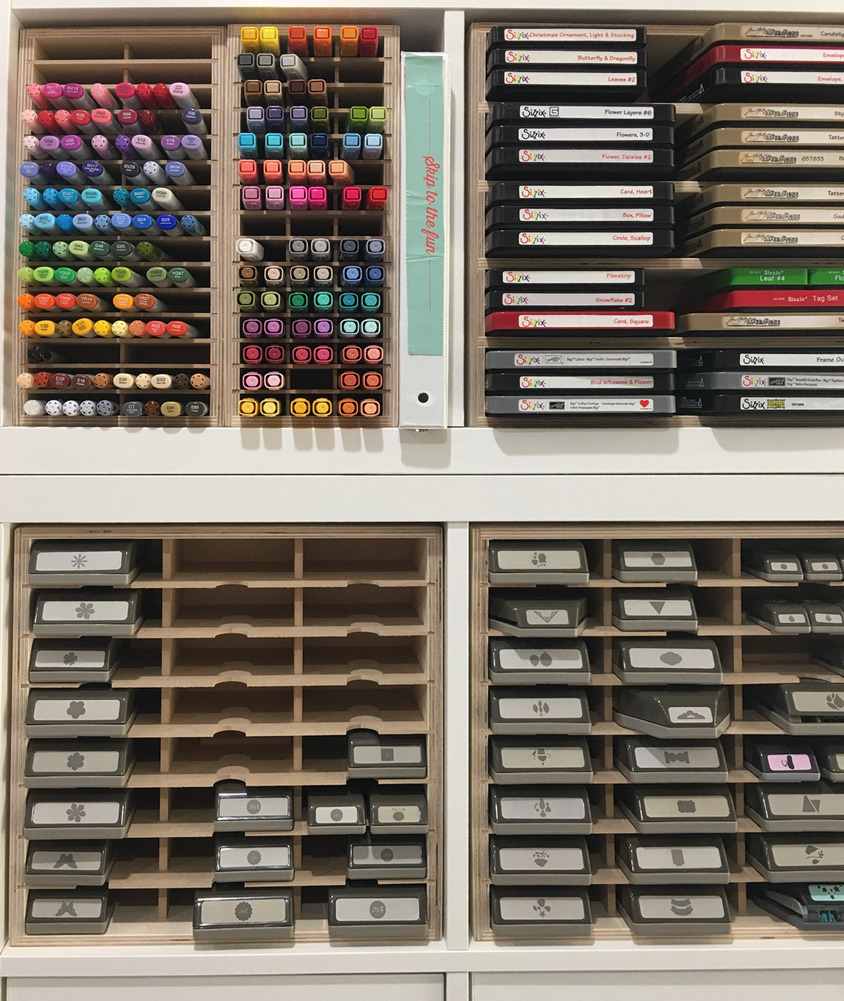 "Thanks to Stamp-n-Storage, my studio went from a disorganized, overwhelming space to a beautiful, functional and full of creativity possibilities area that I can't wait to use every day. I had to think smart, plan wisely and organize to the max. Thank goodness for Stamp-n-Storage."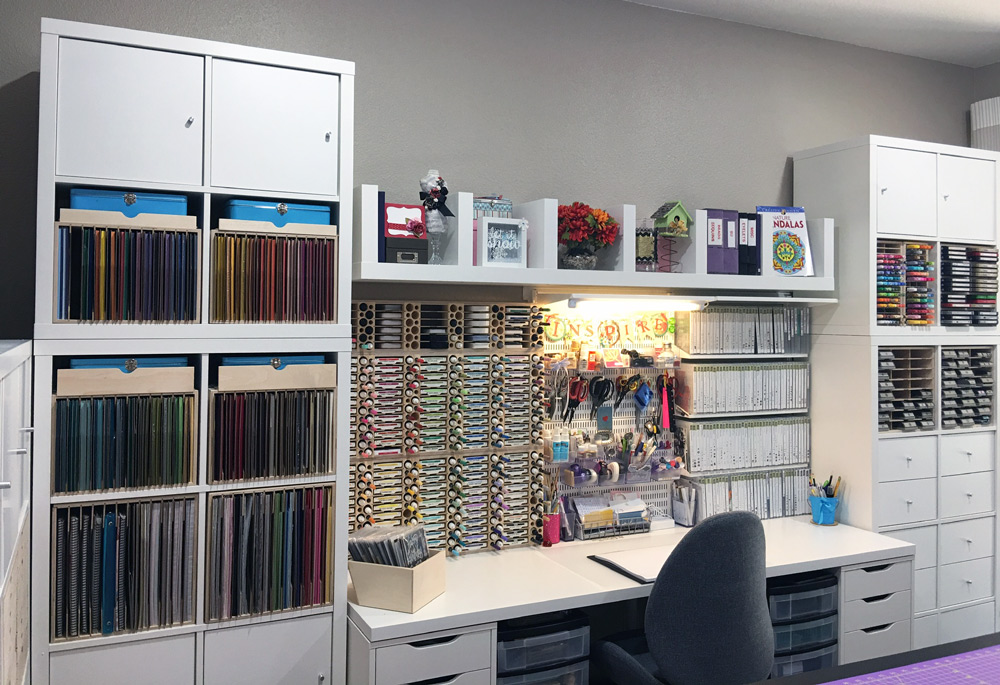 ---
Would you like to be our next Studio Showcase winner and have the chance to receive $75 in store credit?
Here are a few hints: clean up your space, snap some photos (4 or more) from a few different angles, and include some comments about what you love about your area and your Stamp-n-Storage products. Then, you will be entered into our monthly drawing. Email your entry to: contact@stampnstorage.com.