Our October Studio Showcase winner spent years with her craft supplies stored in every possible niche throughout her home. Joni says, "it wasn't until after thirty-three years of marriage, raising four children, running our family business and weathering many health storms, I finally have my own, in-house, designated art room which I love. And even better yet, I can find everything (well almost everything) thanks to Stamp-n-Storage."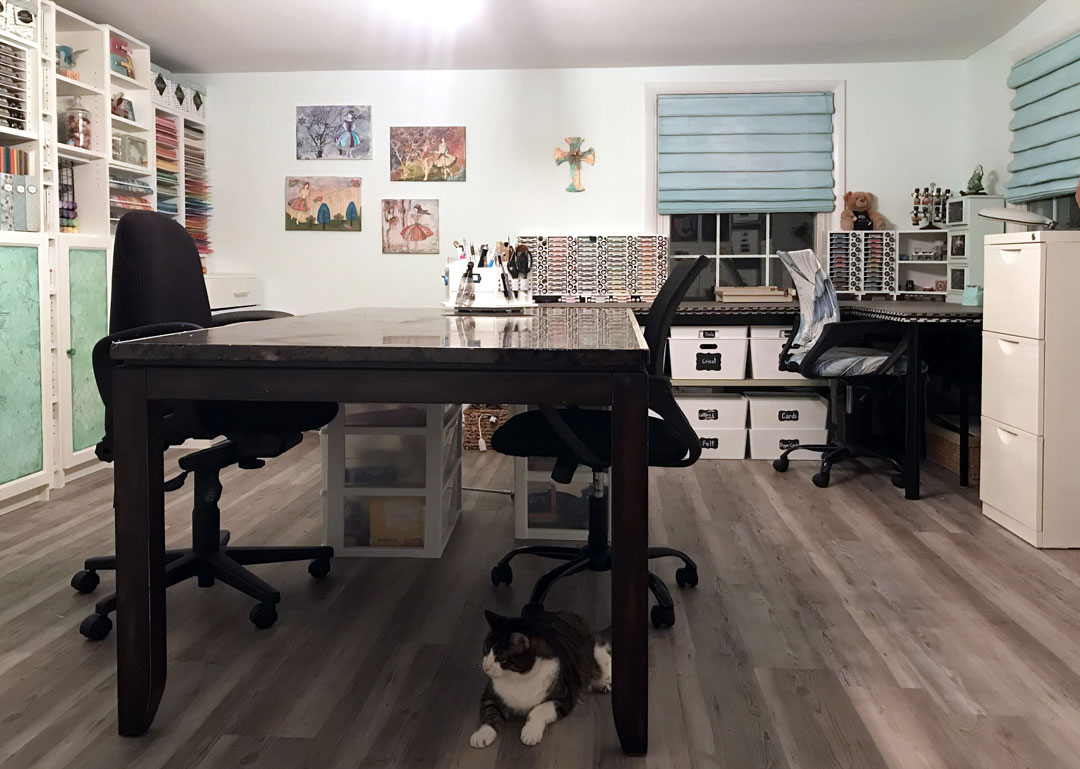 Joni's 15x12 space didn't come together overnight. It wasn't until she received the 60 Combo Holder as a gift, she realized how essential organization solutions were for her space. Over the next few years, she acquired more Stamp-n-Storage products on Birthdays, Mother's Day, and Anniversaries. Once she had a foundation for storage, the real work began.
"When organizing many of my supplies in all of my new Stamp-n-Storage units, I wanted to make my art room "worthy" of them. After sorting, trashing, gifting, and recycling the supplies I didn't need, I finally have a functioning, awesome art room. And my husband is happy to have our kitchen table, closets, and bedrooms cleared of all my art supplies."
The room's layout was inspired by years of creating and ideas from previous Studio Showcase winners, Crafted Spaces, and Pinterest. Joni knew she wanted a designated space for things like die-cutting and mixed media work. It was also important to have a large desk for her friends to join her on craft days, and for her four grandchildren she homeschools. "they too love playing in "Mimi's" room, and with the help of Stamp-n-Storage, it is easy for the children to return their supplies to the right places, at the end of class."
At Joni's mixed media station, she organizes Cricut® items, felt, cards, and other mixed media items in white bins below her work area. She has her Combo Holders on the desk nearby to easily reach her ink pads while working on a project. She uses the Corner Shelf for decor items and a few favorite punches, and the Kickstands for additional storage. "I LOVE the Stamp-n-Storage Kickstands and the extra storage they provide underneath the storage units. They are silent giants and brilliant!"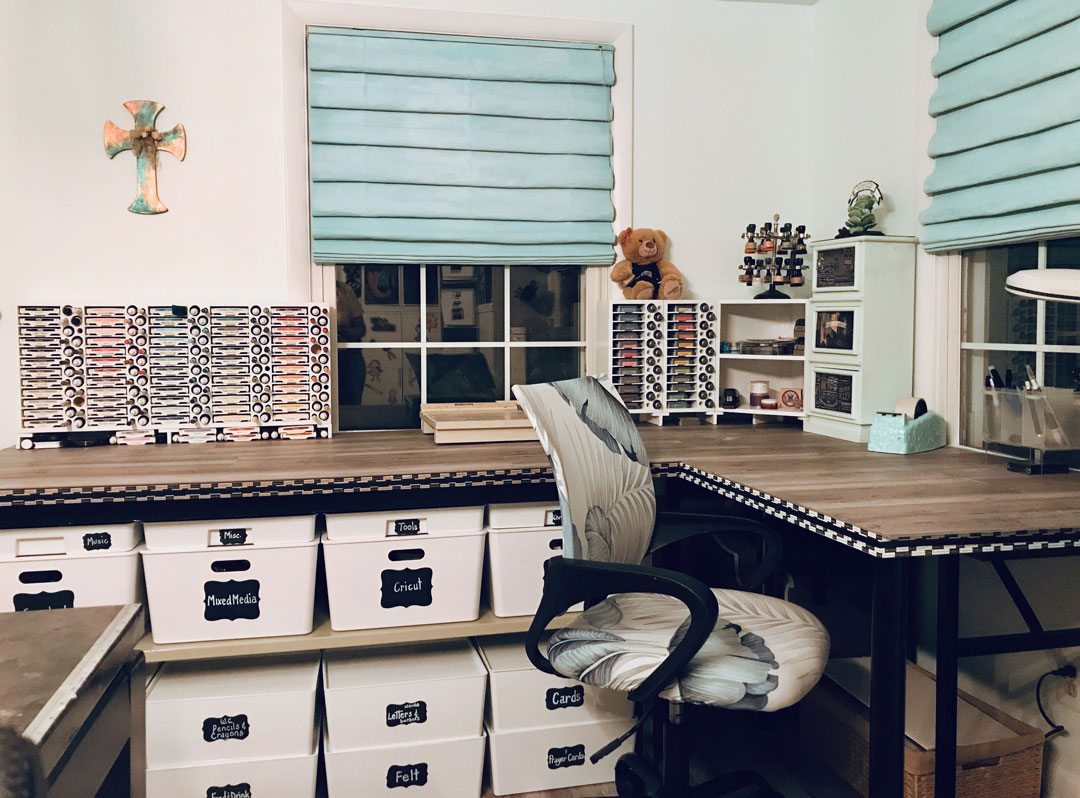 Joni uses various shelving units from IKEA® to organize supplies she wants to keep visible and easy to access. She Stores her washi tape in the Washi Tape Holder, and uses a wire rack for her paints. Other shelves are filled with her favorite decor.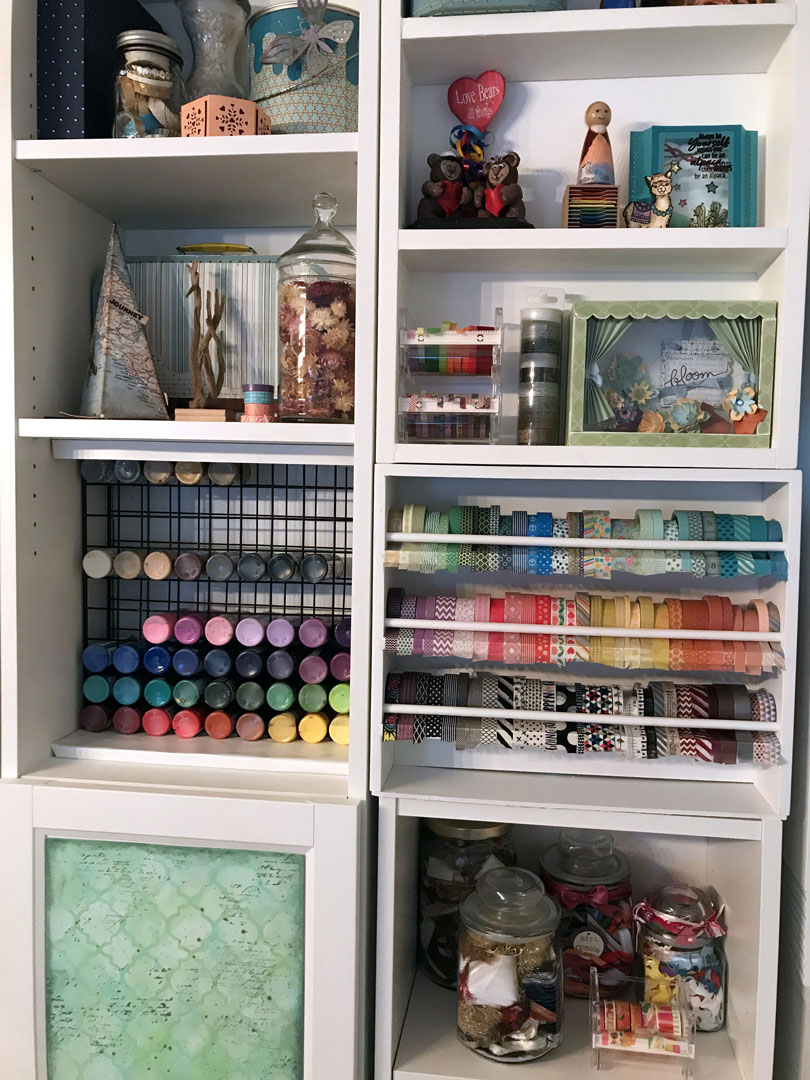 Joni organizes her markers in the Marker Holder for Stampin' Blends, and organizes both punches and markers in the Lock-Down Punch Holder. Stamps are organized by subject matter and have a red sticker on the outside if a matching die set is stored with the stamps. Joni's 8.5x11 paper is organized by color family.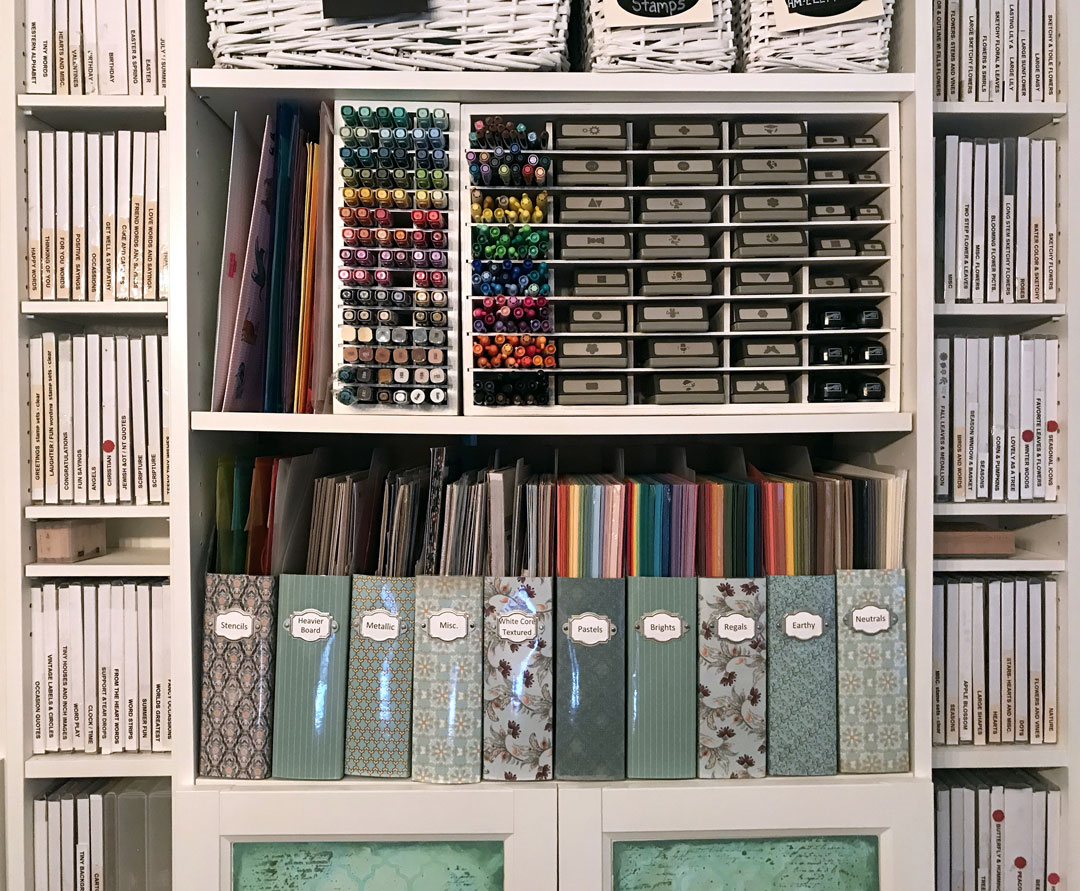 One of the design elements we really love about Joni's space is her teal doors. We had to find out how she created these beautiful pieces.
"I created the inserts by cutting left-over matboard, and first painted them with a paint which was a more intense version of my wall color. Second, I used a stencil and white Dylusions paint to stencil random areas. Third, I randomly brayered on some darker grey/green paint that I mixed with Modpodge to make the paint a bit translucent. For the fourth layer I stamped text in a variety of places using a darker grey/green paint and then used that same paint to sponge around the edges of the boards. Finally, I had a blast throwing left-over paint at the panels to create random spills and splashes. I used the same technique on a large wood board used for storing a variety of random supplies like punches and embellishments in containers with magnets."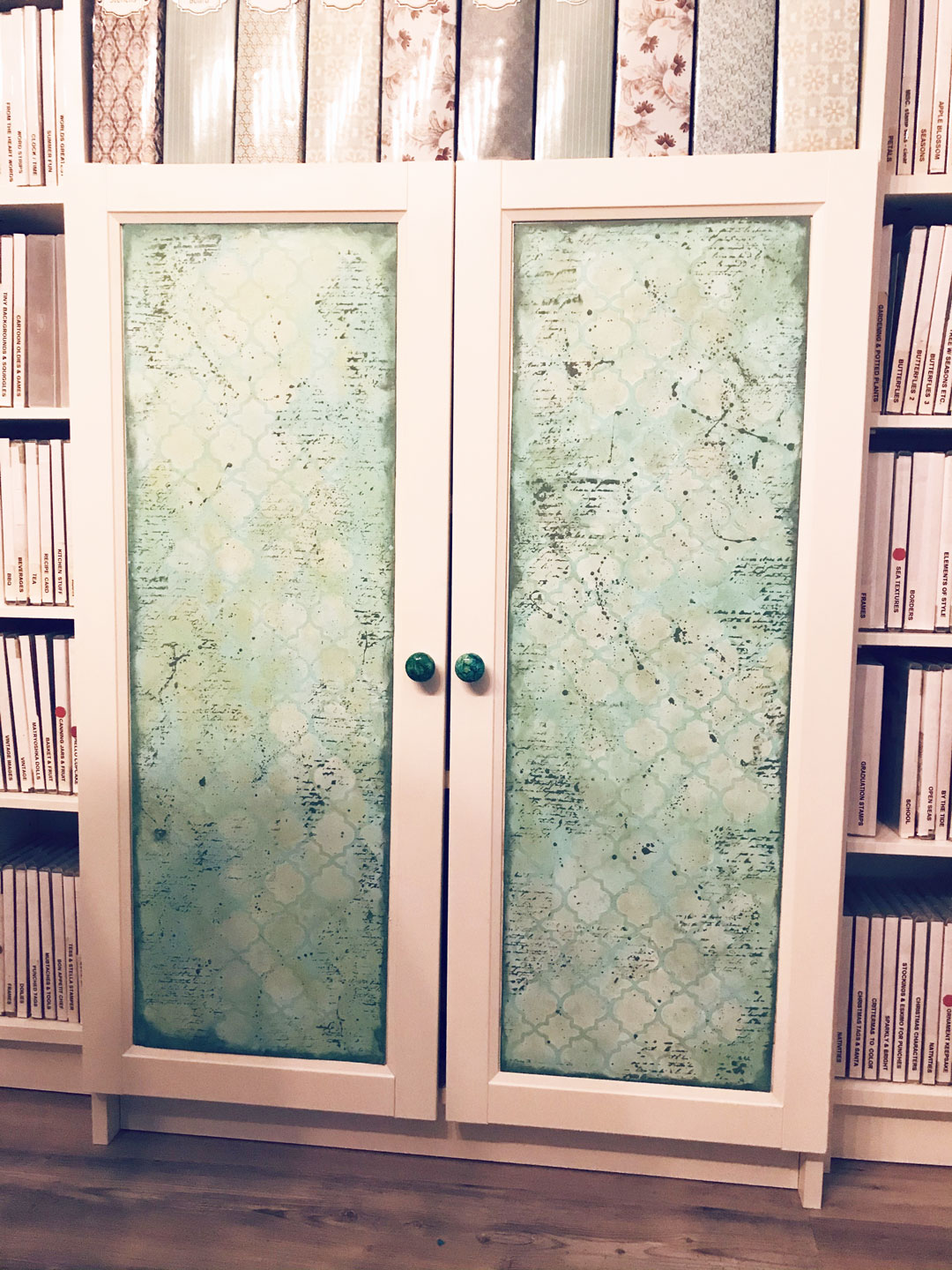 "I find myself walking into my art room now and just standing there smiling, ready for my next creative adventure. The enjoyment I receive in my organized and inviting room is more than I ever expected. Thank you, Stamp-n-Storage, for your well-made, attractive, and simple organization units. They have been such a blessing."
Thank you, Joni, for sharing your space with us! If you would like to be our next Studio Showcase winner and have the chance to receive $75 in-store credit, here are a few hints: clean up your space, snap some photos (4 or more) from a few different angles, and include some comments about what you love about your area and your Stamp-n-Storage products. Then, you will be entered into our monthly drawing. Email your entry to: contact@stampnstorage.com.