November Studio Showcase Winner: Elaine
When our latest Studio Showcase winner renovated her home, she knew a dedicated stamp room was a must! The first step after selecting her space, was raising the floor and removing a closet so she had a clean slate to plan out the design.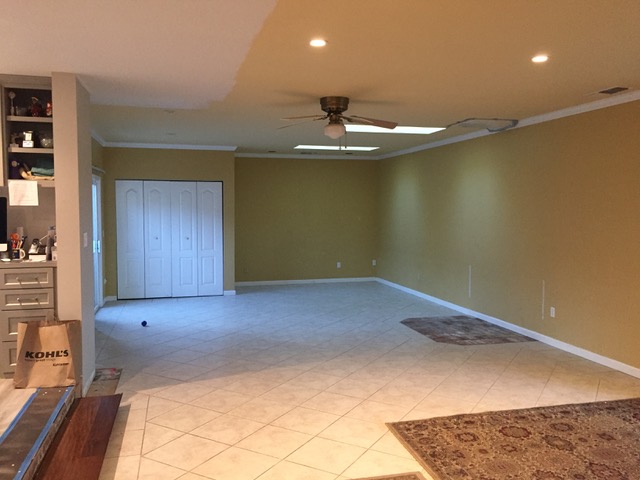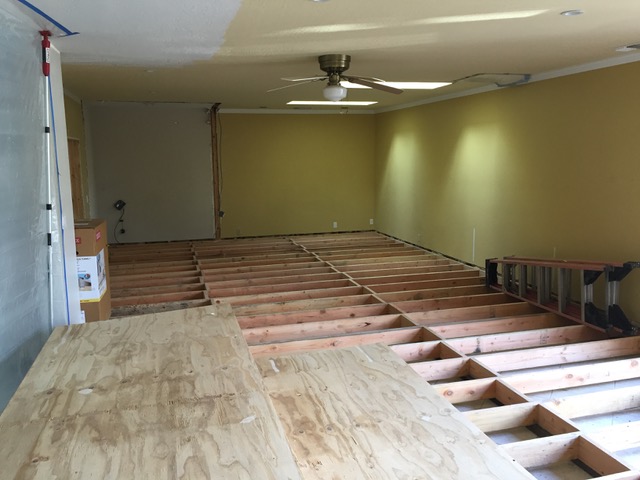 Elaine loves the color gray so she picked it for both the flooring and wall color. Her painter recommended Kelly Moore Pewter Pot, and she chose Mannington Audra Max Luxury Vinyl Planks for the flooring. "I've received many compliments on the wall color and flooring. The LVP is perfect for craft spaces because of its durability, water resistance, and ease of cleaning" she says.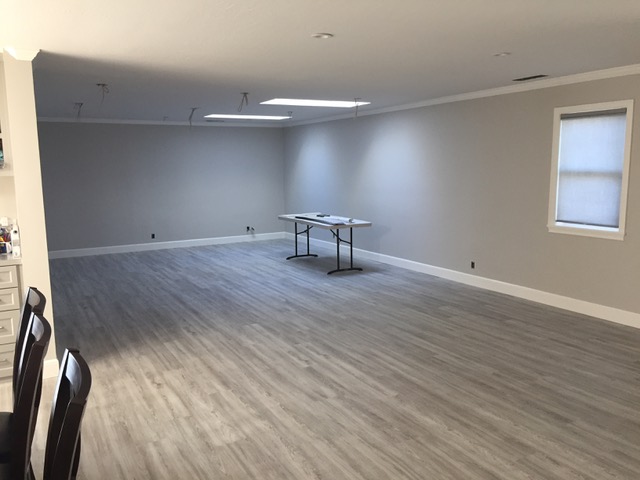 When planning out her furniture and storage, Elaine drew out her space on graph paper. She measured the furniture and figured out where she wanted to place everything according to crafting zones. "This includes a die cutting zone, stamping zone, and paper cutting zone" Elaine says. Her craft table in the center of the room was purchased at IKEA®. "I bought the longest table I could find to hold classes and my team meetings, but I also love to craft with friends at my table. We have lots of room!"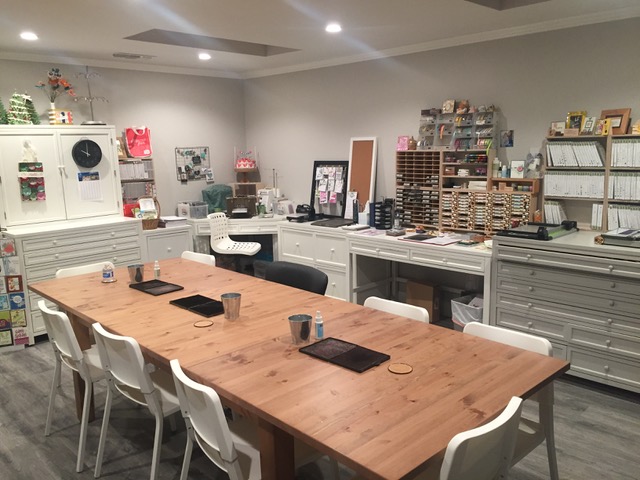 Elaine purchased several Stamp-n-Storage products so she could stack them on her desk keeping supplies within hands reach. "I wanted my ink pads and punches within reach first, then stamp sets, and then ribbons. It was super easy to stack them because of the standard sizes and depths that Stamp-n-Storage offers, and I didn't have to take a lot of time to plan it out " Elaine says.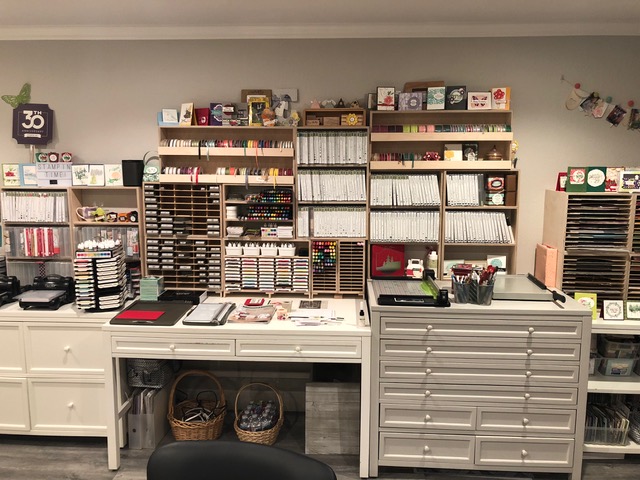 Elaine organizes her stamps by Stampin' Up!® catalog and then alphabetically on the Double Stamp Case Shelf. She places her retired sets that she still loves on a separate Double Stamp Case Shelf.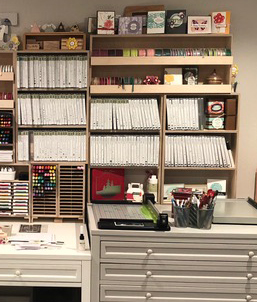 She loves organizing her ink pads by color family so the Stampin' Ink Pad Holder for Color Families was the perfect choice. Two Lock-Down Punch Holders are also nearby. "These allow me to easily see and reach all of my punches as well as displaying all of my punches beautifully" Elaine says. She stores markers in the Side-by-Side Marker Holder and uses the Standard Storage Shelf for miscellaneous items. At the top is Elaine's favorite product, the 33" Ribbon Shelf. "The Ribbon Shelf makes it super duper easy to see, display, store, and reach all of my ribbon without any hassle!"
Elaine placed six 12x12 Paper Holders near her desk. "I wanted to stack them so I could easily see and reach all of my lovely Designer Series Paper and 12x12 paper. No more hunting through vertical holders and buying duplicate paper" she says.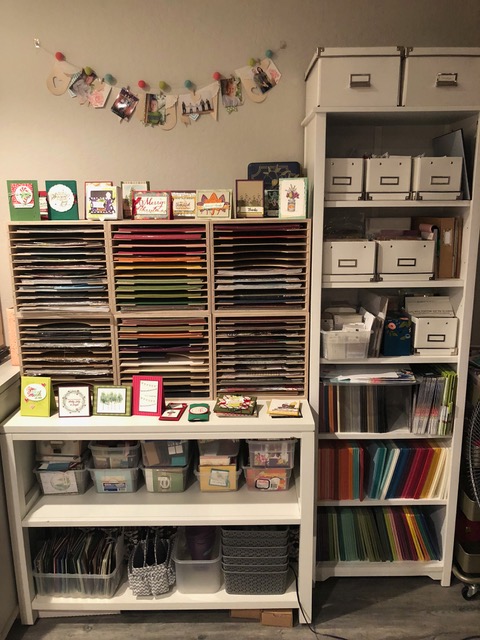 "Another one of my favorite Stamp-n-Storage products is the Magnet Cards! They make storing and finding all of my dies a snap! Each Magnet Card is labeled and I organize them alphabetically. I love using them for classes, too, so that my customers can easily use and put back the dies from each die set" Elaine says.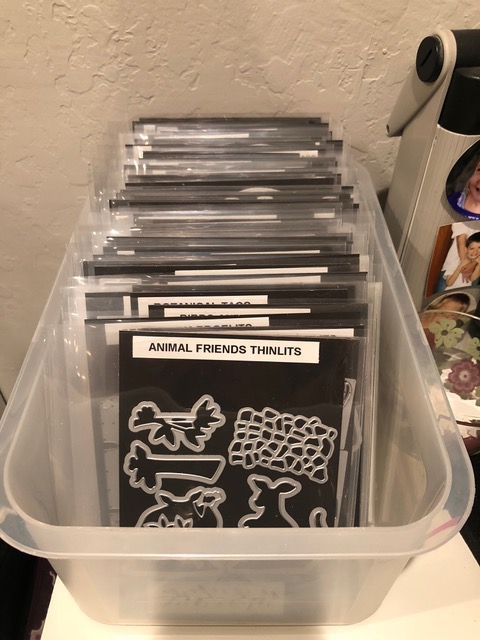 What an awesome space for classes and crafting with friends. Thanks for sharing Elaine!
---
Would you like to be our next Studio Showcase winner and have the chance to receive $75 in store credit?
Here are a few hints: clean up your space, snap some photos (4 or more) from a few different angles, and include some comments about what you love about your area and your Stamp-n-Storage products. Then, you will be entered into our monthly drawing. Email your entry to: contact@stampnstorage.com.