May Studio Showcase Winner - Kathy
Our May Studio Showcase winner's story reminds us that when we've decided to let something go, it could still return in the future. Kathy had spent years crafting and had many dedicated spaces and rooms to organize her supplies. However, in 2016, she moved into an apartment and no longer had space for a dedicated craft area. Kathy even gave up being a Stampin' Up! demonstrator because she didn't have enough room. Many crafters can understand the heartbreak of having to let go of some of our crafts.
Fast-forward to 2020, 4 years later. Kathy was blessed with...Tom!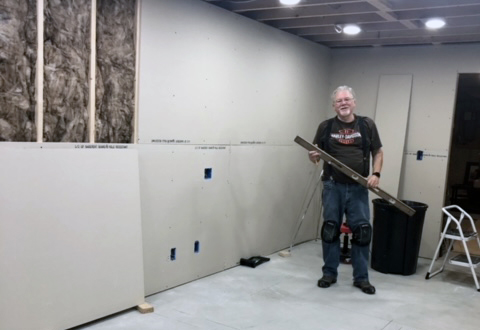 Kathy moved into their home together and shortly after that Tom decided to create a dedicated 23'x15' craft studio for Kathy to enjoy. Kathy had a vision for her craft space, and Tom did all the work to make it happen.
"When preparing for my space, I knew how I wanted it to look. I wanted enough storage and everything to be easily accessible, most importantly a large workspace. When I'm crafting, I have things everywhere," says Kathy.
One of our favorite design features, and an idea of Tom's, was having the IKEA® Kallax unit built into the wall providing more floor space.
Once completed, Kathy was ready to add her storage solutions by Stamp-n-Storage specifically designed for the IKEA® Kallax. These storage cabinets included her Combo Holders, the Lock-Down Punch Holder, the Ribbon Shelf (Three-Shelf for IKEA® option), and the 12x12 Paper Holder for IKEA®. She also added bins for her overflow products. One bin is designated for retired ink pads, markers, and blending pens, another bin is filled with retired ribbon, and one keeps extra glue and adhesives.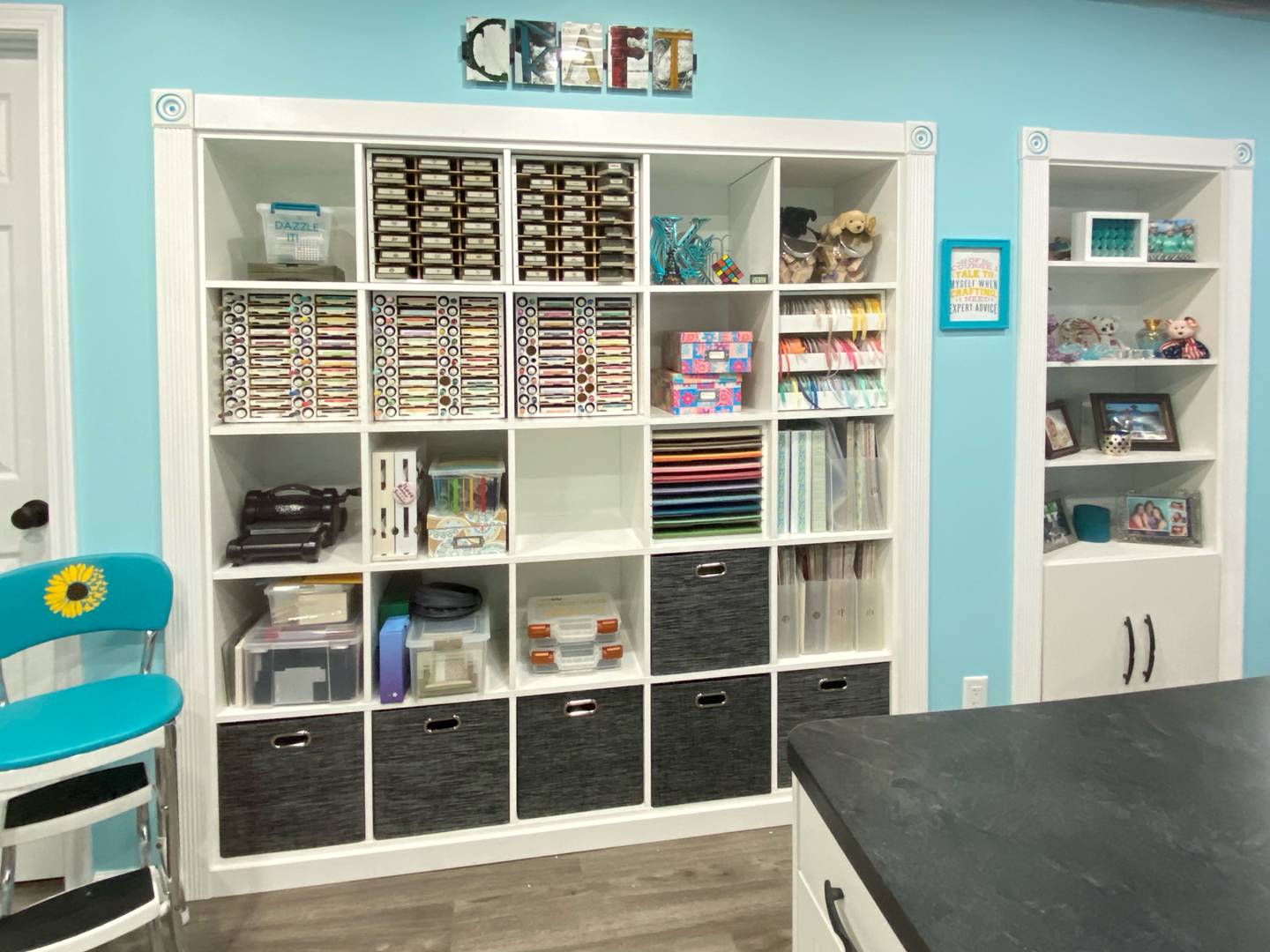 The white cabinets and drawers behind Kathy's work area store items Kathy uses in card-making or Cricut® projects. She organizes her stamps sets in the drawers on one side and vinyl for her Cricut® projects on the other side. Cricut® tools and machines are stored in the cabinets and on the countertop above the drawers. Tom was sure to add extra outlets for Kathy's Cricut® machines in this area.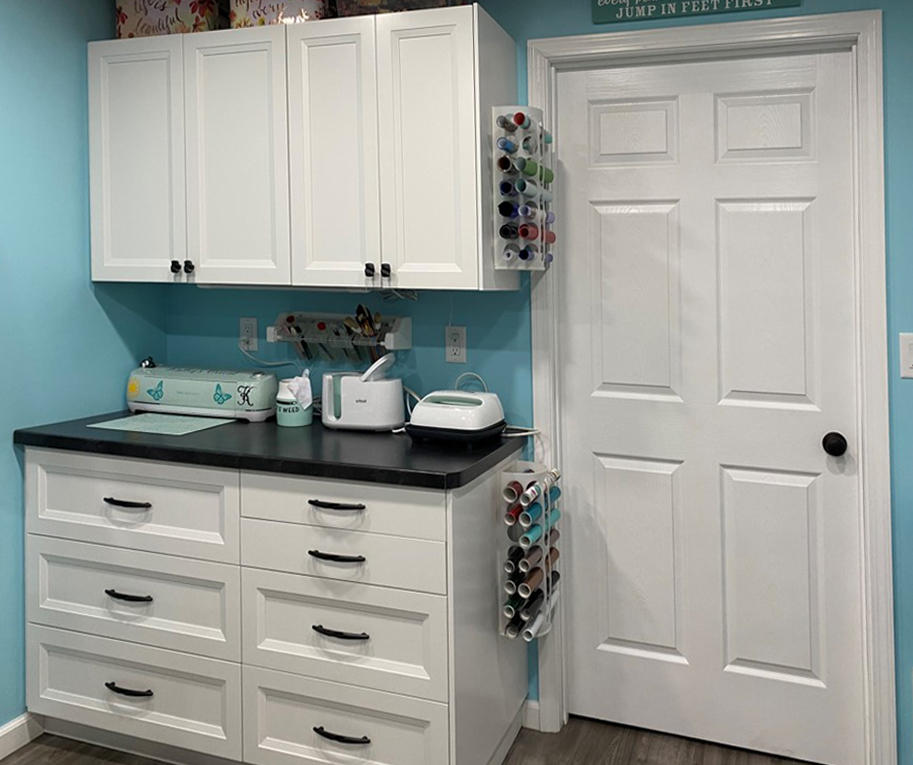 Kathy's desk area starts with a set of drawers where she organizes her 8.5x11 cardstock in hanging file folders. Above the desk she has a beautiful pegboard with supplies and tools Kathy prefers to keep within hands reach. The pegboard was constructed by Tom and painted by Kathy to compliment the space. For areas of the pegboard just out of reach, Kathy added a few beautiful decor items.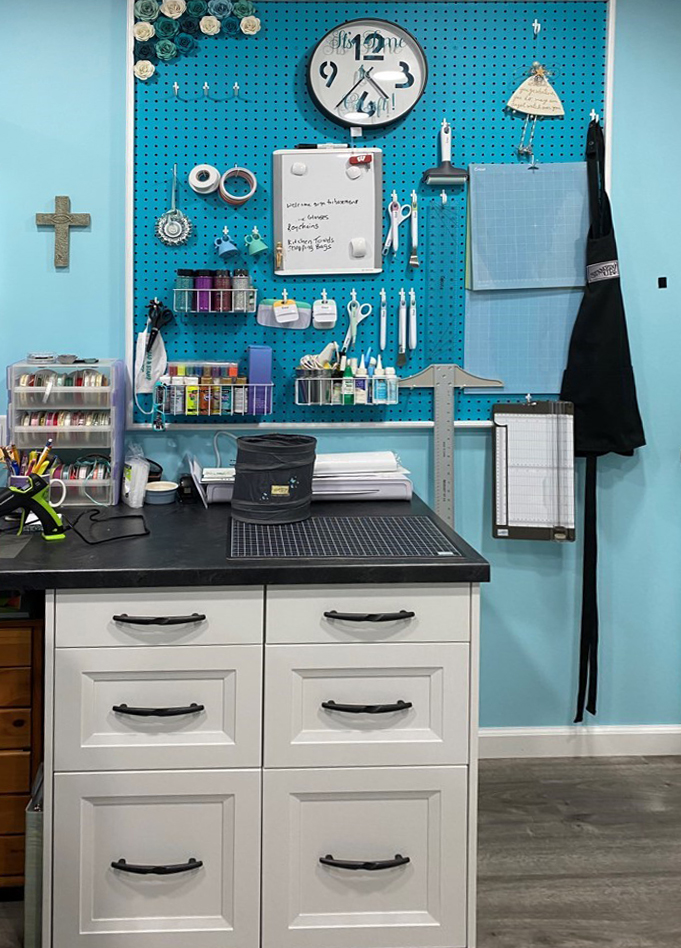 The l-shape desk continues with two work areas for Kathy to unleash her creativity with a friend. She can easily access the drawers to the side or behind her and has extra storage above her desk for additional items she frequently uses.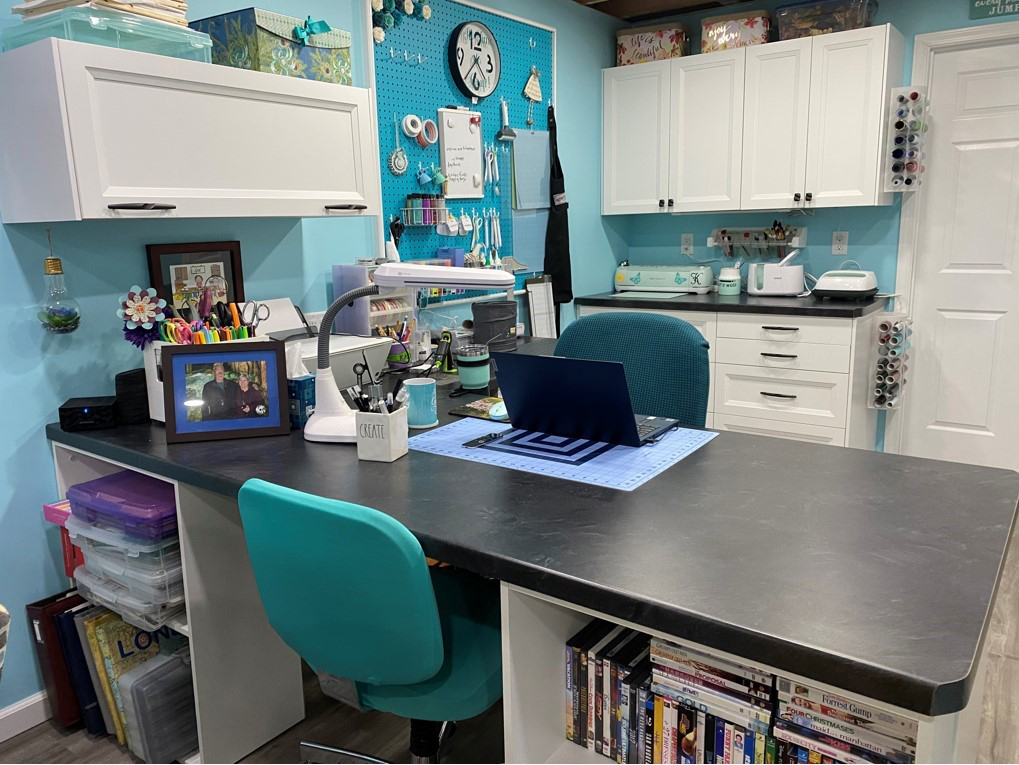 One of our favorite items in Kathy's space is her mom's step stool that Kathy restored. The sentimental value, beautiful colors, and sunflower makes us smile.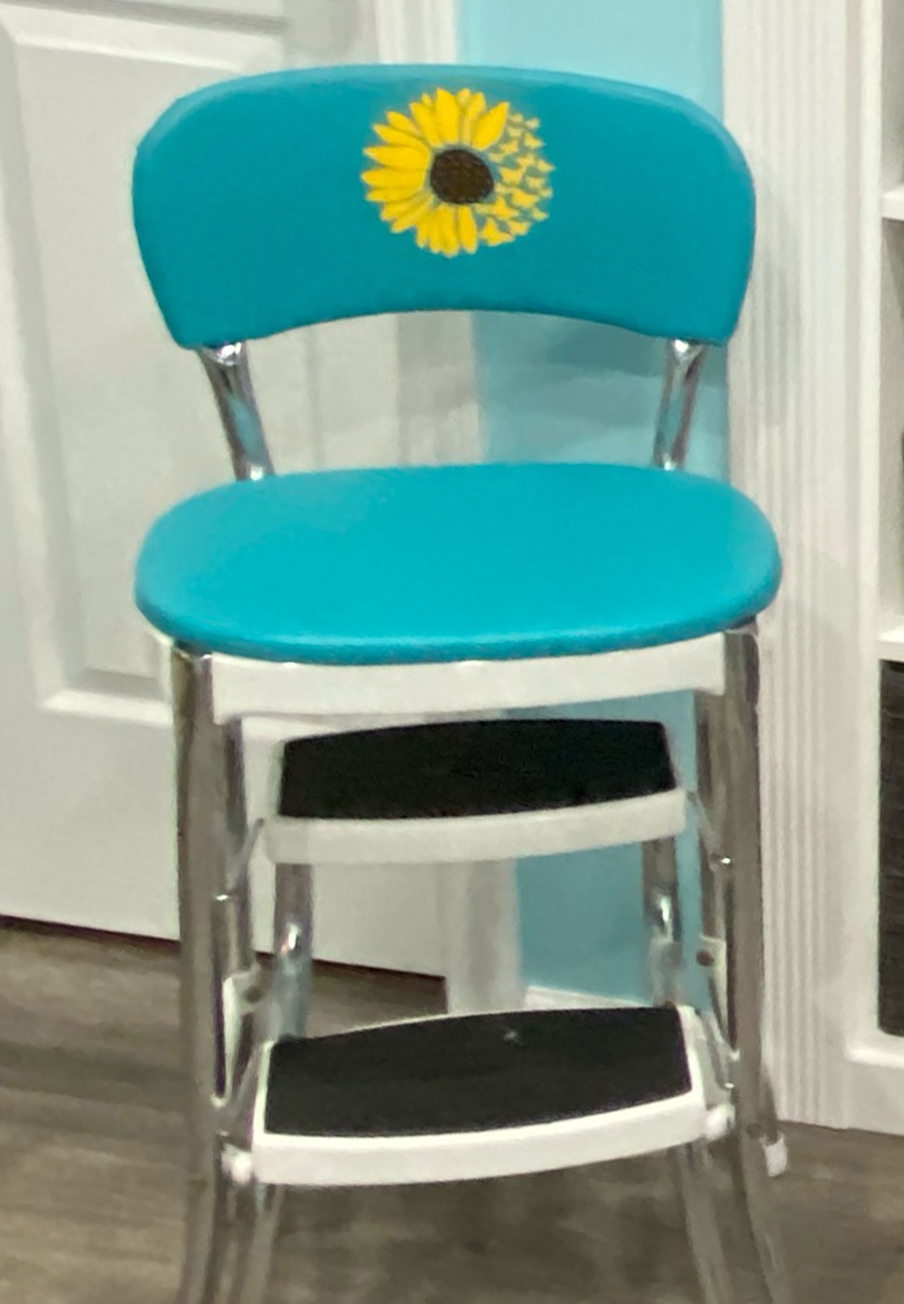 Speaking of bright, cheery flowers, you might notice a theme in Kathy's studio. Bright blues and yellows are featured through the work area and beautiful sitting area Kathy and Tom created. Tom even built a little cafe so the two could make a cup of coffee or enjoy some popcorn during a movie.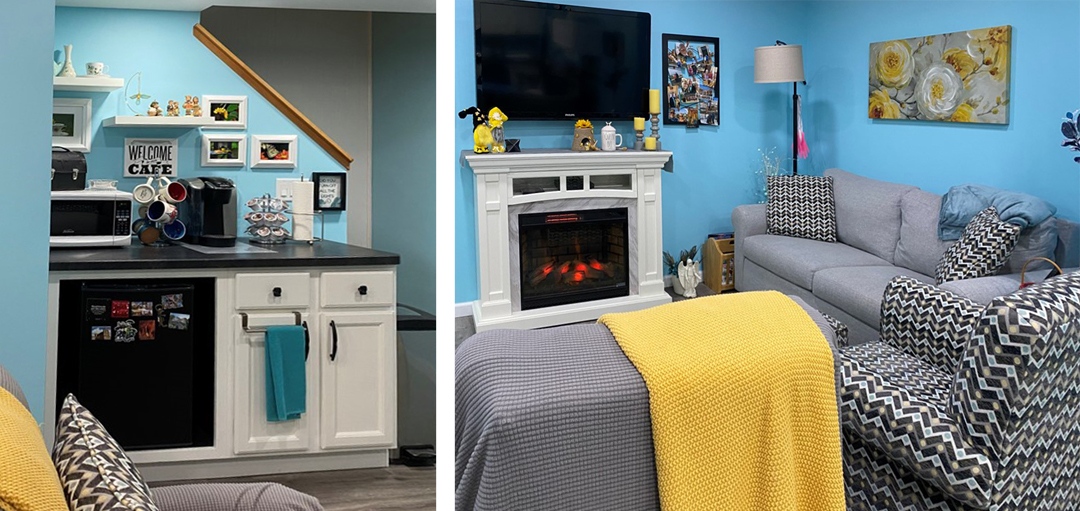 We hope you enjoyed Kathy's studio and it inspires a few ideas as you organize your craft space. If you've had to let go of a dedicated craft area because of a life change, or you've never been able to have that space, keep holding on to your craft passions and dreams. You never know what the future might bring.
If you would like to be our next Studio Showcase winner and have the chance to receive $75 in-store credit, here are a few hints: clean up your space, snap some photos (4 or more) from a few different angles, and include some comments about what you love about your area and your Stamp-n-Storage products. Then, you will be entered into our monthly drawing. Email your entry to: contact@stampnstorage.com.