When Jane reached out to us at Stamp-n-Storage and let us know she was sharing her craft room on her blog, we had no idea her room was so incredibly awesome! We received her Studio Showcase submission shortly after and we are so excited to share her space with all of you. Actually, we're going to let Jane share this one...
My craft room and how it came to be -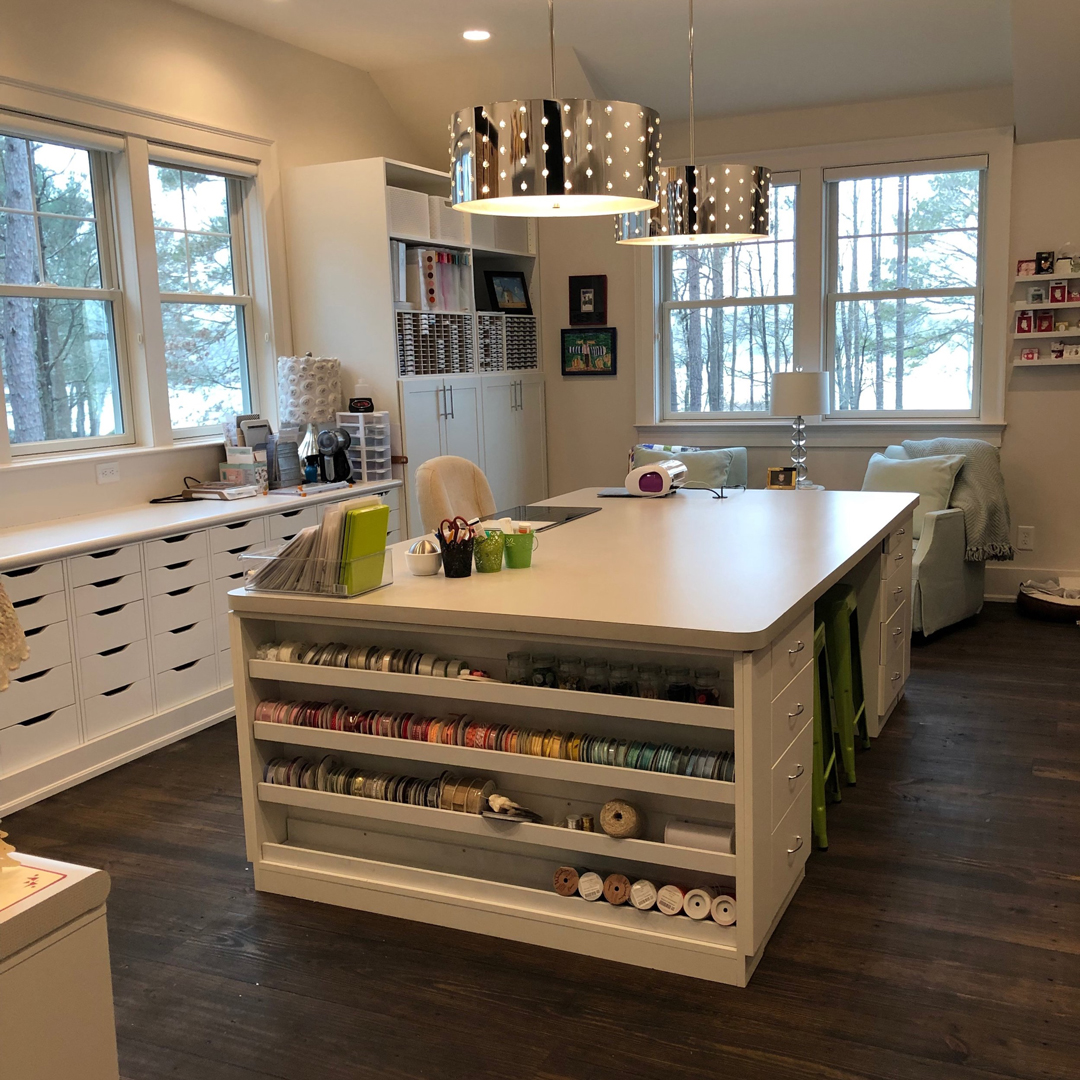 My husband and I just moved into our new home at the end of September. We moved from a home we had lived in for 15 years. I have never lived more than 6 years anywhere before - so you can only imagine the stuff that we accumulated - it was completely mind boggling…..anyway, I am off the subject, as usual.
I have been crafting since I was 7. I used to knit clothes for my barbies, crochet my string (literally) bikini's (and of course put lining in strategic areas - wink wink), knit afghans and I made ALL my own clothes. When I lived at my mom's I used her sewing room. Then I had my own home with a sewing machine in the guest room. Then I had a sewing room in the basement of a 150 year old house (did I mention that I had mice!). I have always had sewing rooms. I was a big time quilter at one time as well. And then, about 4 years ago I discovered the magic of paper crafting and I was HOOKED. I love love love cutting out all the little pieces, stamping and coloring. Water colors, crayons, pencils, alcohol markers…..I had NO idea all this was out there waiting for me.
I turned my sewing room into a craft room.
In our last home, I had sewing and knitting on one side and paper crafting on the other. If you have done any card making or paper crafting at all, you know there are alot of bits and pieces that need to be organized. So, my hunt for 'craft room organization' began. I am a Virgo and organization is my complete jam! I had an island made - the biggest island I could have made to fit my space. It was (and still is) amazing.
When we decided to move I knew I wanted a beautiful, spacious, organized craft room. I scoured Pinterest, Youtube and Instagram for ideas. I had so many pinned boards it wasn't funny. (and keeping track of it all was a job in itself). We hired an architect and I tried to explain to her what I needed and that an extra 6" was a big deal to me - at the time she had no idea what I was trying to accomplish (she has seen the room and now gets it!) We designed the whole upstairs of our new house around my craft room. I initially did not want to be upstairs because I am older and steps might give me trouble some day - so we put in an elevator shaft…..just in case.
I took inventory of all my stuff - and man, is there alot of stuff!
I measured, counted, made spread sheets. I looked at my motions - what did I use most often, because I wanted those things closest to me. I also tried to plan ahead for any new products out there. You know, like - paper, stamps, dies, alcohol inks, nuvo drops, sequins and beads. Did I mention paper, stamps and ink - oh my!
I came to the conclusion that I have 2 different hobbies - crafting and collecting craft supplies :) I had to decide where to put my sewing machine. Did I need ALL that yarn? What about all that fabric? I decided to put my sewing machine in a separate area since I don't sew as much anymore. I donated the fabric to a local quilt group who makes quilts for cancer patients. I have not given the yarn away, yet.
I finally decided on my craft room layout and organization.
I decided on what look I was going for and went to work. I sketched everything out on graph paper and made sure it all fit. I moved stuff (on paper) about a million times. Since I already owned the island and awesome paper and ink storage from stamp-n-storage I designed around them. I also hired a woman who helped Jennifer McGuire design her craft room. She was helpful with my recessed lighting, shelving and gave me quite a few things to think about…..adding to my list of ideas.
The room is 16 x 20. The aisles are 42" wide on the long sides - much wider at the ends of the island.
I LOVE my craft room. It is my happy place. I love to create. But, the best part for me is the opportunity to create and give it away - I love to give my stuff away! I hope you enjoy my room……come and craft with me.
Big Hugs,
Jane
Find more pictures and a pdf of Jane's room on her blog, Positively Jane.