March Studio Showcase: Jennifer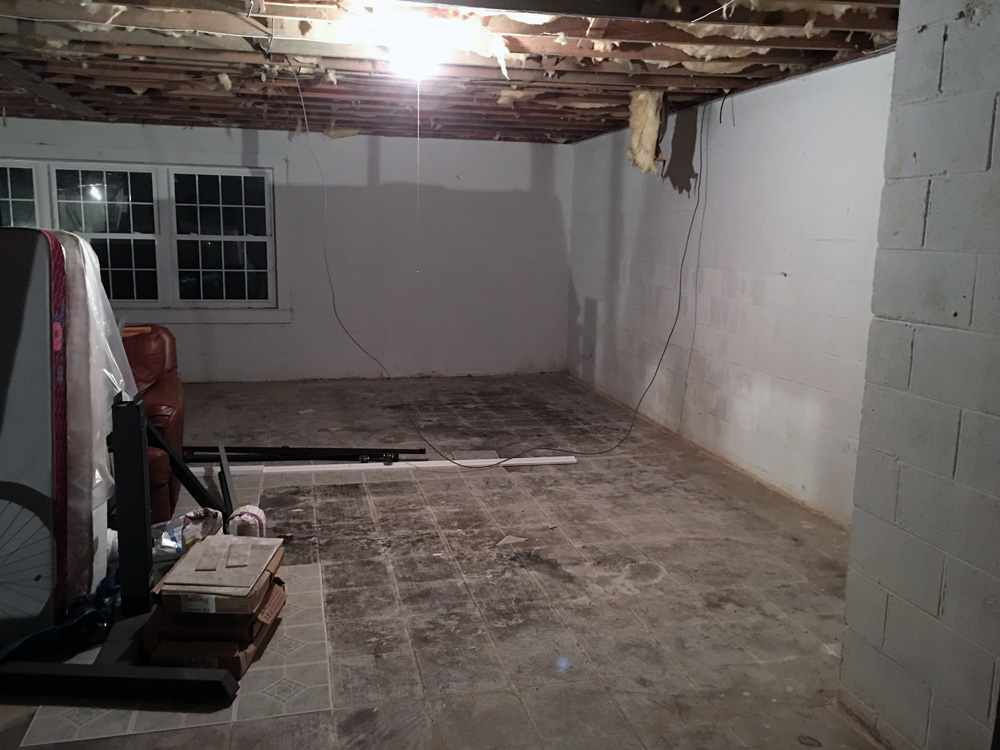 Our March Studio Showcase Winner, Jennifer, created a shared space for her and her husband to enjoy. She would have a craft area and he would have a movie space, who thinks that sounds like the perfect compromise? They started with a 1900sq. ft. basement. Part of it would be left for storage, the other they would finish themselves.
Jennifer and her husband are not in the construction world but had a few family members they could ask for tips from. "We also watched a lot of YouTube" Jennifer explained with a bit of laughter. " When we decided to hang sheet rock for the first time, my husband said lets just pay someone. I said no, it's just like a scrapbook page, we can do this! "
Jennifer has had many craft spaces over the past 15 years, everything from a converted garage, spare bedroom, bonus room, and now in the basement. Early on in the planning stages she was considering to just "make due" but her husband quickly stepped in and said "I know it's going to cost more money, but you love it so let's make it right. "
"The best advice I can give for creating your own space is plan it out. Take the extra time to research what storage will work for your materials. Measure your space and lay it out. When our space was under construction I really took the time to think about what I wanted. We actually used sticks and tape on the floor to mark layouts for the desk and cabinets. "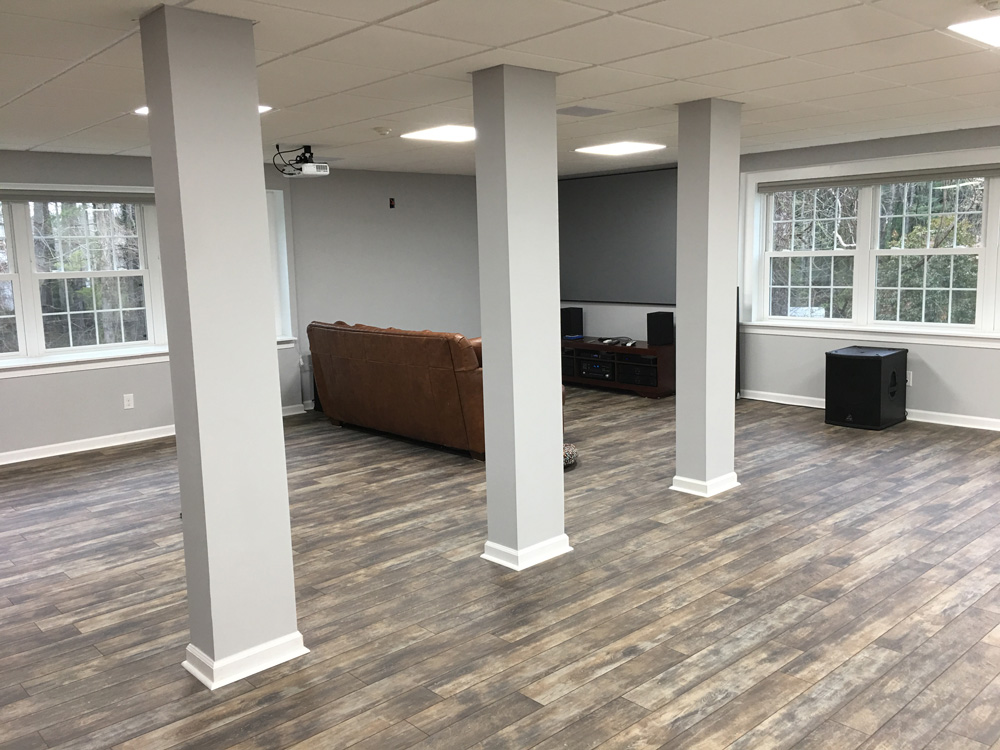 Because this was a shared space for both Jennifer and her husband, colors were picked to compliment both the craft area and movie area. Jennifer chose a lighter to medium gray paint for the walls and a laminate barn look flooring from Lowe's Hardware.
Jennifer knew she wanted stations set up for stamps and ink, cutting and trimming, die cutting, and a center station to assemble projects. She hardly ever sits down when crafting. "With stations I am able to stand and go to the designated station to either cut, ink, etc. and then bring it back to my project area. It eliminates the clutter of everything being right on top of me while I assemble my project."
The cabinets in Jennifer's room are from Martha Stewart® and Home Depot®. Because they were a bit expensive, she took her time purchasing them. "I waited until they went on sale and would buy one or two at a time " she says.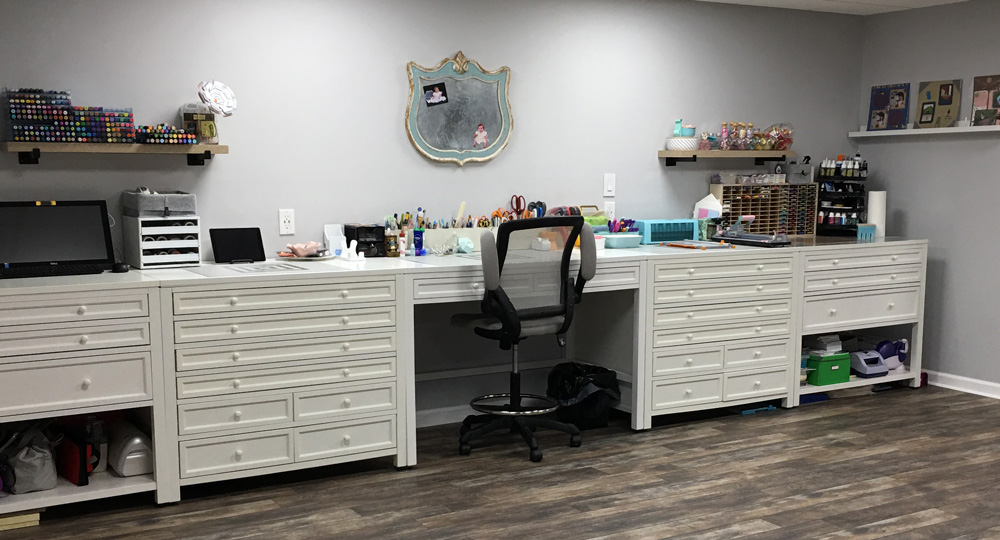 Jennifer found that her previous cabinet drawers were too deep for most of her storage needs. "While we crafters need drawer space, the traditional office drawer storage is just too deep for organizing. I like the shallow drawers so I can see my materials at a glance, and not have to dig through layers" she says.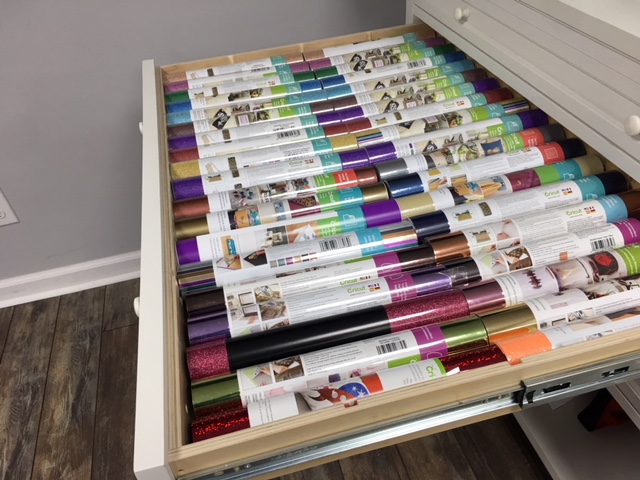 Jennifer knew she didn't want her paper in a drawer so she chose the Kallax shelving units from IKEA®. She even added a piece of shoe mold trim around the bottom of the Kallax to give it a more built-in look. "Just a small thing to do, but it make a huge difference in my room" she says.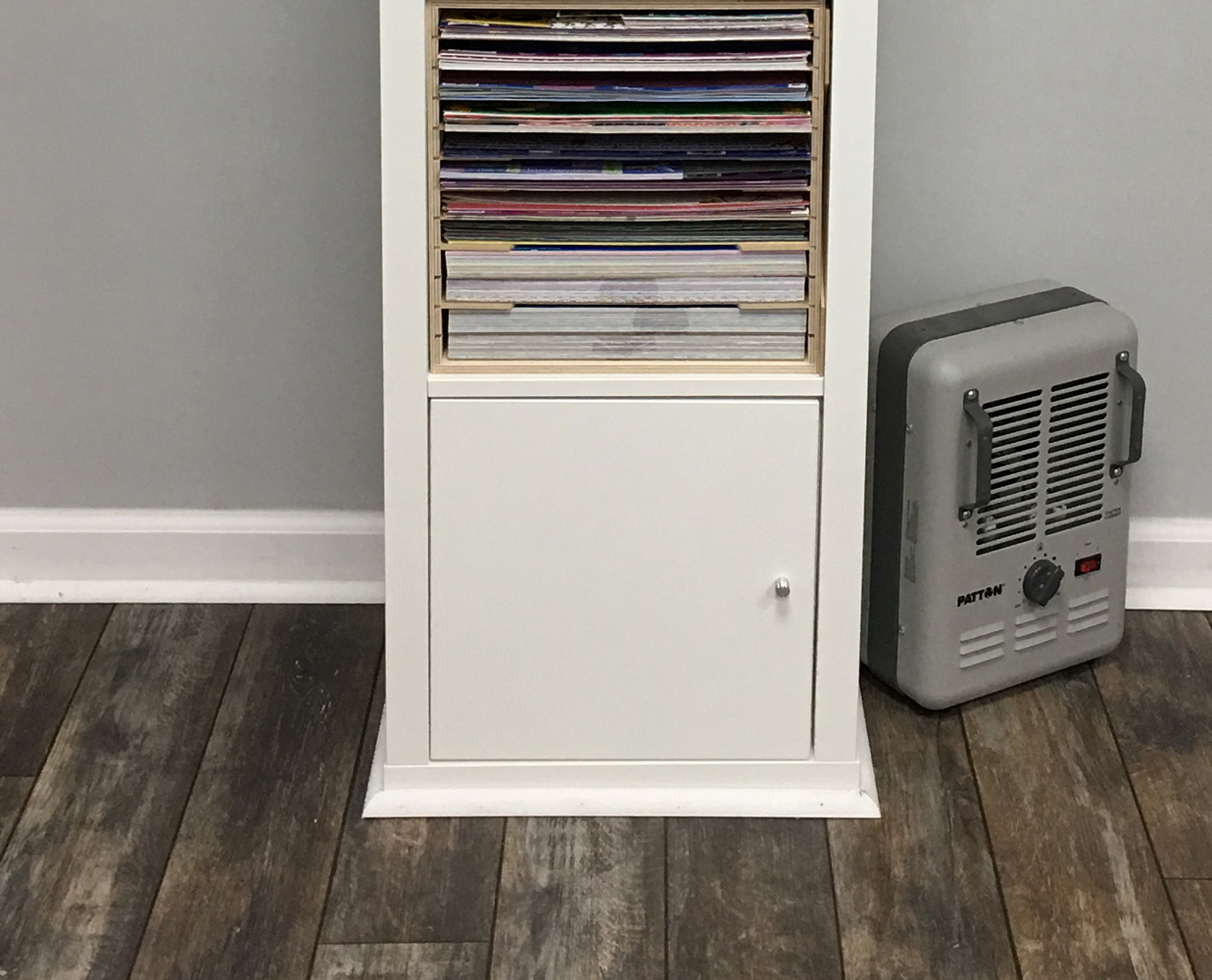 After choosing the Kallax from IKEA®, Jennifer researched how crafters were using it and found Stamp-n-Storage. "I loved that the paper shelves could fit in the cubes so well. Organizing within organizing. I love it! As I continued to plan my space, I watched all the Stamp-n-Storage Crafted Spaces videos and drooled over the studios. I researched other storage solutions, but nothing compared to what Stamp-n-Storage could offer. " Jennifer purchased nine 12x12 Paper Holders for IKEA®.
"One 12x12 Paper Holder for IKEA® is for Disney papers only. I knew after my Disney trip I would not be able to scrapbook it right away, but I did start purchasing my papers for it. Once I started organizing my paper in the Paper Holder I realized how much I had! The Paper Holders let me see what I have and allow me to go right to the section I need. I no longer waste time thumbing through stacks of papers and trying to remember, 'did I purchase something for that theme.' I organize my papers by theme and all my cardstock by color family."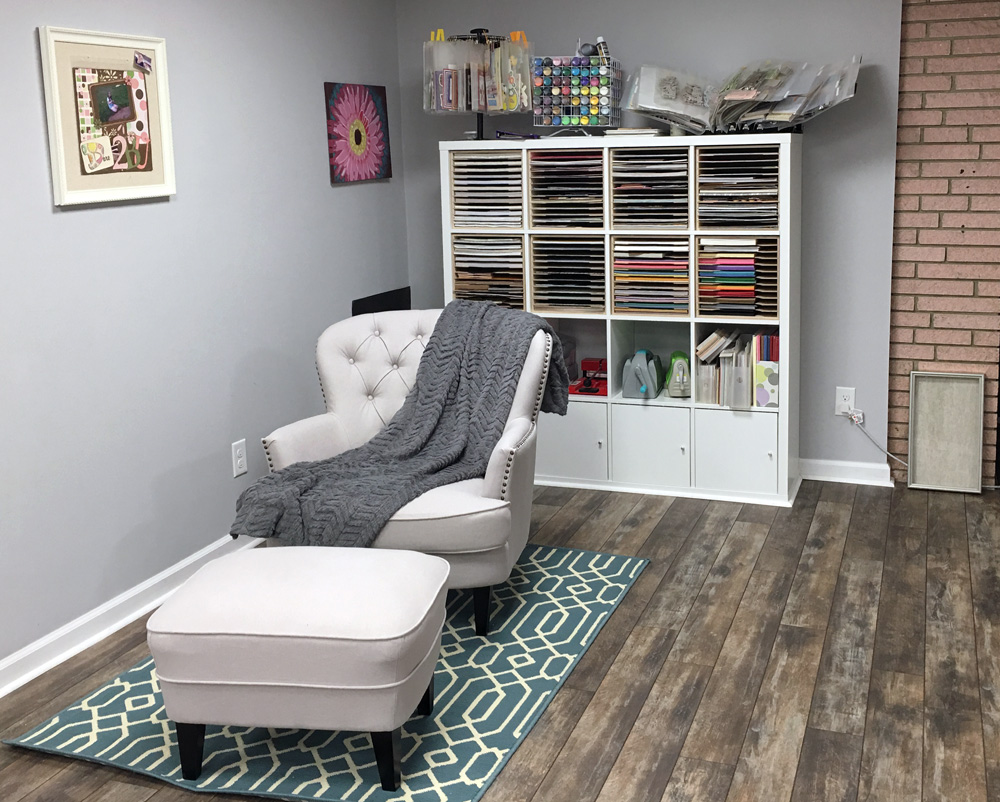 "I also purchased the 120 Slim Ink Pad Holder because I knew now that my room was complete I would be full steam ahead on crafting, and would need additional space for my supplies to grow."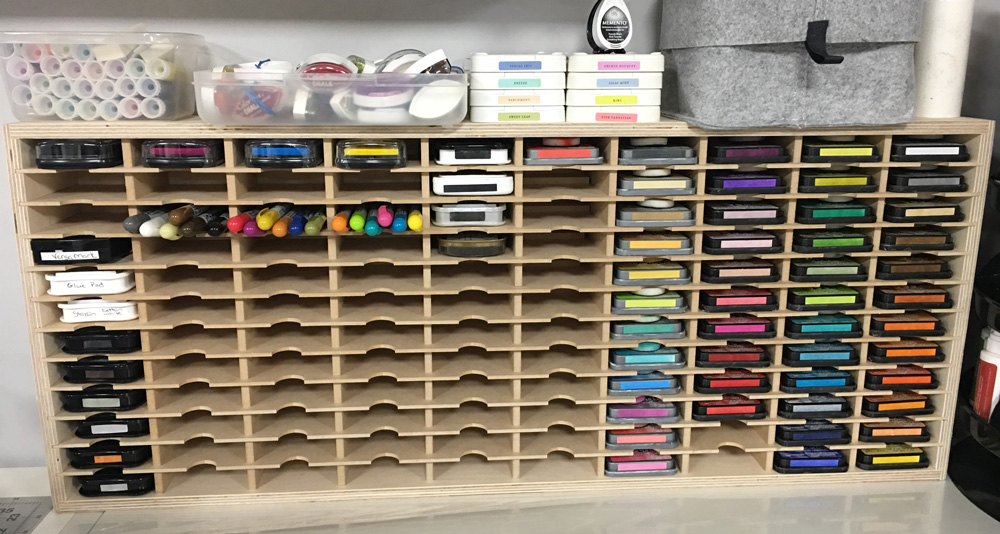 "I love my new organized space and spend hours enjoying my love of scrapbooking, card making, painting, altered media and so much more " says Jennifer. Thank you Jennifer for sharing your beautiful craft space with us!
---
Would you like to be our next Studio Showcase winner and have the chance to receive $75 in store credit?
Here are a few hints: clean up your space, snap some photos (4 or more) from a few different angles, and include some comments about what you love about your area and your Stamp-n-Storage products. Then, you will be entered into our monthly drawing. Email your entry to: contact@stampnstorage.com.