July Studio Showcase Winner - Patti
When your husband's business is cabinet making, you have the best resource for planning out your craft space. Our July Studio Showcase Winner, Patti, had her husband come into her studio and watch her make cards when they began the craft room plans. "He could see what I wanted to have close at hand and what I needed more space for. He also saw that I needed to stand when using my Big Shot, so suggested having at least one higher counter space. I am so glad that I said yes to those counters!" Patti says.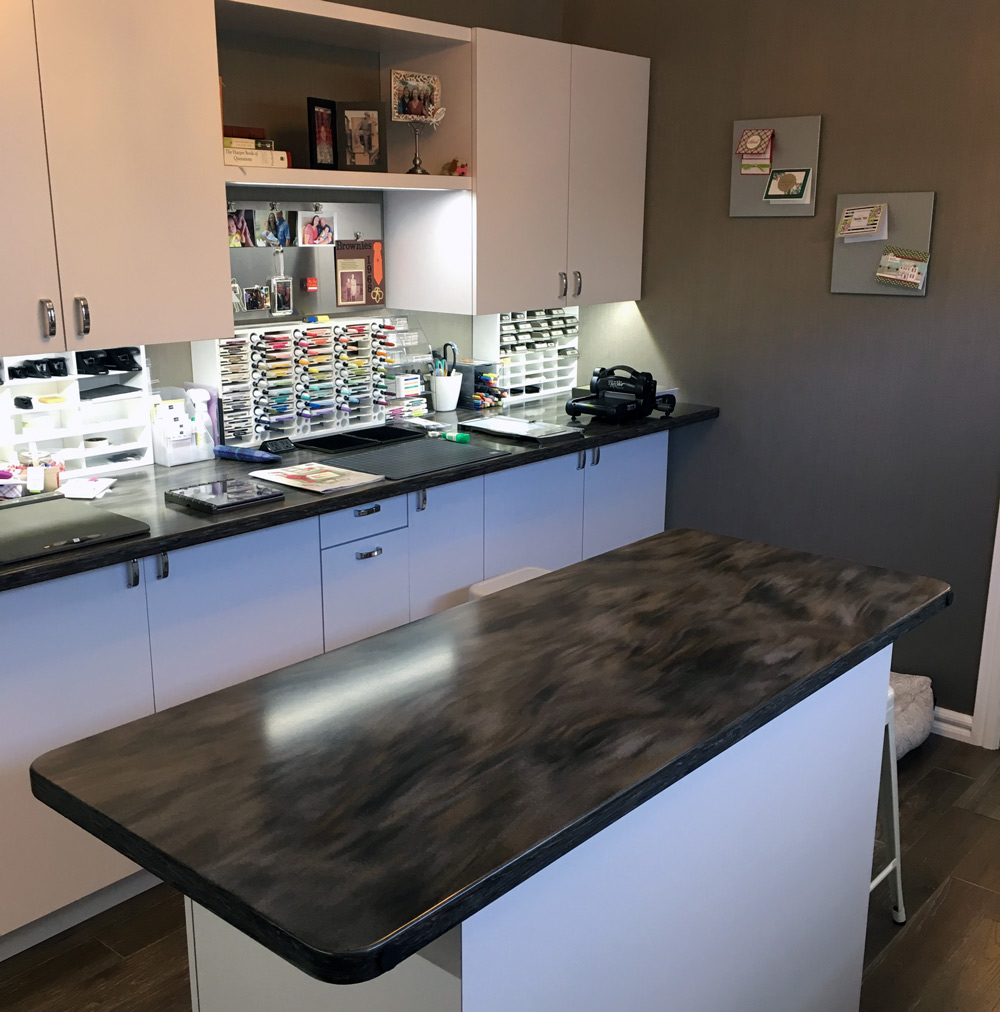 When planning out her space, it was important for Patti to have her inks in front of her. "I spend most of my time crafting at the high counter in front of my ink storage, which is also very colorful and makes me smile" she says. Patti chose the Stamp-n-Storage 48 Combo Holder for storing her ink pads, refills and markers together. "My inks are organized and easy to grab! It leaves me more space to work right in front of my most used supplies" she says. You'll also notice Patti has her Stamp-n-Storage products painted white. Her husband's team spray painted them in the shop to get the perfect finish.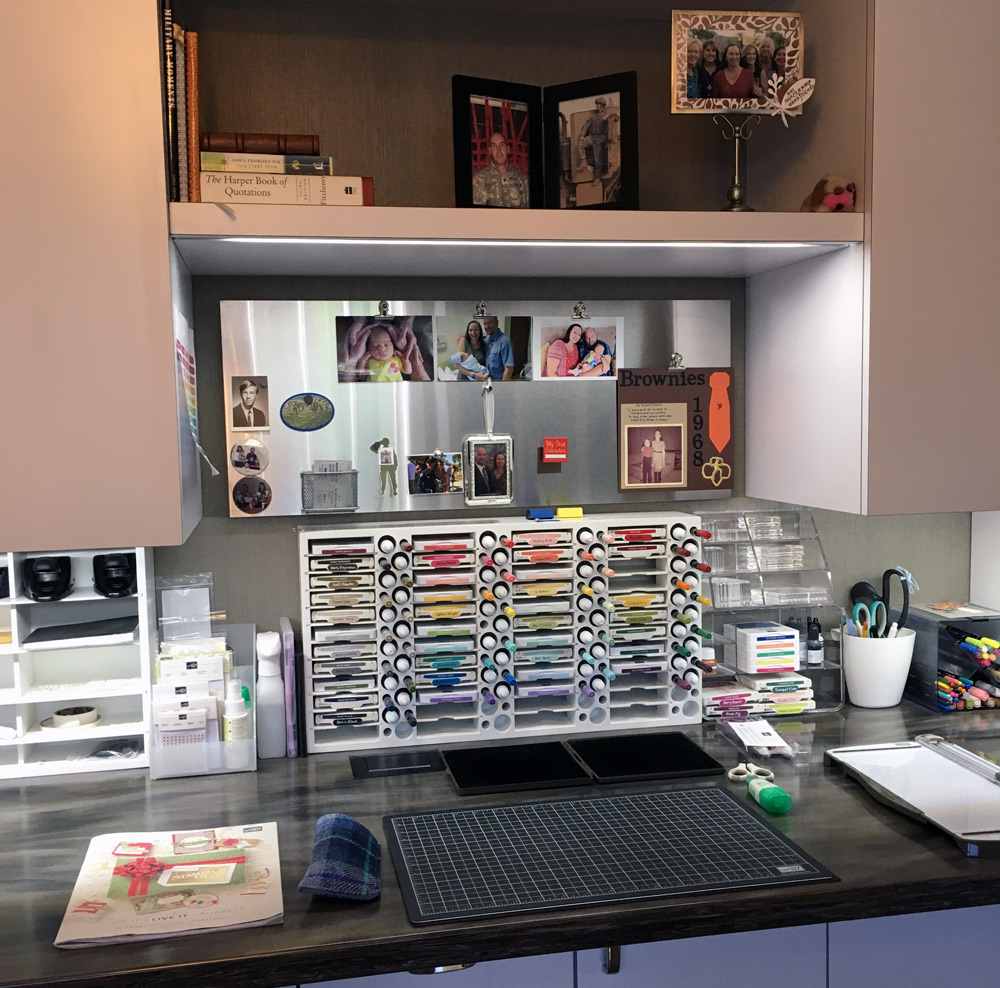 Also near Patti's Combo Holder, she has a Whale-Tail Punch Holder and Lock-Down Punch Holder to keep her punches visible and easy to access.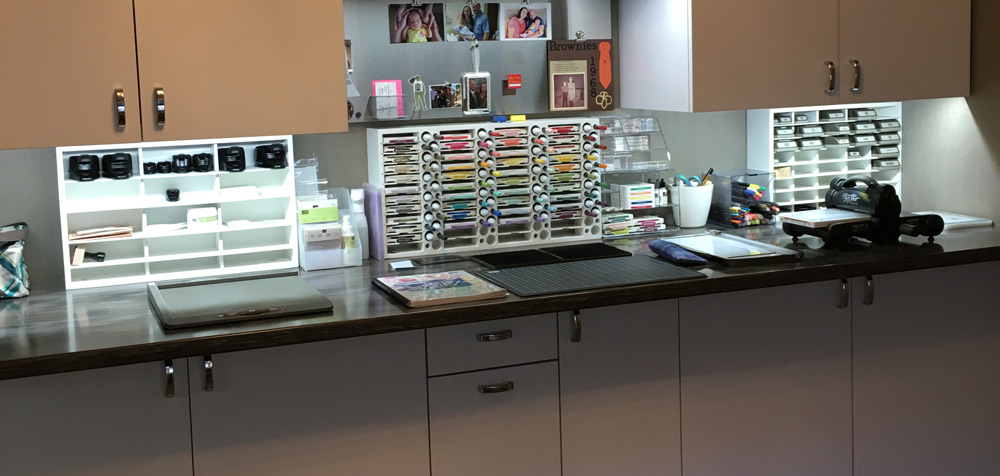 Patti formerly had magazine holders for her 8-1/2x11 paper collections and Cropper Hopper plastic folders for her 12x12 papers. "These were difficult to use, as I had to pull out the magazine holders of the folders to access my papers." She transitioned to the Stamp-n-Storage 8.5x11 Paper Holders and 12x12 Paper Holders in her new space. "Now I can see all of my papers" she says. Patti also uses the paper holders as a decoration for her space, "It brings color into my mostly neutral room."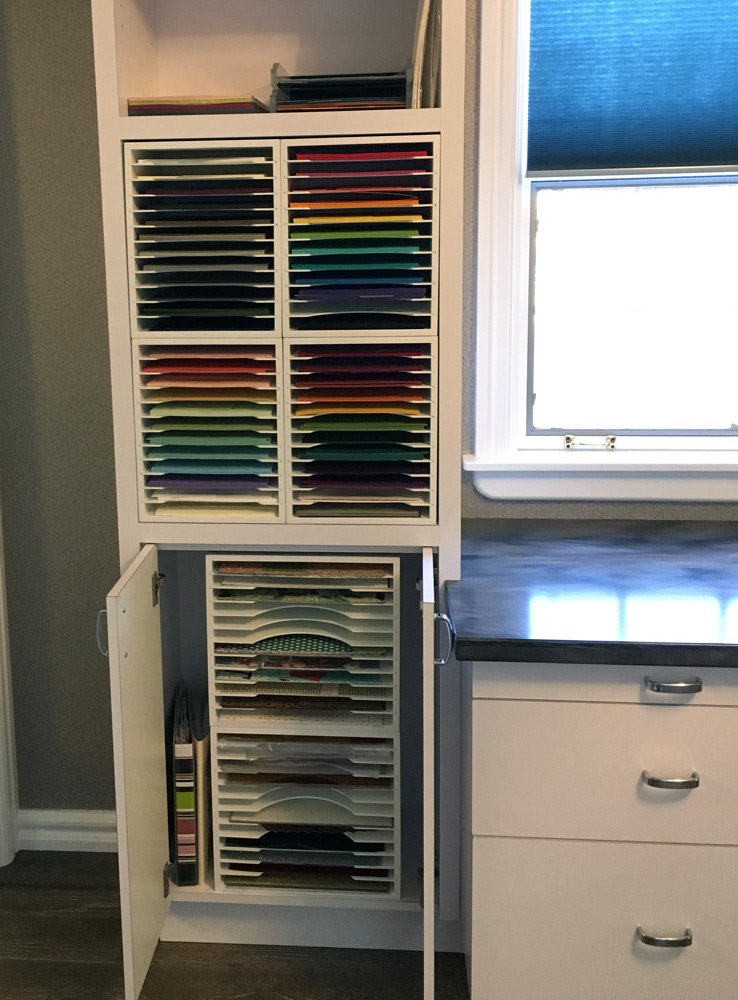 Patti decided to keep her stamps set on a shelf because she liked how they looked and were in plain sight.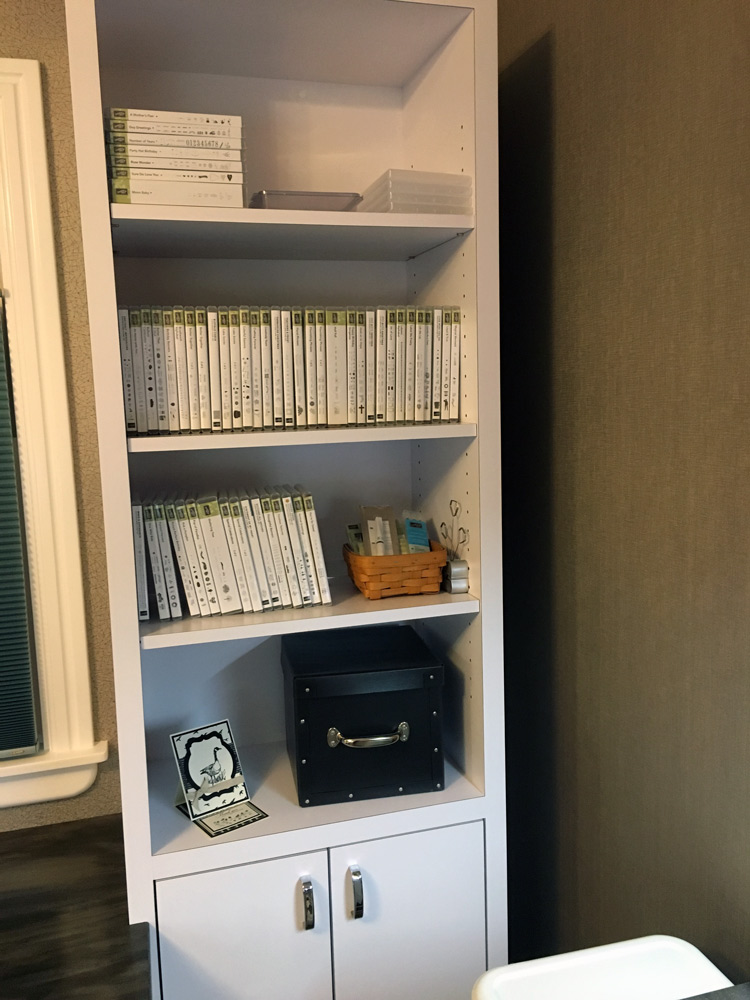 Patti's tabletop is Corian, which she chose because its both durable and easy to clean. "Any time I'm choosing surfaces for my home, I always ask how to clean them first. If it isn't easy to clean, I don't want it!" she says.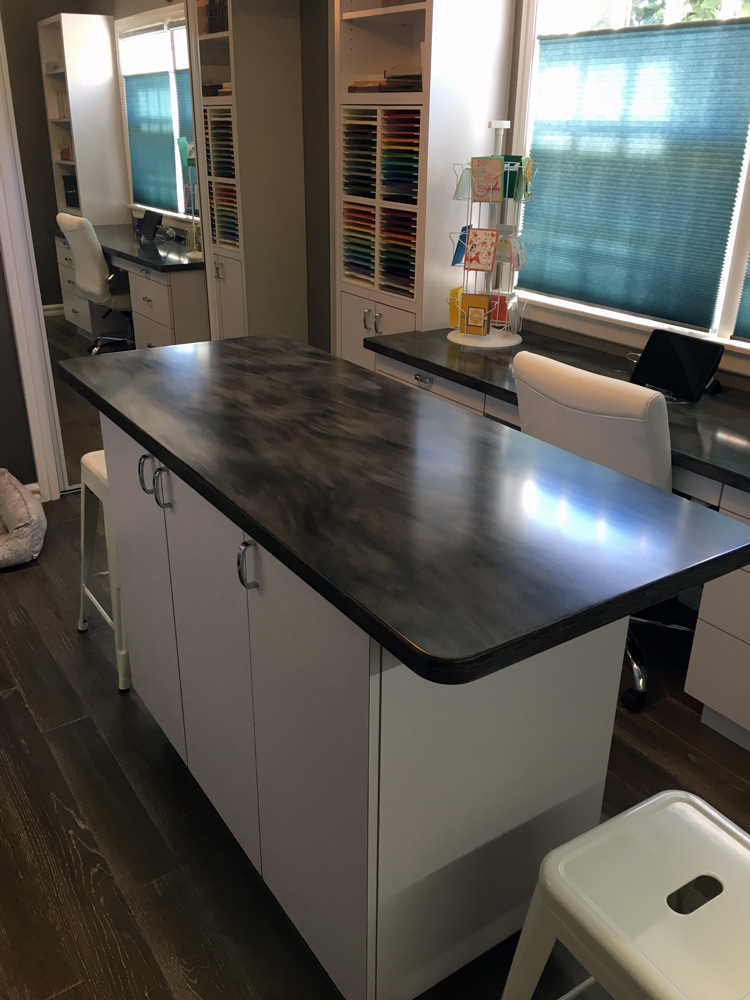 Another fun feature in Patti's studio is her chandelier that replaced a fan light. "Since I can't really have the fan on while playing with paper (it blows around!), I decided to choose something pretty. I wanted a slight industrial look with some sparkle, and I think the brown metal fixture with tiny glass drops reflect the light bulbs just right."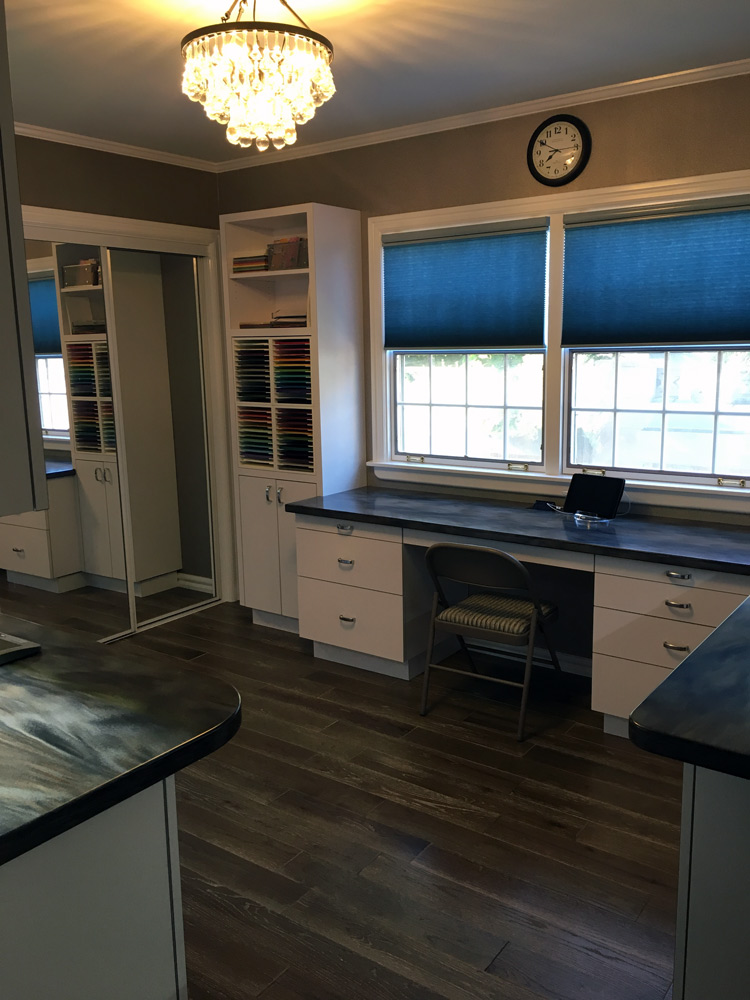 Additional lighting features Patti added included tape lighting under shelves for fun and her cabinets so she has enough light in front of her work space.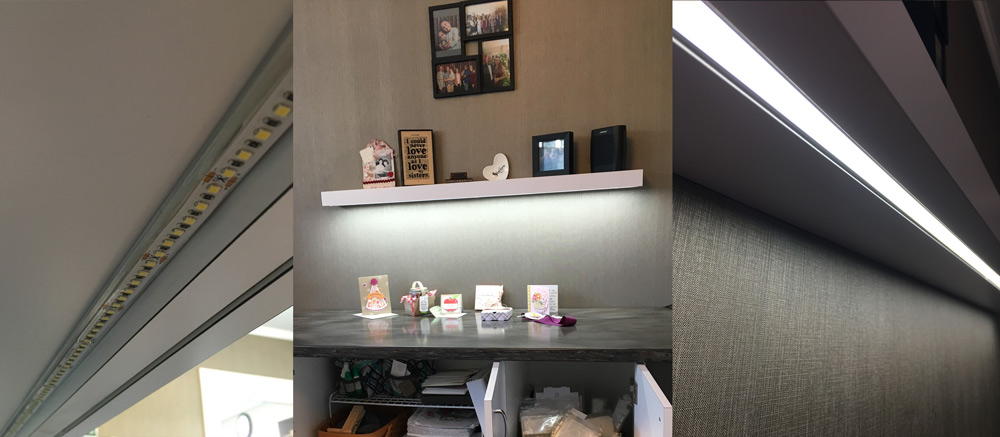 Patti loves her new space for its functionality and efficiency. "I am not distracted by piles of products! I can see just what I have and I like that the things that aren't pleasing to look at can be stored behind doors and in drawers. It is easy to put things back where they belong. I can easily move from space to space while using different products such as my ink pads and papers. There is dedicated space for the Big Shot, my Simply Scored and my Stamparatus. I don't have to move one to use the other."
Thank you Patti, for sharing your gorgeous space with us.
---
Would you like to be our next Studio Showcase winner and have the chance to receive $75 in store credit?
Here are a few hints: clean up your space, snap some photos (4 or more) from a few different angles, and include some comments about what you love about your area and your Stamp-n-Storage products. Then, you will be entered into our monthly drawing. Email your entry to: contact@stampnstorage.com.