Judy D - July 2014 Studio Showcase Winner
Judy submitted her picture through the Splitcoaststampers gallery. She's the winner of a $75 refund for being this month's winner! Want to enter? Learn more HERE.
She told her story really well in a comment on our contest post on Splitcoast.
Having trouble keeping up with my punches pushed me to find a solution to keep them all together and organized. I bought two different Lever Punch Organizers and am so happy to have them in front of me. I now know I bought a few of the punches more than once. That won't happen again. YEAH!!! I put most of my COPIC markers in the Marker Nook and will probably order a second one soon. LOVE everything about these wonderful products. Thank you Stamp-n-Storage!!!!
Here is the storage area of her studio: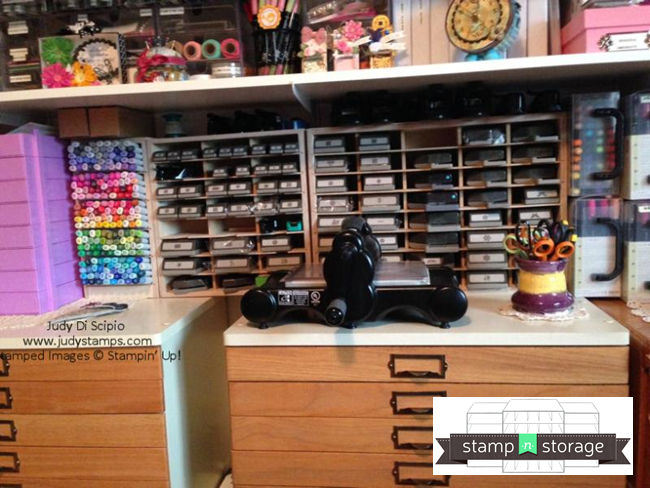 Her storage pieces include a Marker Nook and two Lock Down Punch Holders (standard size and the design for use in IKEA shelves).
Along with the picture, she also posted the following in her GALLERY:
The beginning of my re-organization. I'm loving the three products I recently purchased from Stamp-n-Storage. I will stain or paint them when I get the whole room done so everything is matching. I love that I have room for my Big Shot machine to sit in front of my new punch storage units. I got so tired of not being able to find a particular punch. Now I have them in one place. Thank goodness. :)
Congratulations, Judy!