January Studio Showcase - Helen T
We love receiving entries for our Studio Showcase contest! This month's winner is Helen T., a Stampin' Up!® demonstrator and avid crafter. Not only did she send us great photos of her gorgeous craft room, but she even included a detailed background story of how she and her husband transformed her 14'x20' formal living room into a studio that she now calls her "Happy Place"!
Would you like to be our next Studio Showcase winner and receive $75 store credit? Here are a few hints: clean up your space, snap some photos (4 or more) from a few different angles, and include some comments about what you love about your area. Then you will be entered into our monthly drawing. Email your entry to contact@stampnstorage.com.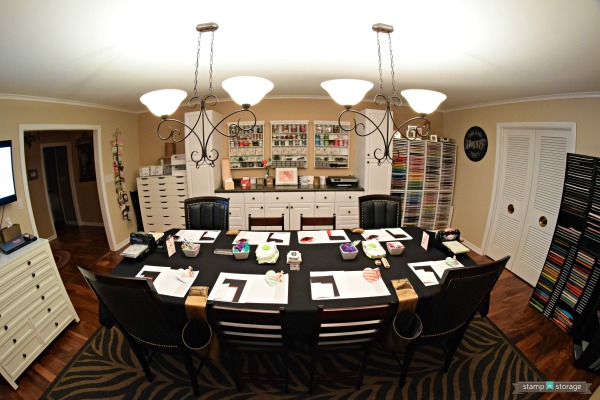 Here's what Helen told us about her beloved craft room:
"After many hours of surfing the internet and seeing all the gorgeous craft rooms, it was my goal to have one as well. My craft room was in the basement and no matter what I did to spruce it up, it was still a basement. Dark, cramped, boring, and down 14 steps which were starting to wear on my knees. There was nowhere for me to go upstairs, so I decided to start researching an addition to our home. After contacting an architect and builder, it was apparent that the addition was out of the question (per my husband), so I did the next best thing. I transformed our 14' x 20' formal living room into my new craft studio. We started the project mid-October and the room was finished the week before Christmas. All the work was done by my husband and me."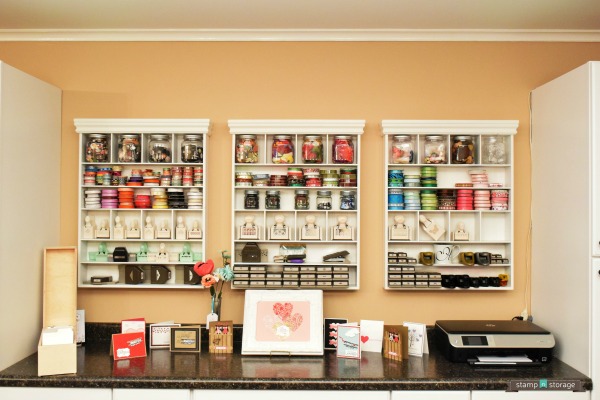 Here is where Helen can craft on her counter top. She says that since the room has west expose with almost 14 feet of windows, she has a beautifully lit place where she can spend hours crafting! That's a much better option than the dark basement that she used to be in! On the far left of the photo, Helen has a Stamp-n-Storage Emboss Folder Tote with a cover that nicely stores her embossing folders and keeps the dust off of them.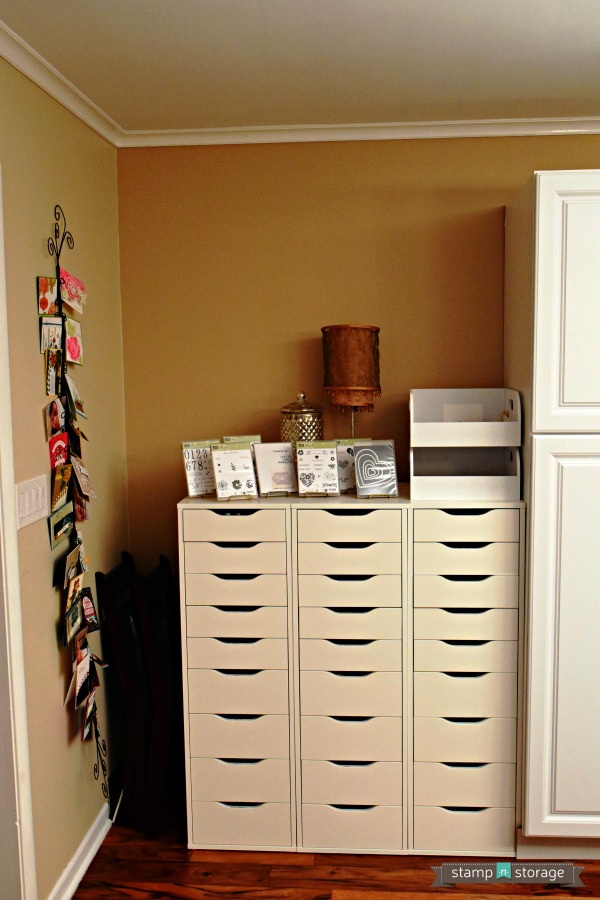 In the photo above, we see three Alex cabinets from IKEA® next to a built-in from Home Depot.These are on the left side of her counter-top crafting area that was shown in the previous photo. Not only do they provide lots of storage space inside of the drawers, but Helen can also display her favorite cards on top! We love the card display on the left wall too.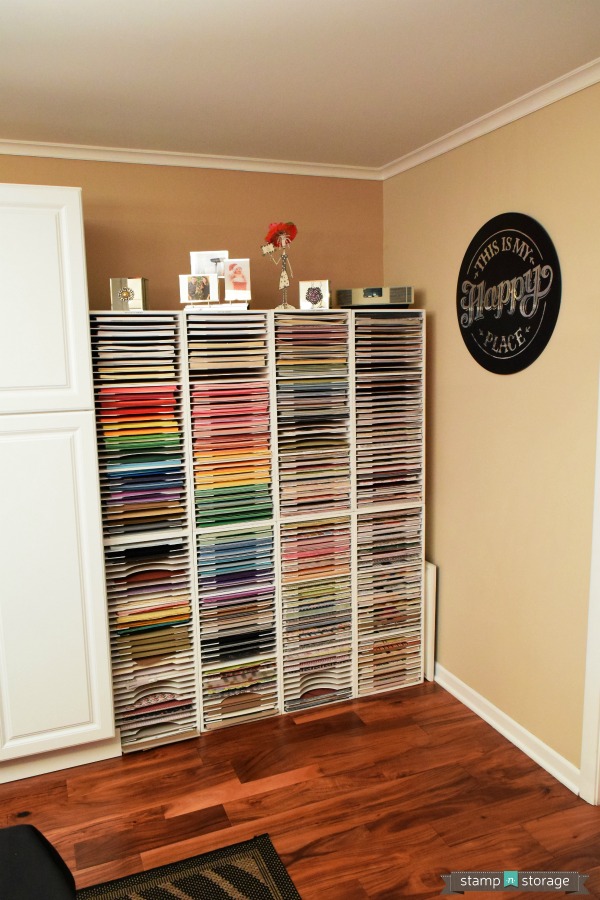 In the photo above, we see Helen's wall of Stamp-n-Storage Paper Holders which includes eight Three-Tier 12 x12 Paper Holders. (She says that she has an addiction to paper!) Helen loves having the paper organized and so easily accessible. Clean-up is a snap now that everything has a place. There's nothing better when you're a crafter!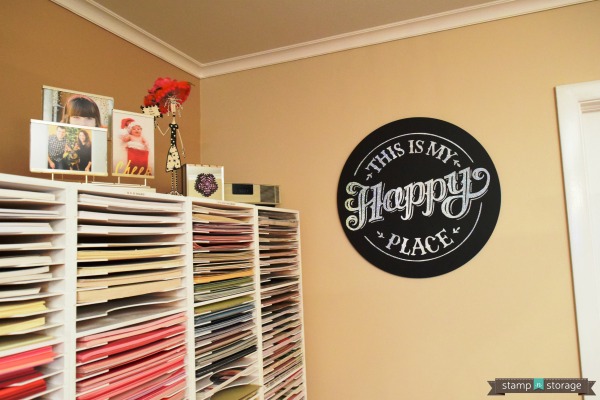 Isn't Helen's sign on the wall adorable? It's a wonderful personal touch that really does make this craft room Helen's Happy Place! The photos and other decor look great on top of the Three-Tier Paper Holder wall, too!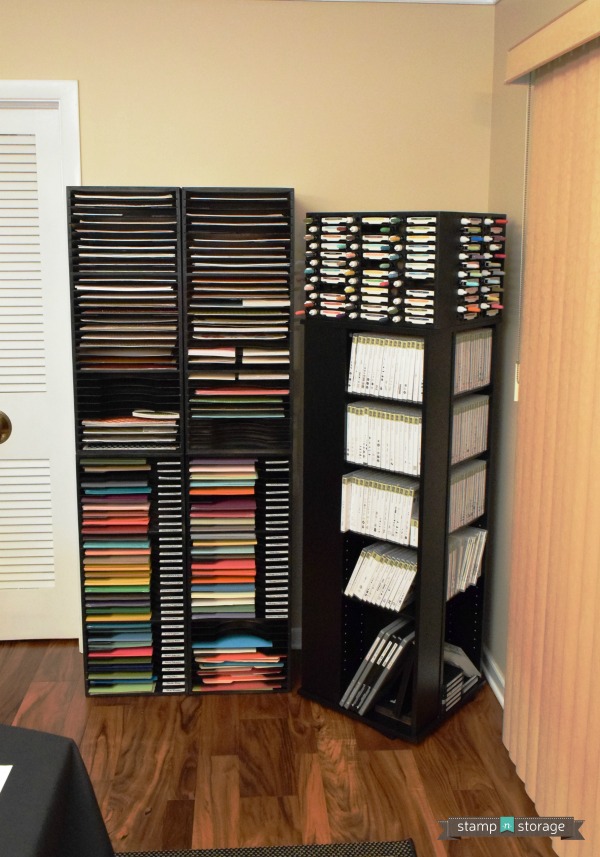 The photo above shows us what Helen has named her Stampin' Up!® corner. We love what she's done to make the most of this area and incorporate a number of Stamp-n-Storage products too!
Helen has four more Three-Tier Paper Holders that she painted black. She wanted them to match the revolving DVD tower which is on the far right side. This shelf is what she uses to store her Stampin' Up!® stamps that are in cases. On top of the revolving DVD tower are two Combo Holders. The one on the left is a 36 Combo Holder and the one on the right is a 24 Combo Holder. What a fantastic idea to use the top of the DVD Tower for even more storage!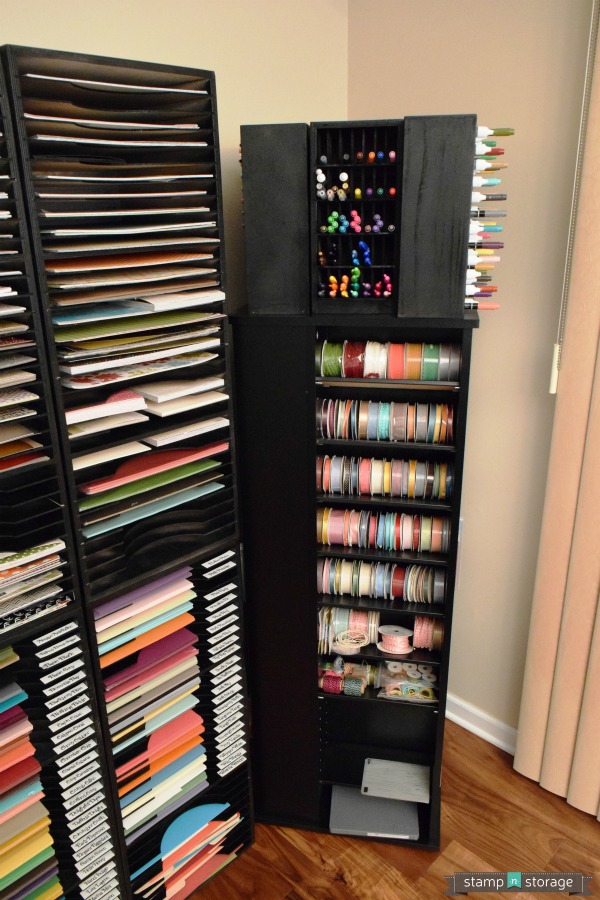 When Helen turns her revolving DVD tower, she can access her ribbon and Framelits™. Additionally, Helen put her Framelits™ in CD cases that have Stamp-n-Storage Magnet Cards in them. We can see her Marker Nook that is painted black and sits on the top of the revolving DVD tower.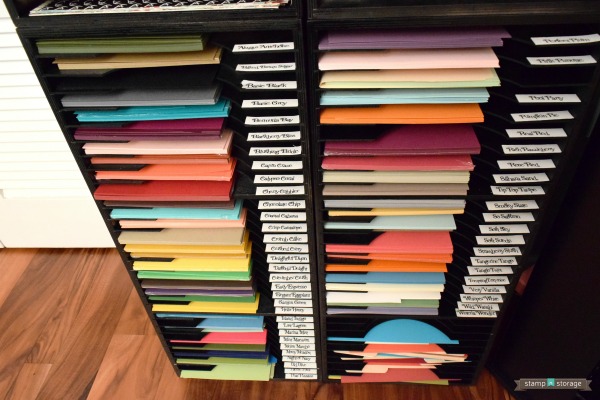 Helen has alphabetized her paper in her Three-Tier Paper Holders which makes returning colors of paper to their correct spots so easy! Doesn't this tower of paper look beautiful?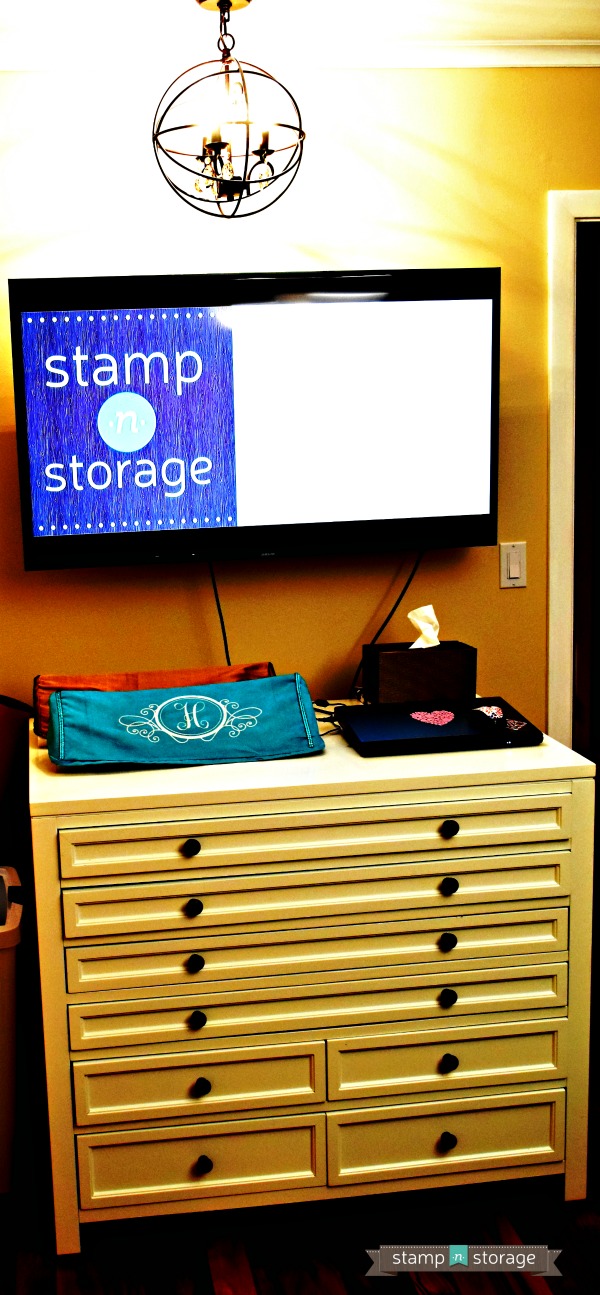 One of Helen's favorite additions to her craft room is the TV that's in the photo above. She is able to stream any screen from her computer and use the TV monitor for when she teaches her crafting classes.
Helen said, "I am so thrilled that I took the challenge and put in all this work to have such an awesome room, it was totally worth it. I have been using the room for a couple of weeks now and I just love my Happy Place. This weekend is my first class and I am so excited to use this space to share my love for crafting. I believe in friends and family, and this room brings people together, and for that I am thankful."
We couldn't agree with Helen more! We love how the mission of her room is to inspire others with creativity. That truly makes the world a more beautiful place.