How to Organize Your Mini Ink Cubes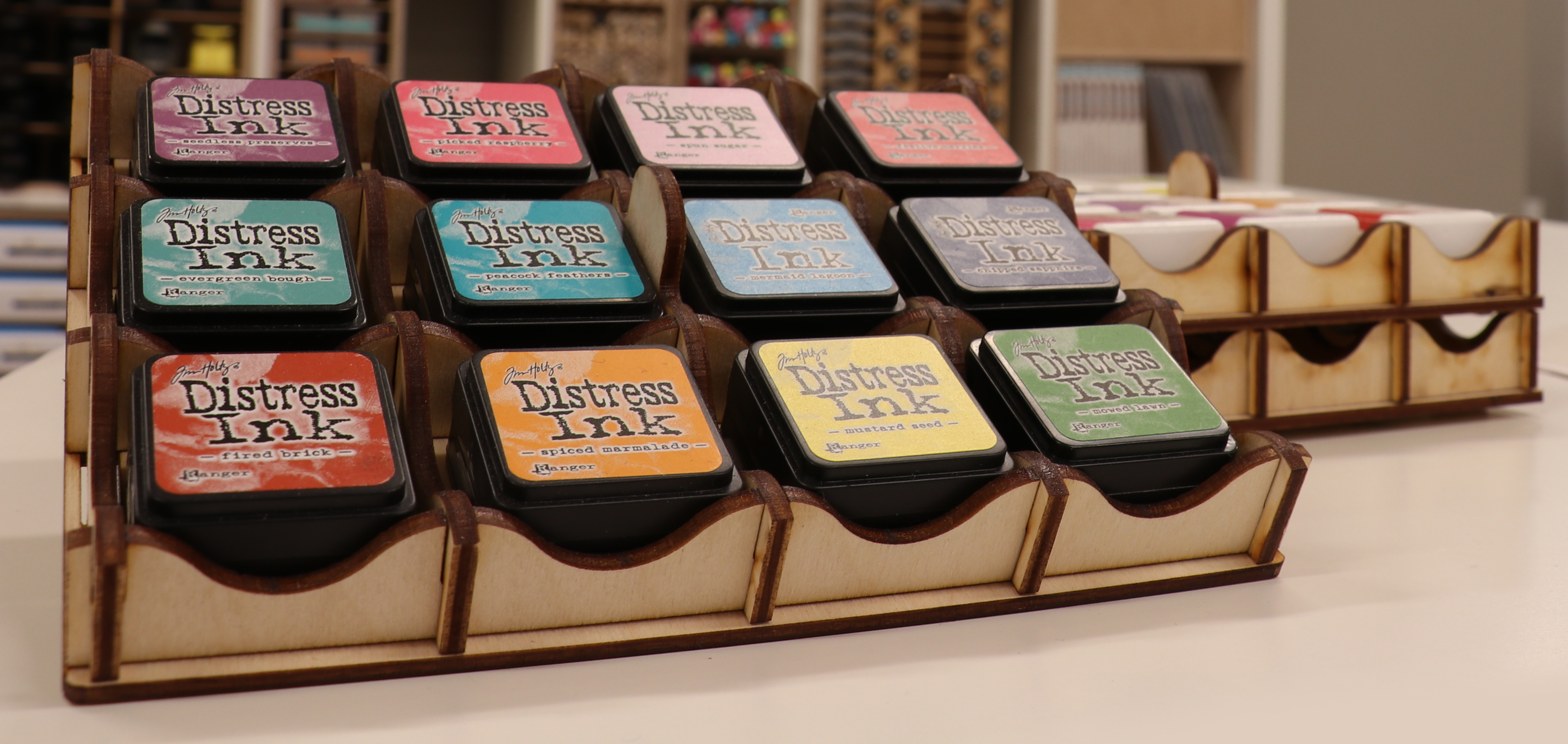 MINI INK CUBE STORAGE SOLUTIONS

Mini ink cubes are becoming more and more popular. Not only are they great for blending, water coloring, and stamping, mini inks are also easy to grab and go for your next crop. You can have an extensive collection of ink colors in a small amount of space.
Organizing your ink cubes can be a bit more challenging. Tossing them in a drawer makes it difficult to find your colors, and you risk losing the tiny ink cubes amongst your other supplies. Leaving them on a desk will leave it cluttered, and throwing the cubes in a container won't keep them organized either. Stamp-n-Storage has designed three options for storing your ink cubes, keeping them organized and easy to access.
Ink Cube Caddy
The Ink Cube Caddy is our most flexible option, holding small to large ink cube collections. The stackable design maximizes your space, allowing you to stack the Caddy in a drawer or on your desk. The Ink Cube Caddy is also an excellent option for those who take their crafts on the road. Check out this video about organizing your crafts in a Travel Trailer or RV.
Four sizes are available in the Ink Cube Caddy to fit the needs of your space. The 12 and 24 options are great choices for sitting on your desk or shelf. Its smaller footprint also makes it a great choice to take with you to your next crop. The 60 version fits in most standard desk drawers, and the 72 for IKEA was designed specifically for the IKEA® Alex drawers. You can even stack up to three 72 for IKEA® Ink Cube Caddies in a drawer. That's a whole lot of ink cubes: 216, to be precise!
Ink Cube Holder

The Ink Cube Holder's keeps your inks visible and easy to access in a cabinet design. The holder sits next to other Stamp-n-Storage cabinets with its 13-1/4" height or inside an IKEA Kallax cube with the for IKEA option. Each size holds ten Ink Cube Trays which can quickly slide in and out of your cabinet. The Trays hold 9 (Standard) or 12 (for IKEA) ink cubes for a total of 90 to 120 cubes. You can even add additional trays to organize up to 180-240 ink cubes if you prefer to stack two trays on top of each other.
The Ink Cube Holder is an excellent option for those looking to store their ink cubes next to other Stamp-n-Storage cabinets, like the Slim Ink Pad Holder.
Mini Ink Cube Grid
The Mini Ink Cube Grid was designed to sit inside the single drawer of the Stamp-n-Storage Drawer Cabinet. This grid keeps your mini ink cubes organized and in place, so they don't slide around in your drawer. Standard and for IKEA® options are available, organizing 49-56 ink cubes.
The Mini Ink Cube Grid is an excellent fit for those who have a Stamp-n-Storage Drawer Cabinet with single drawers.