February Studio Showcase Winner: Erika M
Our February Studio Showcase winner has a story that starts Christmas of 2014. Erika was wrapping gifts when she heard a dripping sound. The kind of dripping sound no-one wants to hear! She discovered a water leak that had destroyed the walls and flooring in the room below the kitchen...her craft space. What we love about Erika is how her optimism saw this unfortunate situation as an opportunity to create the craft space of her dreams. We can't wait to show you the end result!
The journey to the new craft space began with boxing everything up and purging! Yep, starting with paper Erika went through her craft supplies and purged away. "Just dump, throw out and keep going. Be ruthless. Honestly, if you haven't used it in five years, if it's still in the package, if you are just saving it for someday...just get rid of it" she says.
The next steps created an amazing space we fell in love with. Let's enter Erika's craft studio. The first thing you'll see is the Let's Play arrow. " Creative time is about enjoying the process and having fun! Oh, I love it here!" says Erika.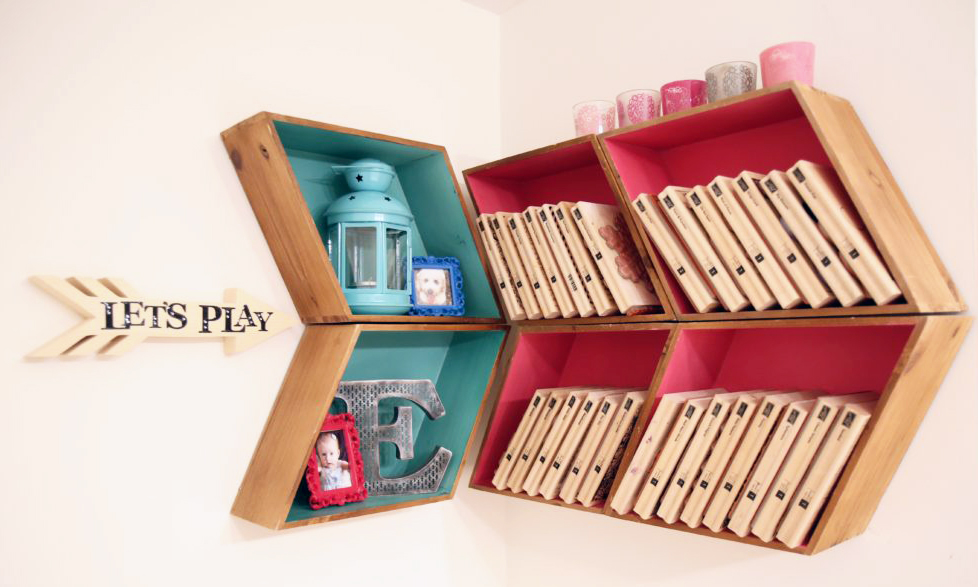 As you continue into the space, you'll see the fun decor and L-shaped desk that doubled Erika's work-space. She chose a vinyl flooring that added a fun, modern look to the room with gray and white hexagons. She decided to make her space white for a more spacious feel and to pop her accent colors. " I wanted something bright and energizing so turquoise and bright pink just spoke to me. I'm obsessed with color" Erika says.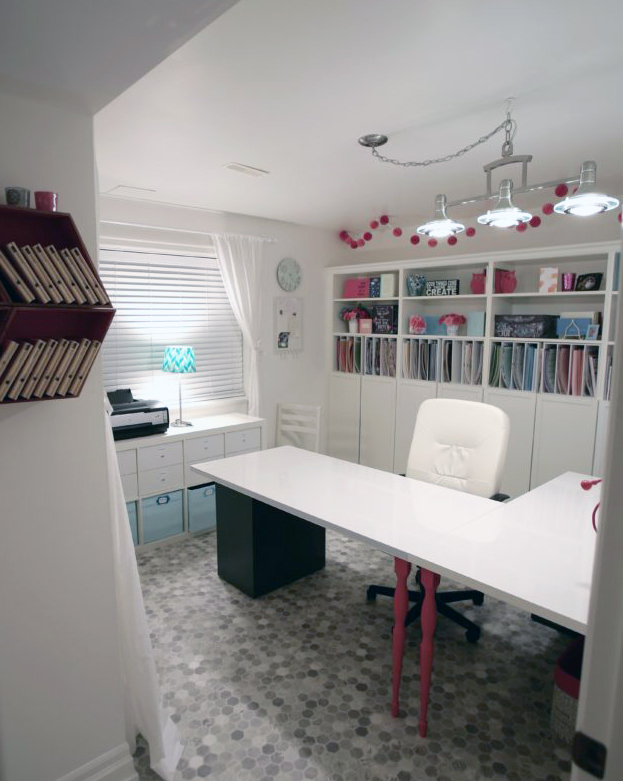 Erika labeled all of her drawers for organizing supplies.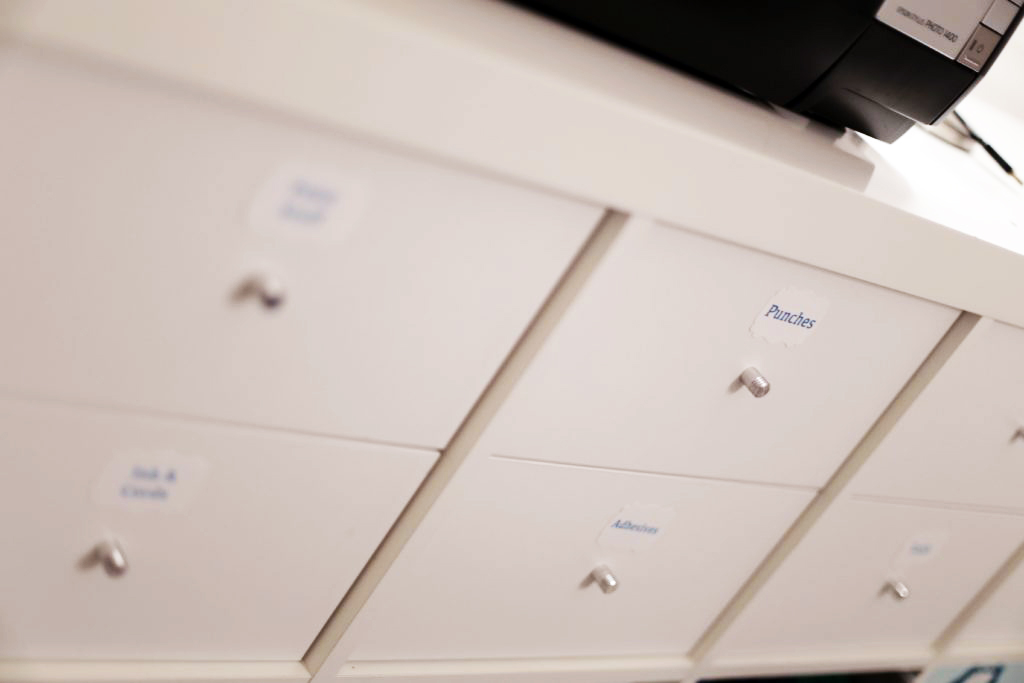 She replaced the ceiling light and added lamps everywhere since she often works in the evening. We all know how important lighting is when it comes to paper crafting! "I have to get that PERFECT matching shade of card stock" Erica says.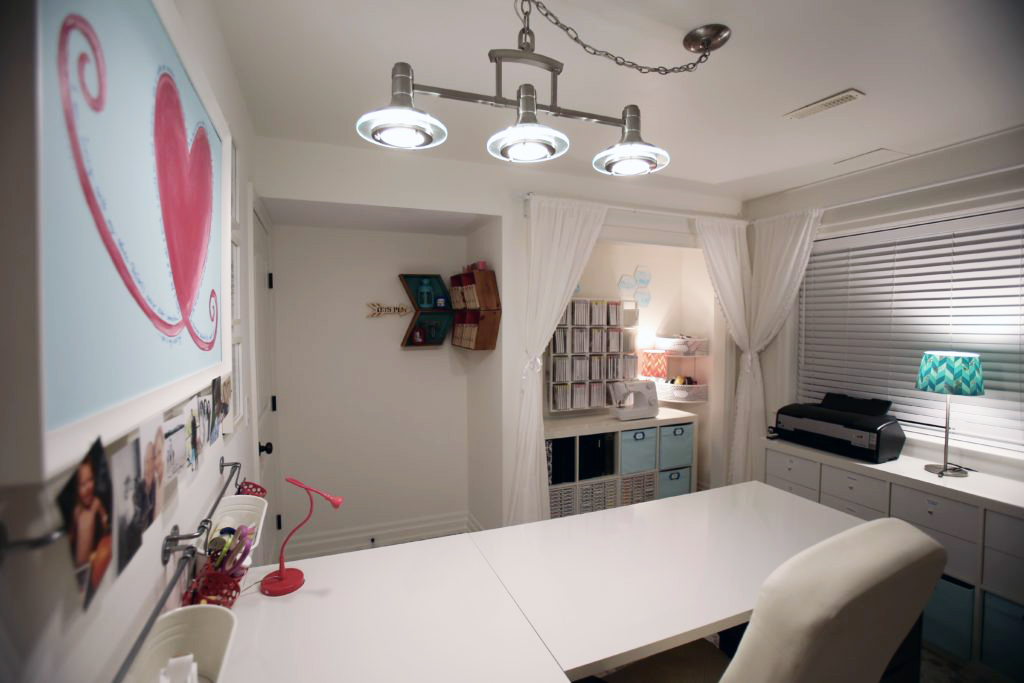 An idea we love about Erika's space is how she removed the closet doors to open the space even more. Her husband painted her Ink Pad Holders white to match the IKEA® Kallax shelving. "I love how Stamp-n-Storage products fit so well with IKEA® furniture...organization bliss!" says Erika.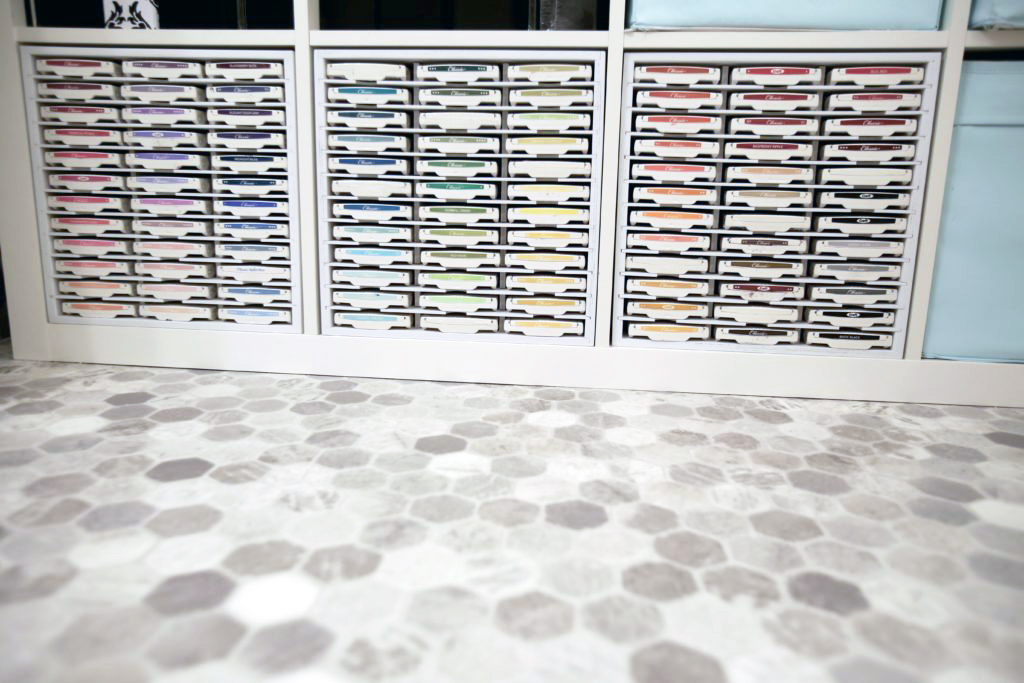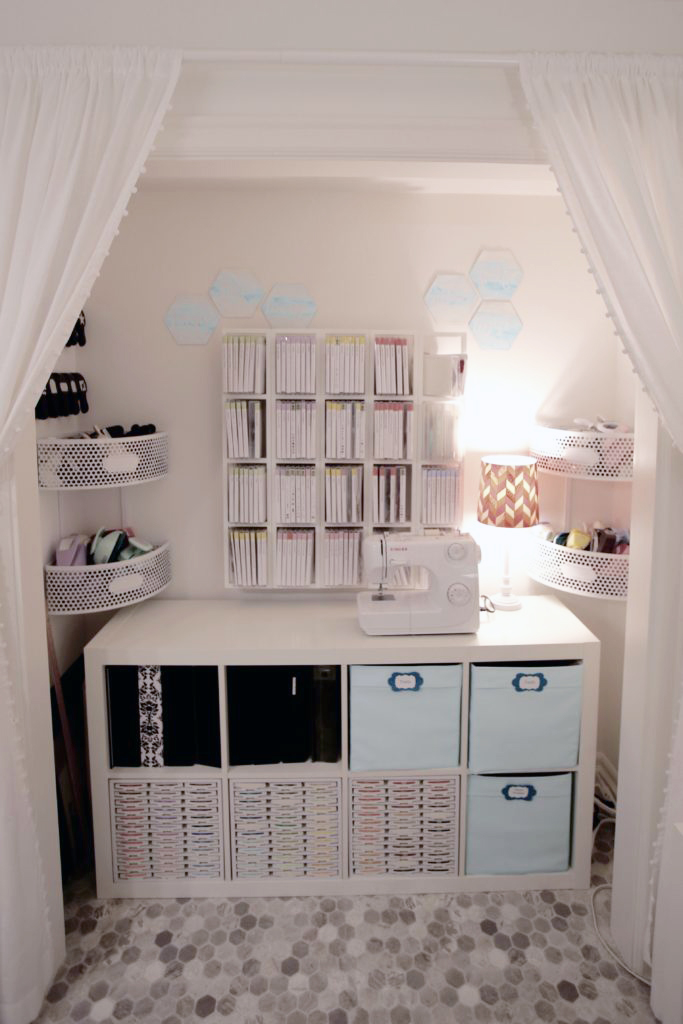 Erika consolidated thousands of stamps into the smaller space above her IKEA® Shelves. You can learn more about her process here.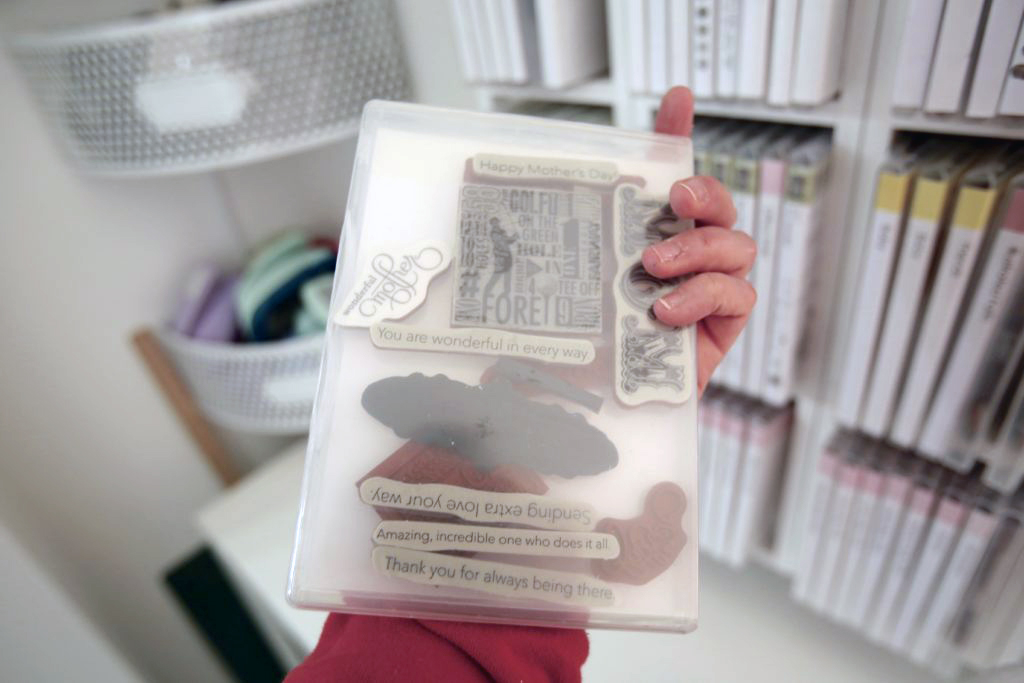 The thing Erika loves the most about paper crafting is the energizing thrill that she gets when she starts diving into creating something. "It makes me feel on top of the world to play with beautiful stickers and supplies and then get to leave a meaningful legacy of stories for those I love" she says. Erika's heart for creativity can be seen on her walls with the perfect pop of color and inspiring pictures!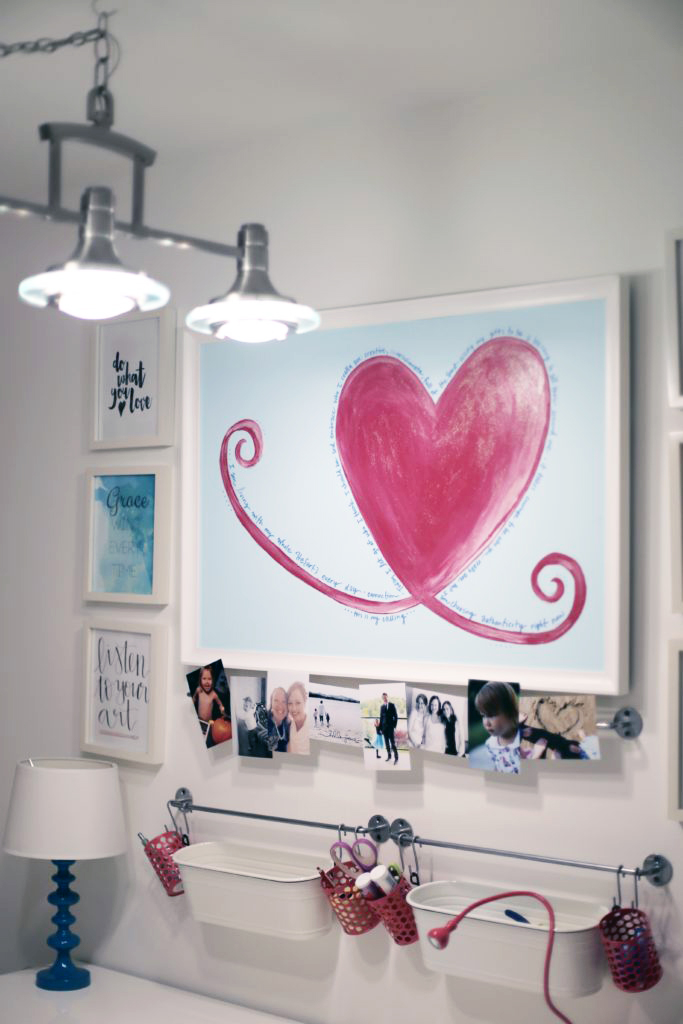 She even has these canvases painted years ago as a written oath to herself. You'll see the words Forgive, New & Courage on the wall. "It was a good reminder to what it's all about" she says.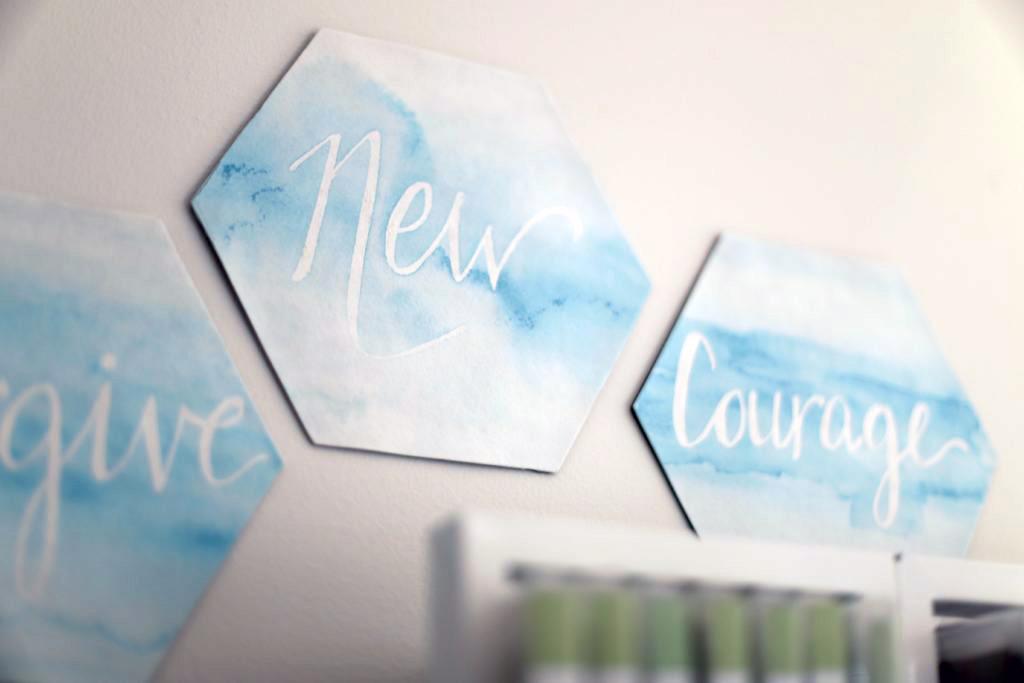 Erika used the IKEA Billy Bookcases turned into a built-in wall of storage. She added the crown molding and filled in the gaps between the shelves. "This space can breathe and makes me feel truly giddy whenever I get time in here!" she says.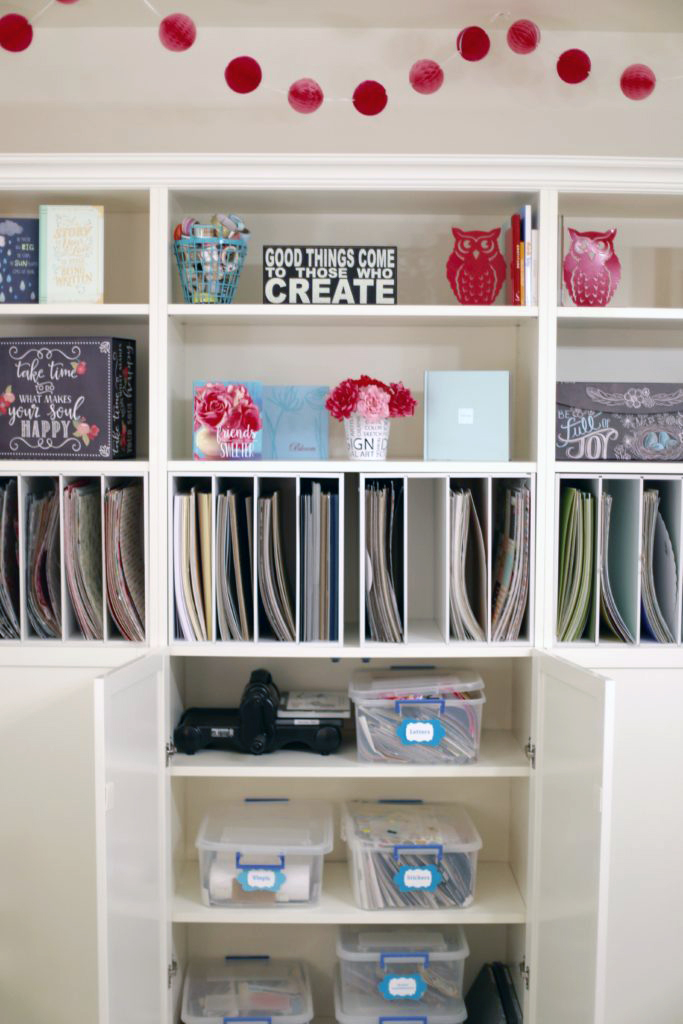 "What I love most about my craft space is it WORKS FOR ME. I don't have to spend my time struggling to find things, put them away, re-organize, and clean up. Everything in this room is designed to make it quick and easy for me to actually CREATE. I have used this room so much more than I did before!" - Erika
---
Would you like to be our next Studio Showcase winner and have the chance to receive $75 in store credit?
Here are a few hints: clean up your space, snap some photos (4 or more) from a few different angles, and include some comments about what you love about your area and your Stamp-n-Storage products. Then, you will be entered into our monthly drawing. Email your entry to: contact@stampnstorage.com.