February Studio Showcase: Lisa
What do you do when you don't have any room to grow? Organize your craft area with solutions that maximize your space. That is exactly what our February Studio Showcase winner did with her craft studio. Lisa has been an independent Stampin' Up! Demonstrator since 1998. In 2001 she moved into her current Florida home with a 10x10 space she dedicated to her paper crafting business. Over the years, Lisa has made some adjustments to her space to make it as efficient as she could. "Since there was no additional room tor grow, I knew I had to come up with a better plan to utilize the area while making it visually attractive," Lisa says.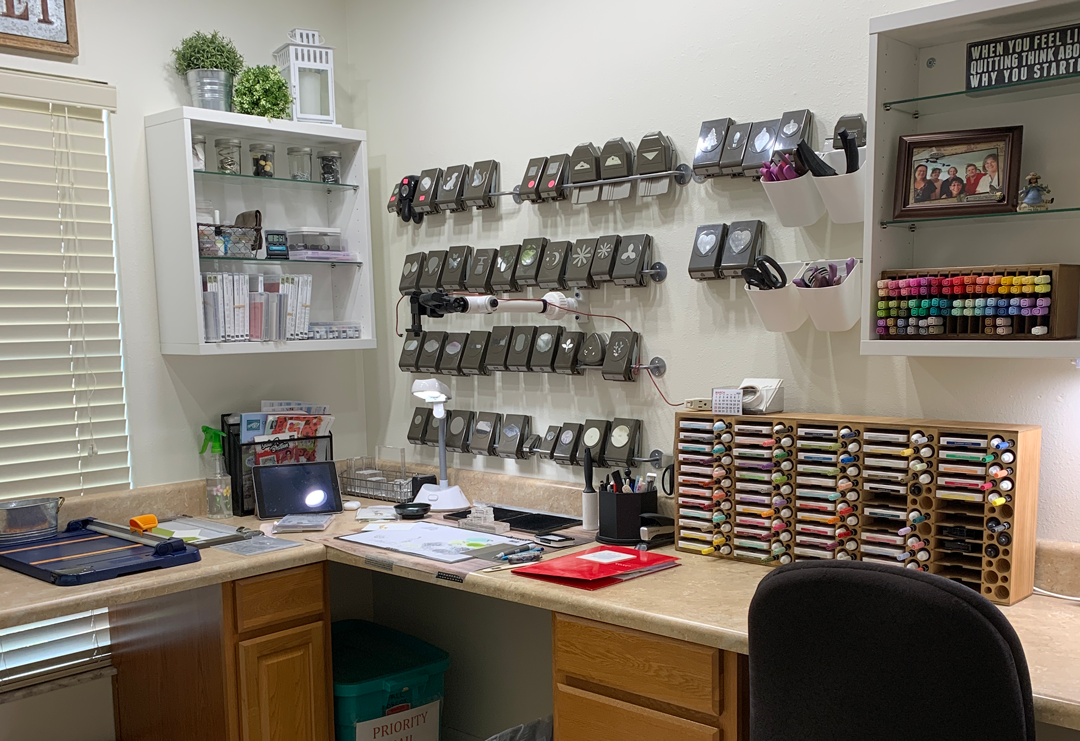 Lisa started with folding tables and, with the help of her husband, transitioned to cabinets ten years ago. She discovered Stamp-n-Storage products when visiting her friend Brandy Cox. "I heard about Stamp-n-Storage from various Stampin' Up! demonstrators, but it wasn't until I saw them in person at Brandy's home that I knew I wanted them because of the exceptional quality and unique design to fit in the IKEA® Kallax units."
Lisa organizes her cardstock and paper in the 12x12 Paper Holder for IKEA®. Even though she uses primarily 8.5x11 cardstock, she also has a large collection of Designer Series Paper. "My husband cut PVC pipe into 3 1/2" pieces, and we slid them into each slot that would hold 8.5"x11" cardstock and 6"x6" designer paper. This setup allowed me to utilize both sizes of paper in one size unit for uniformity." Lisa organizes her cardstock by rainbow order, and her Designer Series Paper by theme.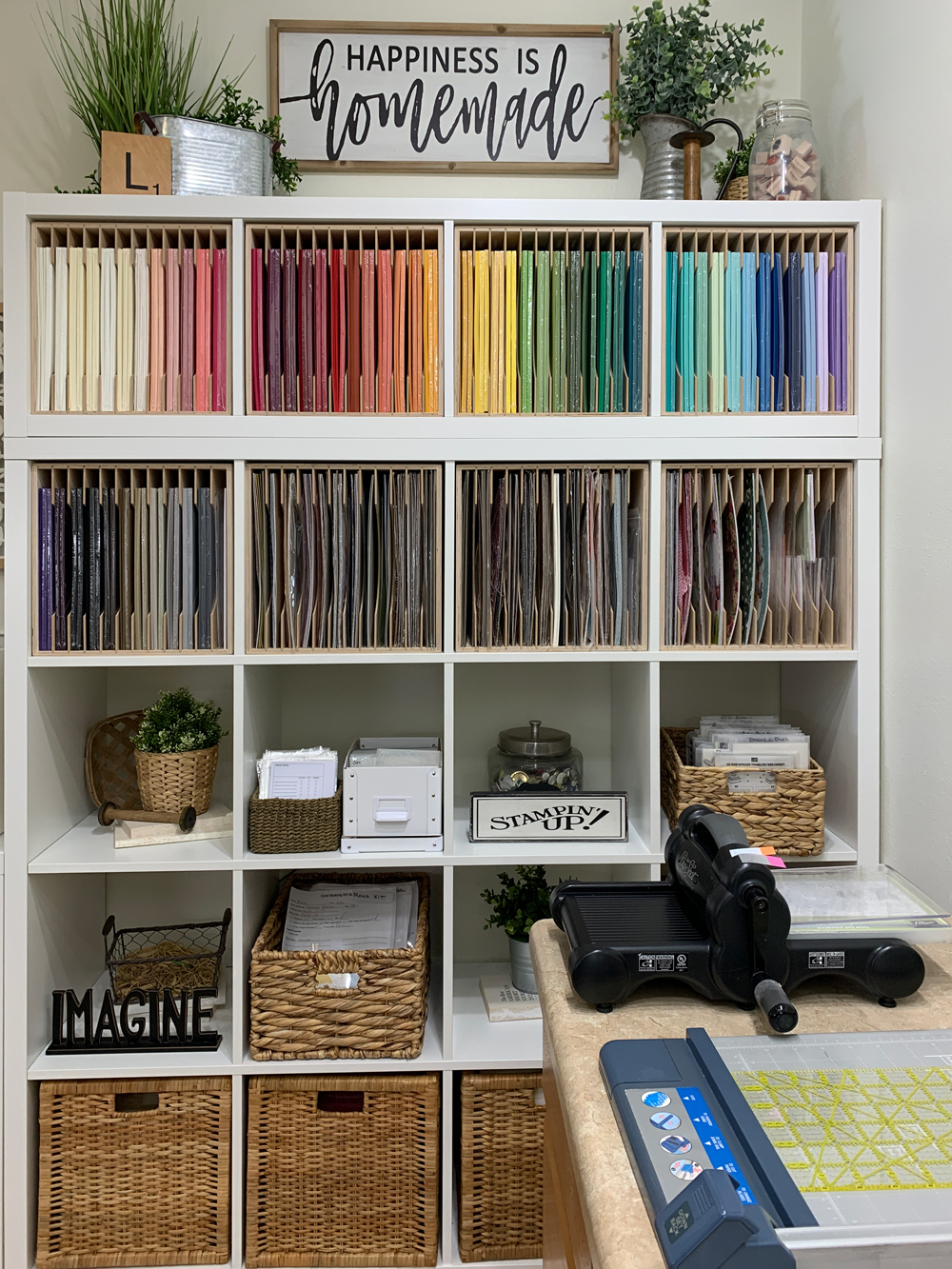 After Lisa purchased the IKEA® Kallax, she decided to add a few more shelving units to utilize her wall space without it feeling cramped. The wall shelves allowed her to add home decor pieces and more space for storage solutions like the Marker Holder for Stampin Blends.
Lisa's favorite Stamp-n-Storage product is the Combo Holder. "I hated fumbling for ink refills and markers, and mixing and matching colors is so much easier when I can see it," she says. Lisa also found that keeping what she used most often close at hand was extremely important for efficiency.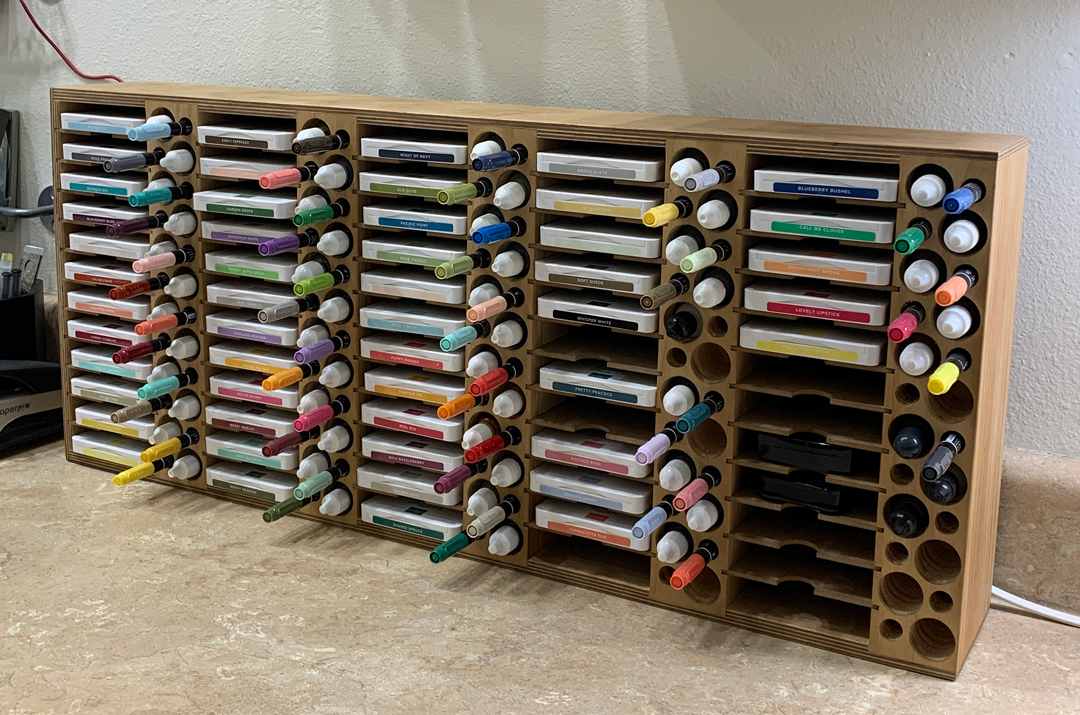 Something you might notice about Lisa's Stamp-n-Storage products is the slightly darker color. Lisa stains her products by rubbing Old English on the product with a rag. "It dries quickly and allows the natural grain of the wood to show through."
Another key to how Lisa keeps her space organized is her "out with the old, in with the new" motto. Lisa purges her space of any old or retired product. She either sells it at a discount or donates the product to a local charity. Lisa says she has no retired products in inventory, aside from three basic shape punches she uses to prepare large kit orders.
When we asked Lisa how an organized space unleashes her creativity, she said, "I can't create in an unorganized environment, period. Having the products and colors visually available has allowed me to pair colors together that I wouldn't normally think of. I spend little to no time cleaning up because the open storage makes it easy to put things back where they belong immediately."
---
Would you like to be our next Studio Showcase winner and have the chance to receive $75 in-store credit?
Here are a few hints: clean up your space, snap some photos (4 or more) from a few different angles, and include some comments about what you love about your area and your Stamp-n-Storage products. Then, you will be entered into our monthly drawing. Email your entry to: contact@stampnstorage.com.