Our December Studio Showcase was a decade in the making. Priscilla moved into her home 10 years ago, and began saving ideas and resources in a notebook for creating her dream craft room. In September of 2018, Priscilla decided she couldn't live with the carpeted craft room another day and began pulling together ideas from her notebook to design her new space. Her husband encouraged her and said "Do it all now, quit procrastinating!" Who wouldn't love to hear those words? The 10 years of planning turned into a 7 week project that transformed Priscilla's craft room from floor to ceiling, into her dream studio!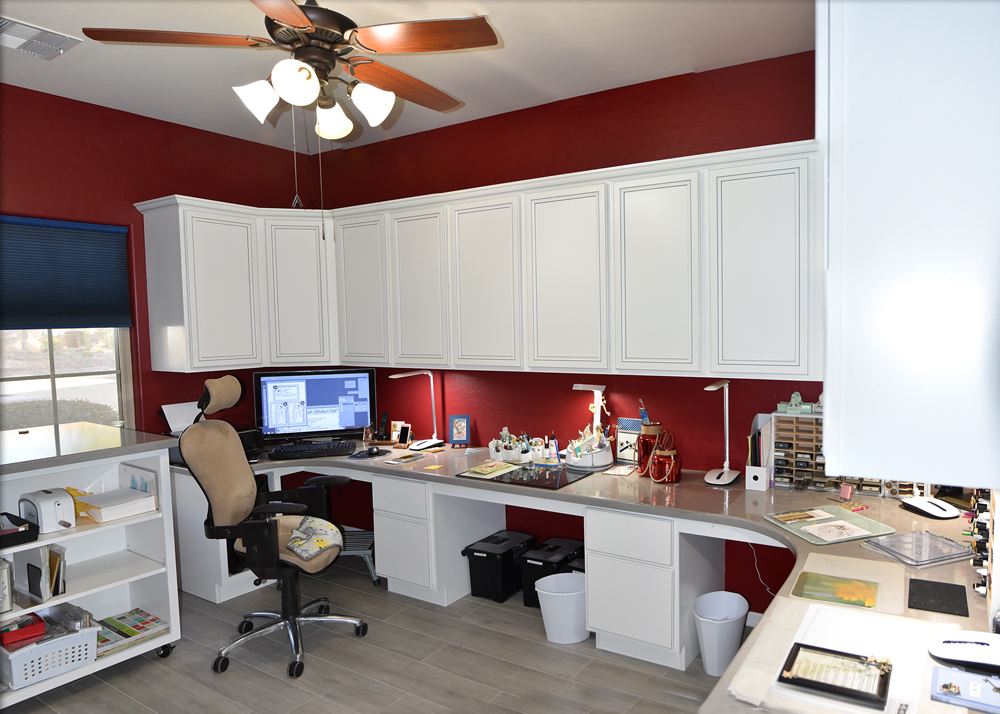 The project began with ripping out all the carpet and adding a beautiful porcelain tile floor that had a wood look. The cranberry walls were inspired by another room in the house she loved and Priscilla added a gray accent to compliment the flooring and other colors in the room.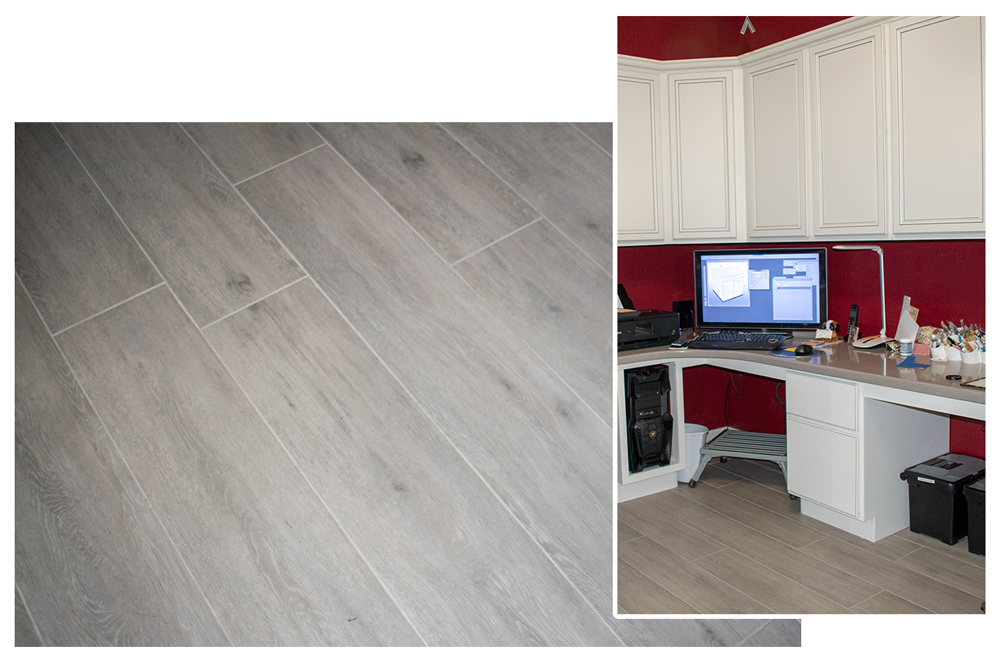 Priscilla knew she no longer wanted individual desk areas so designed a continuous counter around three sides of the room. This created stations for her computer, crafting and sewing. The white cabinets were inspired by other work areas she had seen online over the years. Priscilla sketched out her ideas for the cabinets with a file drawer system and took them to a local remodel center, Kitchen Encounters (Mesquite, NV). A design expert worked with her on the measurements and important details like electrical outlets and knee positioning.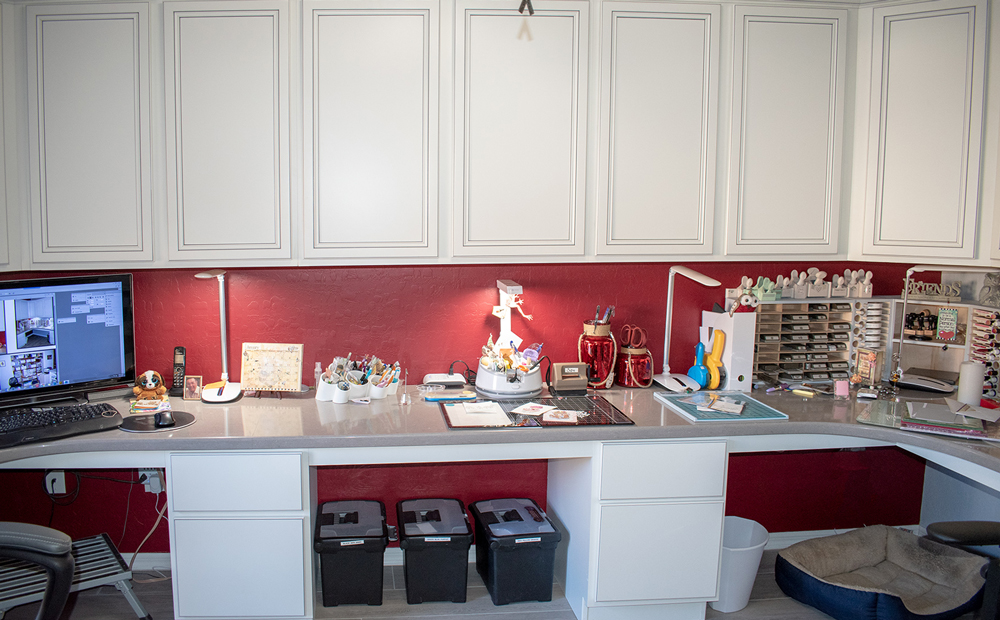 Priscilla also added a movable cube cabinet that was inspired by an idea of a kitchen rollable islands. "I designed with depths to accommodate all my crafting "machines" and their accessories. It stores easily, moves into the center of the room, is a cutting table height and open on two sides with 36 inch wide deep shelves" she says.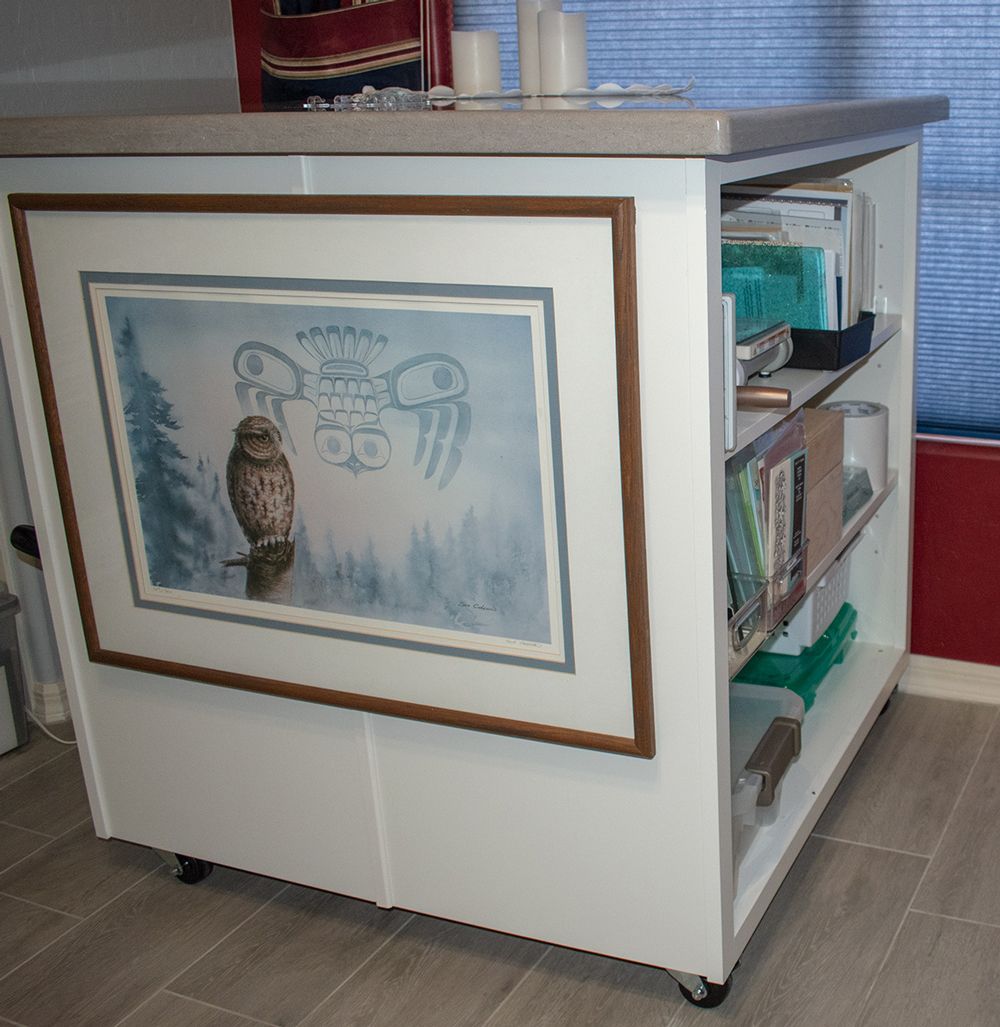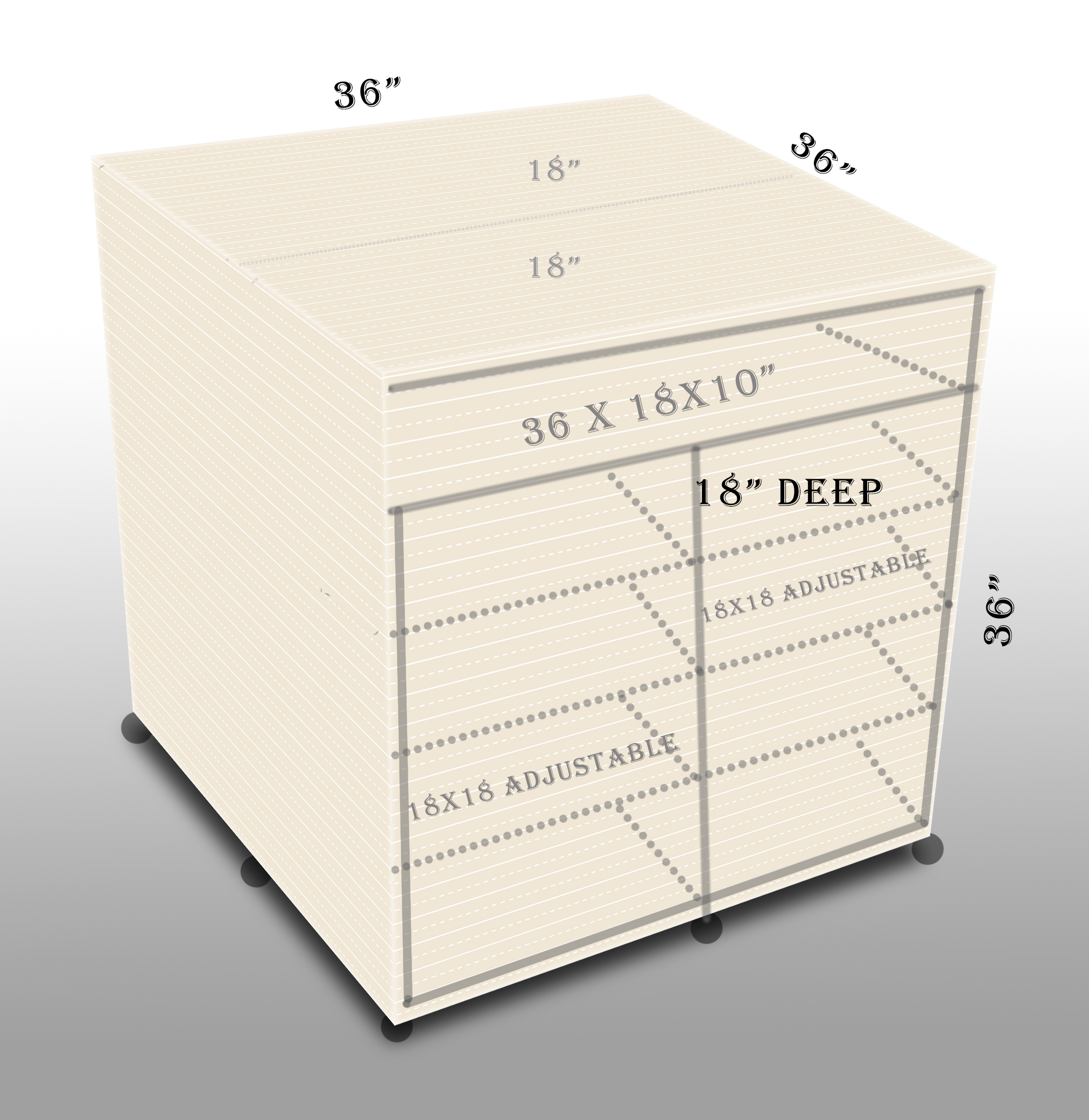 When setting up stations Priscilla took into consideration that she was left handed so she created her stations working left to right. Her first station is the moveable cube cabinet that houses all her machines and her paper cutters. She then moves on to the large wrap around counter that has her computer, and then her general assembling and project work area and glass mat surface work space.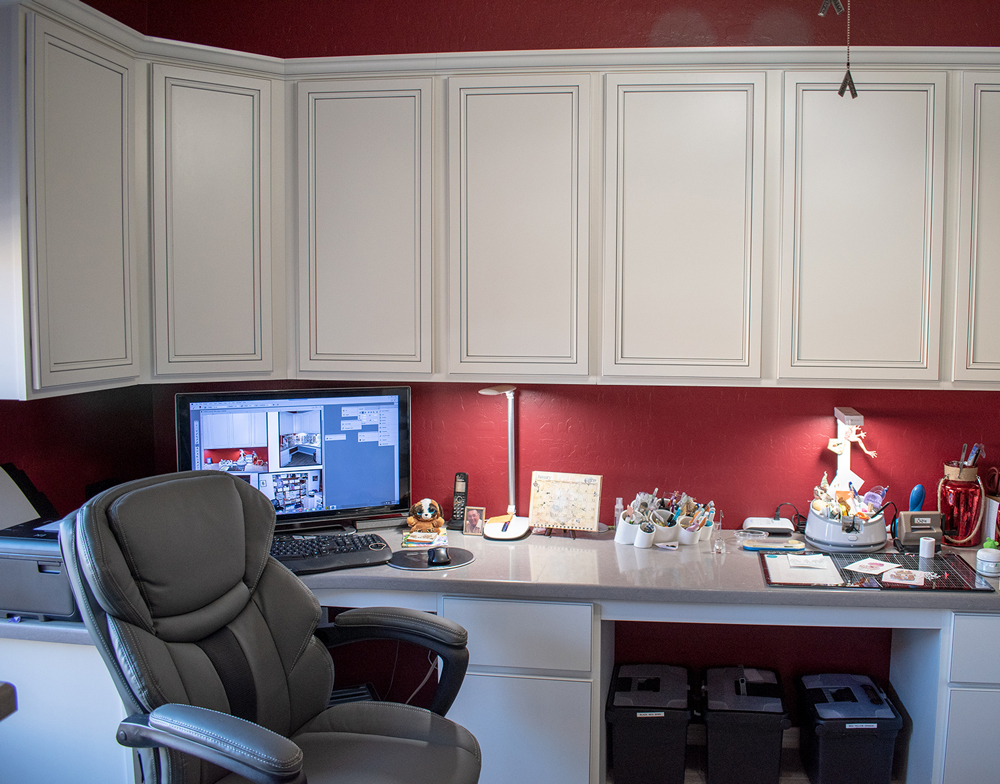 Her corner space that follows has three areas to easily move through her project. It starts with a punch area where Priscilla keeps her punches organized in the Standard Lock-Down Punch Holder. Her stamping/craft area is next and she keeps this organized with the 12 Combo Holder, a Corner Shelf for miscellaneous items and a 60 Combo Holder for her Stampin' Up!® ink pads, markers and refills. "The Combo Holders are my favorite Stamp-n-Storage products because they keep my ink accessible and nicely displayed within easy reach" Priscilla says.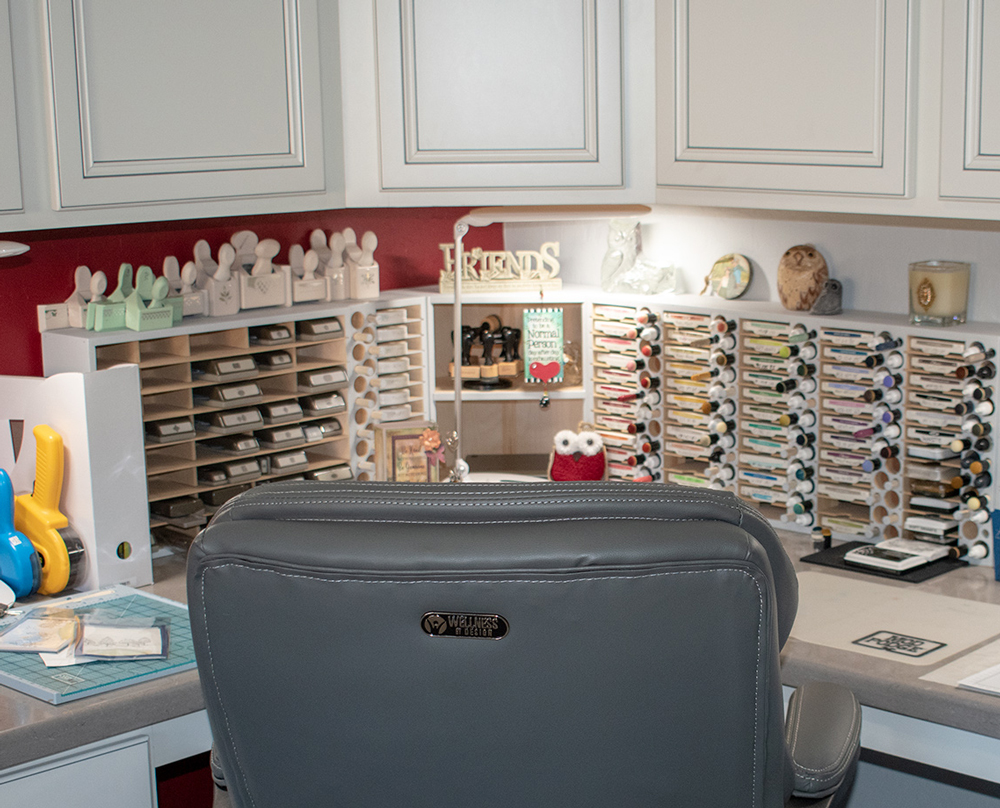 The last station is Priscilla's finishing area, where she keeps her Stickles Desk Storage and 60 Distress Ink Pad Holder. She organized her Distress® and Distress® Oxides by color family and added stickers to quickly identify each ink pad. The Distress pads have the label name that she created with a label maker. She found a set of stickers online (Printable label 1 & label 2) to identify her Oxides with both the color and name.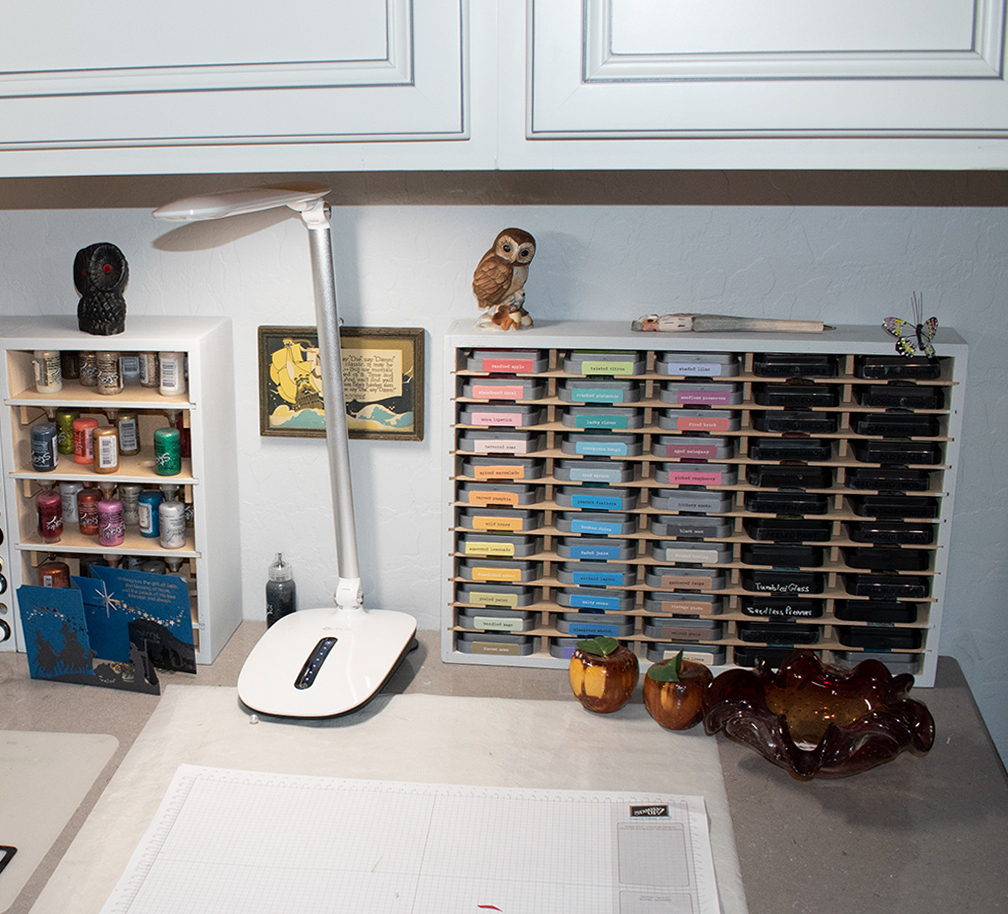 Another thing you might notice about Priscilla space is the painted Stamp-n-Storage products. She painted the products using the same acrylic latex gray paint used on the walls with bristle brushes. "I did very lightly sand them, then just wiped them dust free and had at it. If I over painted anywhere, I wiped it off while wet and then lightly sanded when dry. They are so easy to paint and I didn't have too many areas that needed to be corrected. It was fun to do with my friend, and the results were exactly what I wanted. They match the granite counter tops and the walls perfectly" she says.

When we asked Priscilla what tip she would share with a crafter ready to embark on the journey of designing their space, she said "Be patient and thorough in your planning and measuring, look everywhere for design ideas, keep good notes with websites identified, and then modify to fit your own limitations for your creative space." Priscilla's patience truly payed off with an absolutely dreamy craft studio!
---
Would you like to be our next Studio Showcase winner and have the chance to receive $75 in store credit?
Here are a few hints: clean up your space, snap some photos (4 or more) from a few different angles, and include some comments about what you love about your area and your Stamp-n-Storage products. Then, you will be entered into our monthly drawing. Email your entry to: contact@stampnstorage.com.