August Studio Showcase Winner: Holly
When our August Studio Showcase Winner started planning her space, she was sure to focus on all the important details to create a "Happy Place!"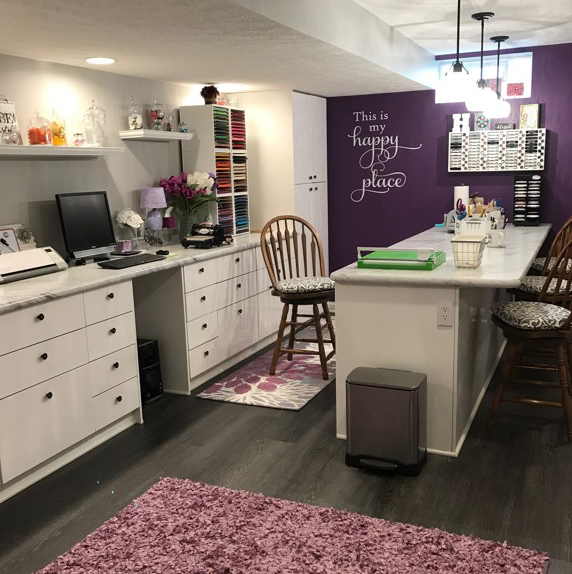 Holly browsed Pinterest gathering ideas and even checked out Crafted Spaces on stampnstorage.com. She then wrote down the tools she used most frequently. "I wanted those items within easy reach" she said. Holly took in consideration what works best for her and how she works. For example, did she like drawers or shelves better...How much desk space did she need and will it all fit!
Holly had her husband layout the floor with blue tape to mark the counter tops. She then placed the items she would store on the floor to make sure there would be a place for everything! With a plan ready to go, Holly's cabinets were purchased and her husband assembled them. He then added a marble looking laminate counter top with bull nose edges that make a beautiful design element. You'll also notice Holly went with more drawers over shelves!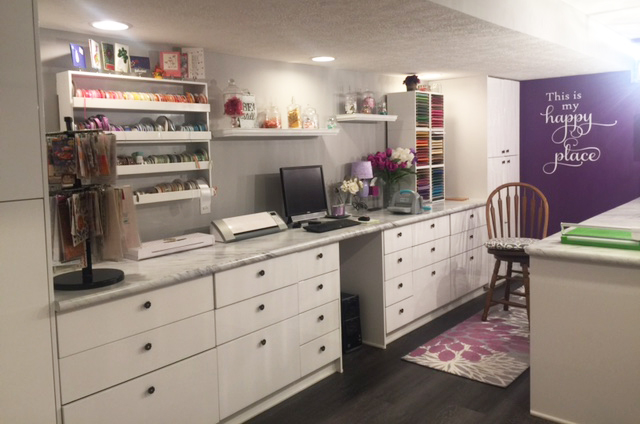 Holly decided she wanted as much counter space as possible so chose to wall mount her Stamp-n-Storage Ink Pad & Refill Holder and the Ribbon Shelves. "I am in love with ribbon. Almost every card I design uses ribbon! I have two 33" Stamp-n-Storage Ribbon Shelves mounted on the wall. My ribbon is organized by color and I have scissors tucked into the Ribbon Shelf so I never have to look for a pair of scissors" she says.
Another thing you'll notice about Holly's Stamp-n-Storage products is they are all white. Holly's husband painted them with a white primer, then applied a white paint with a roller and did a little touch up with a brush.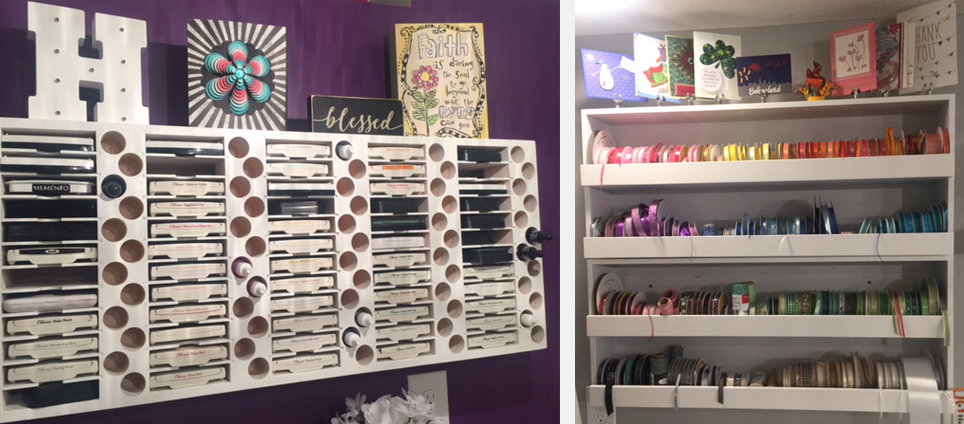 When it came to organizing her paper, Holly stacked the 8.5x11 Paper Holders right behind where she was stamping so it would be easily accessible. She stored her 12x12 Paper Holder inside her cabinet because she doesn't use 12x12 paper as frequently.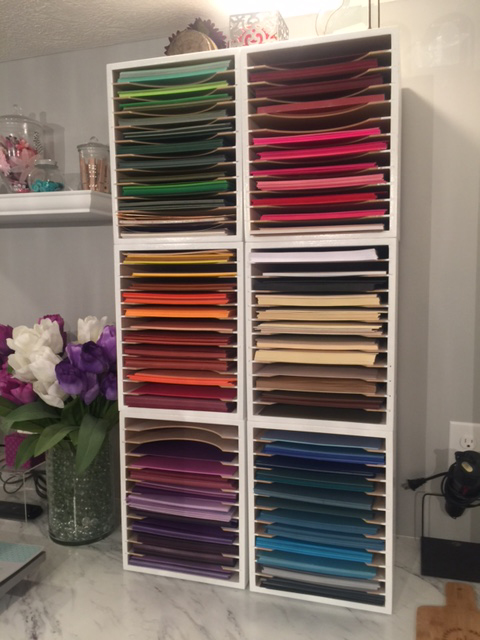 Lighting was important because the space was in the basement. Holly put a lot of thought into how many canister lights would be needed and added some decorative but functional globe lights over the island.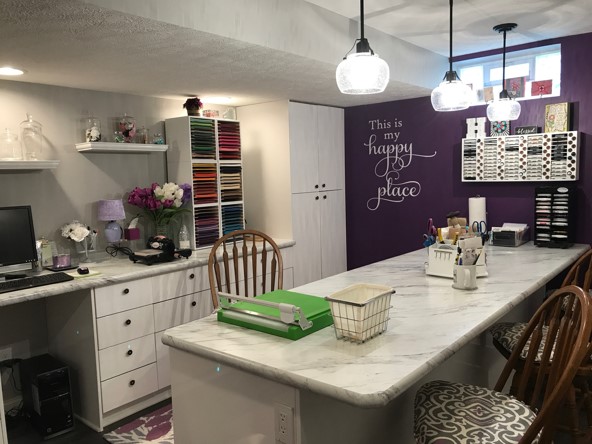 Holly's space is decorated with things she loves and that inspire her creativity. Her space is enjoyed by family and friends and even her husband can be occasionally found in this "Happy Place" creating a special card for Holly! How cool is that! Thanks for sharing your space with us Holly!
---
Would you like to be our next Studio Showcase winner and have the chance to receive $75 in store credit?
Here are a few hints: clean up your space, snap some photos (4 or more) from a few different angles, and include some comments about what you love about your area and your Stamp-n-Storage products. Then, you will be entered into our monthly drawing. Email your entry to: contact@stampnstorage.com.