5 Favorite Craft Room Organization Tips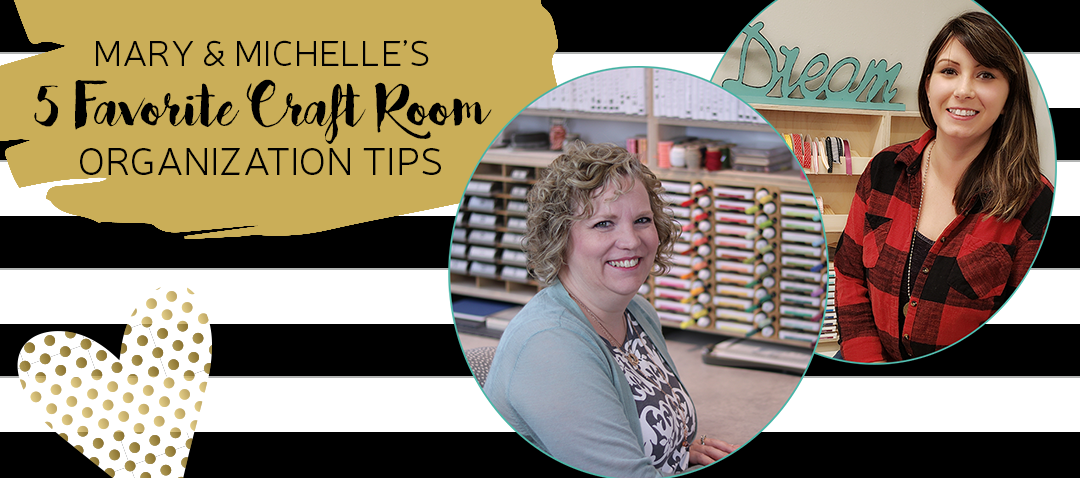 Mary and Michelle love keeping their spaces organized. It was Mary's desire of keeping her paper crafting supplies organized that resulted in Stamp-n-Storage. She understood the importance of keeping supplies visible and easy to access. Michelle has learned from Mary, and continues to put her own personal touch on organizing her space. Here are a few of their favorite organization and craft storage tips that allow them to spend more time crafting and less time cleaning!
Mary's 5 Favorite Craft Room Organization Tips
Prioritize space for the things you use most. You want to have quick, easy access to these items.
Let go of unnecessary things. If you haven't touched it in ten, five, even two years it is taking up precious space for what you are currently working on. It is OK to get rid of things.
Do a little every day. It helps a huge task seem more manageable and helps you stay organized once you get there.
Put things away where they belong or find a place for it. Resist the urge to just shove stuff somewhere to deal with "later". When later comes you will be overwhelmed and it will take a lot longer to deal with.
Put things away after you use them.
Michelle's 5 Favorite Craft Room Organization Tips
Organization is personal. What works for someone else may not work for you. Understand how you craft and what works best for you.
Keep coordinating supplies together so you don't forget what you have. This includes coordinating stamp and die sets, and ink pads, markers and refill bottles.
Label, label, label. I have a terrible memory and I need things labeled. It can be a drawer I've put embellishments, the name of my cardstock, or my tool drawer. I need to know what is inside each drawer without having to open it.
Have a specific area set aside for large tools. I found that if my die cutting machines or cricut machine wasn't out, I didn't use it. Having a station specifically for these items makes it easy to access them and I'm more likely to use them.
Always put things away after you use them. This makes your cleanup at the end of your project so much easier! This is one of the favorite tips I've learned from Mary.