PLEASE NOTE: EFFECTIVE JANUARY 31, 2017
We will be discontinuing the Roll Top Desk. Orders can still be taken until that time.
Please call us at 844-239-0227. Thank you!
Introducing the Stamp-n-Storage Roll Top Desk, just for the paper crafter!
The Roll Top Desk is now available in a variety of materials, color and style choices. Watch the tutorial video to learn all about it!
Visit the PRODUCT PAGE to configure and order your desk. Your Roll Top Desk is built to order, and delivery time is 4-6 weeks.
Navigation:
The cherry Roll Top Desk featured in the video above was built for a customer in New Jersey. She wrote in to tell us about it:
I just watched the new desk video with my beautiful cherry desk shown in it (that I am absolutely loving by the way!) and saw the die and folder storage would be great in the drawers… so had to order some more!
Being a SU demonstrator I am able to keep all my current products and more in it. It is amazing how easy I am designing cards and projects for my classes. I have designed 8 classes and dozens of cards already, and for the first time in over 20 years of stamping MY DESK IS PERFECTLY NEAT! Unbelievable and amazing but just ask my Happy Hubby. Thanks again…having a wonderful time with it!
- Angela
***************************
Fashioned from solid wood, this desk is truly beautiful. Learn more HERE.

The work area was designed with you in mind, providing space for your projects and your most important supplies. See it all HERE.

The drawers can be configured with a variety of organizers. See them all HERE.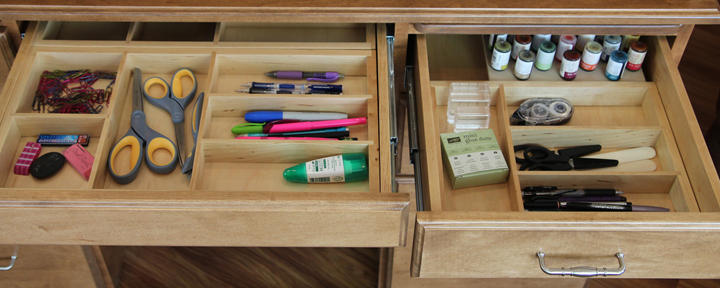 Different edge styles, materials and finishes are available HERE.

Take your pick from our variety of hardware HERE.

Ordering is EASY and shipping is FREE to select parts of the US. Learn more HERE.

Visit our gallery of Roll Top Desk pictures HERE.