Treat yourself to craft room organization!
If you'd like to get yourself organized, here's a great place to start!
Below, you'll find our expo display desk that showcases a few of our best-selling products displayed with IKEA® furniture. Some of our products even are built to fit inside of the IKEA® Kallax! Take a look to see this example of craft storage solutions that could work for you!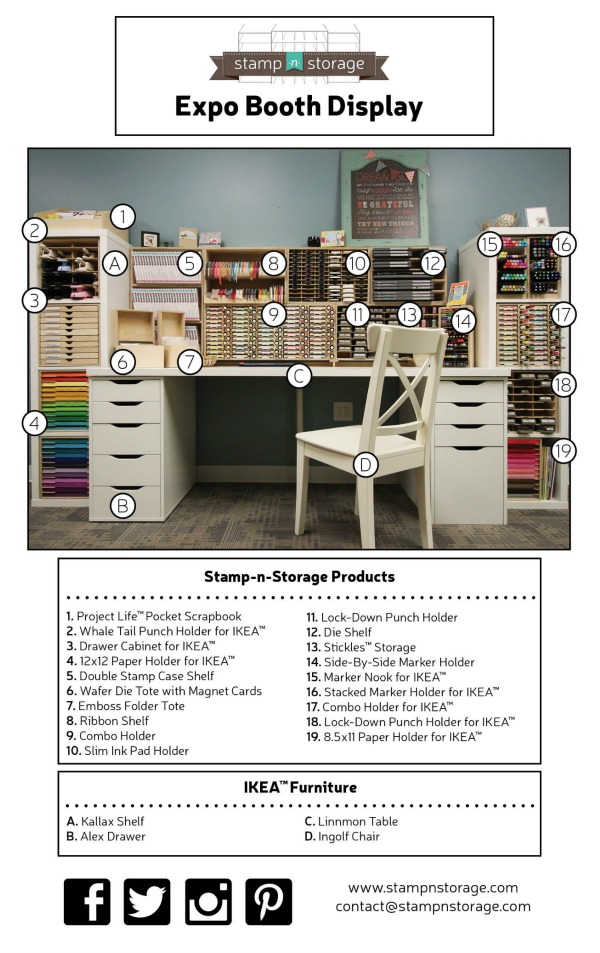 Click the names of the products below to learn more about each one!
Stamp-n-Storage Products:
1. Project Life™ Pocket Scrapbook
2. Whale Tail Punch Holder for IKEA™
4. 12x12 Paper Holder for IKEA™
6. Wafer Die Tote with Magnet Cards
8. Ribbon Shelf
9. Combo Holder
12. Die Shelf
14. Side-By-Side Marker Holder
16. Stacked Marker Holder for IKEA™
18. Lock-Down Punch Holder for IKEA™
19. 8.5x11 Paper Holder for IKEA™
IKEA® Furniture:
A. Kallax Shelf
B. Alex Drawer
D. Ingolf Chair