Stamp-n-Storage and Periscope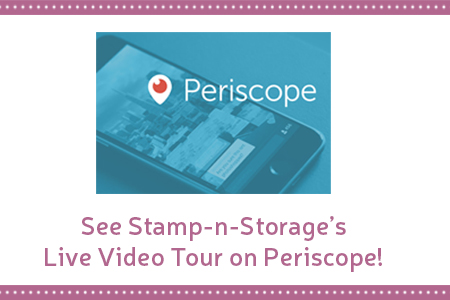 Have you heard of the app called Periscope? It's a fairly new way to share information with live video streaming.
Stamp-n-Storage will be using this app to share extra special footage with our customers. We thought you all might like a guide on how you can join in on the Periscope fun too!
How do you get Periscope?
On your smart phone or tablet, open up the app store where you can download the Periscope app.
Once it is downloaded, you'll have to log in with your Twitter credentials if it's your first time using Periscope.
Make sure to enable notifications, the camera, and your microphone too.
Then, search for Stamp-n-Storage in the search tab and follow us!
You downloaded Periscope. Now what happens?
Now that you're subscribed to our channel, you'll get notifications on your phone when we're about to broadcast live.
Some potential subjects we'll use Periscope for include the following: new product releases, footage from the craft expos we attend, tutorials for using our products, and more!
You'll be able to interact with Stamp-n-Storage while we have our live broadcast if you tap on the Say Something box to send us a message. If you double tap the screen you'll be able to send "hearts" back at us!
Another great feature is that you'll be able to watch the video streams for 24 hours after they're created. That way, if you miss some of the footage from Stamp-n-Storage, you can come back later and watch it!
Which other paper crafters broadcast on Periscope?
Becky Higgins
Catherine Pooler
Studio Calico
Paper Crafter's Corner
Scrapbook.com
Ali Edwards
Stampin' Up!
Heidi Swapp
Amy Tangerine
Lydia Fiedler
Rachel Tessman
and more!
Join us on Periscope. We'd love to see you take part in all of the Stamp-n-Storage excitement!