June Studio Showcase Winner - Candy H
Candy H has a wonderful new setup in her craft room studio! We have picked her as the winner for our June Studio Showcase. She included many great photos of her space which showcase her Stamp-n-Storage products that she painted white.
Do you want to be our next Studio Showcase winner and receive $75? Here's a few hints: clean up your space, snap some photos from a few angles, and include some comments about what you love about your area. Then you will be entered into our monthly drawing. Email your entry to [email protected].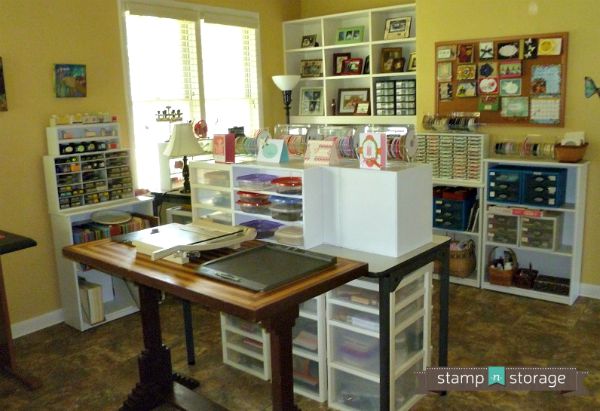 Here's the full view of Candy's well-organized craft room. We love how cheerful the color of her walls is too! She told us that just by scooting around in her chair, she can reach the vast majority of her supplies without even leaving the chair. What a good deal!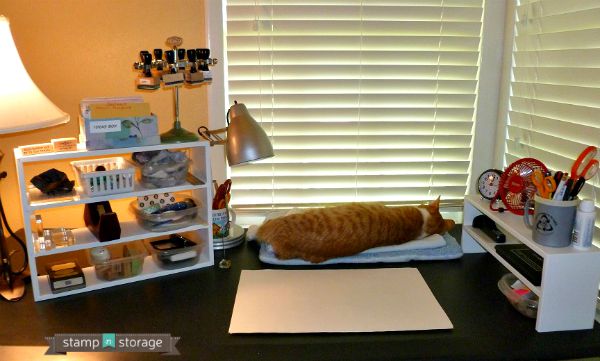 Even Candy's kitty likes to spend time with her in her craft studio. How cute! Here he is napping by a Standard Shelf on the left and the Half-Height Shelf on the right.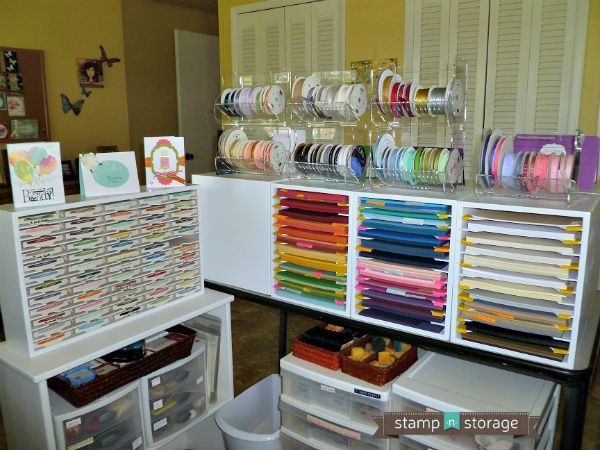 Above is a Standard Ink Pad Holder on the left and three Stamp-n-Storage 8.5" x 11" Paper Holders on the right. Her paper looks so vibrant and pretty in her Paper Holders!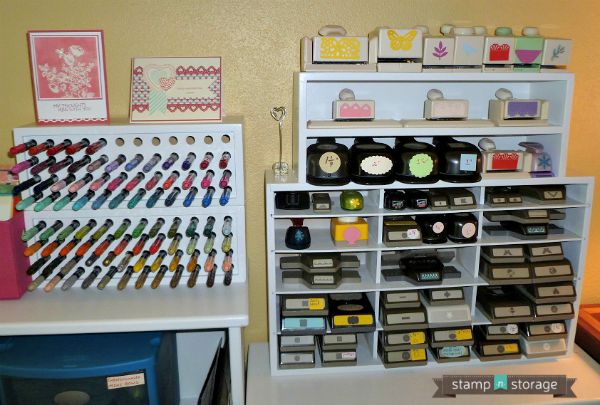 Candy has stacked two 48 Marker Holders on the left side. On the right, we see the Whale-Tail Punch Holder with a Half Height Shelf on top for her punches. Everything looks so nice and organized!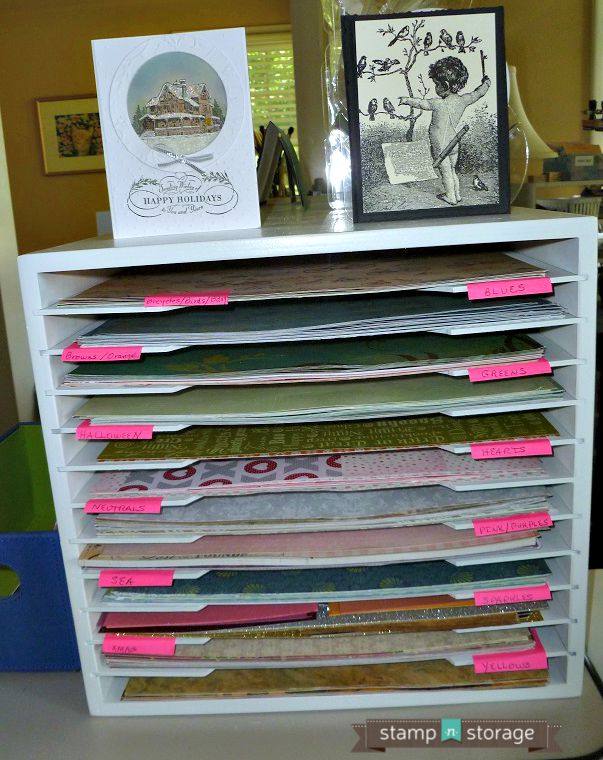 She has nicely labeled her specialty papers that rest in her 12" x 12" Stamp-n-Storage Paper Holder. Some of her favorite cards are even displayed above the Paper Holder.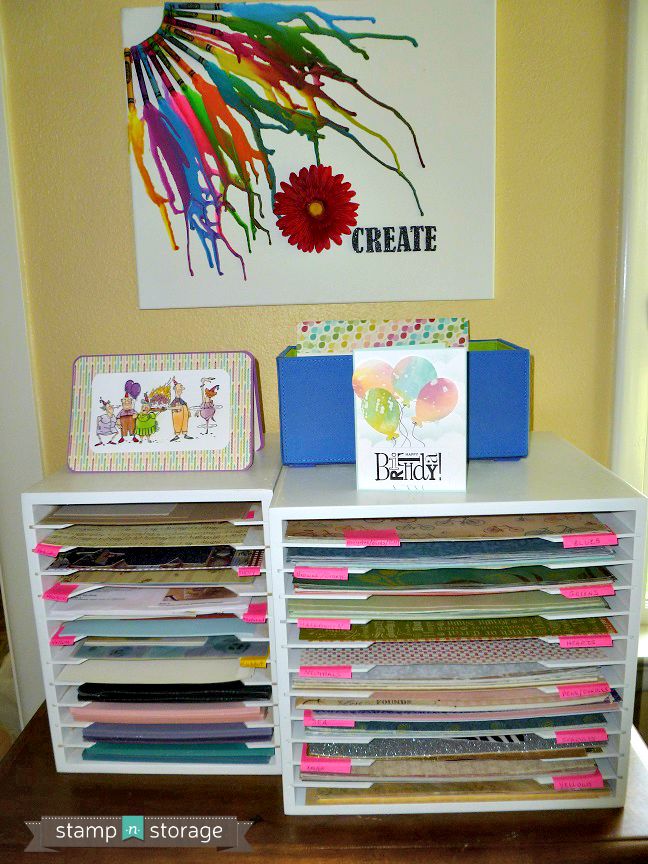 We love the beautiful crayon canvas artwork that Candy has displayed above her two Paper Holders. It really sparks creativity just by looking at it! The Paper Holder on the left holds 8.5" x 11" paper and the one on the right holds 12" x 12" paper.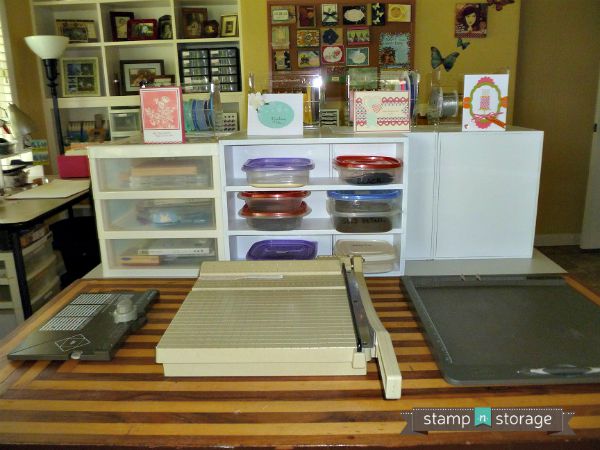 On her work station, Candy has a Standard Shelf with a back that holds her embossing powders. From where she sits she has a nice view of the rest of her lovely studio!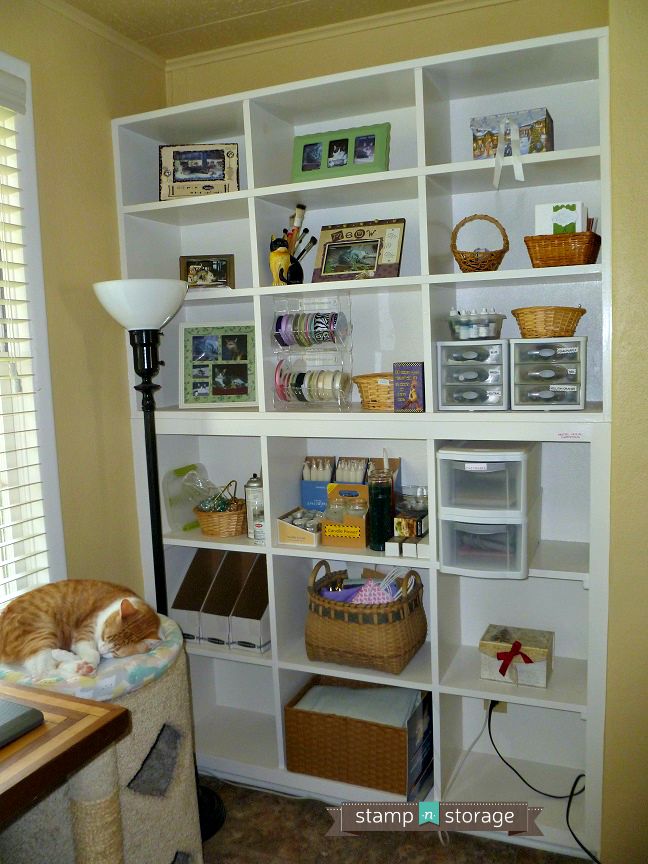 Candy has a delightful space where she now loves to spend hours crafting (and where her cats can lounge in the sunshine too)! She says, "Using Stamp-n-Storage products have definitely helped me be a better rubber stamper. Now my items are right at hand, I know what I have, and I can more readily find what I need for my projects!"
Thanks for your entry, Candy! Your studio is definitely one worth sharing.