Recently we read about how Stampin' Up!® is creating a movement to bring birthdays back.What that means, is that they want to make sure people are celebrated on their birthdays in a way that is more thoughtful than a Facebook greeting or a text message. Plus, it gives people an excuse to create even more cards that will bless even more people!
If you'd like to read more, click HERE.
Here's the stamp that Stampin' Up!® created for the #imbringingbirthdaysback movement:
We've asked many of our customers how they remember to send birthday cards to all the important people in their lives. Some have special birthday calendars, while others have a system with 12 folders that contains cards that are set aside for people who have birthdays coming up. There are many ways to remember how to send cards to all of the special people in your life!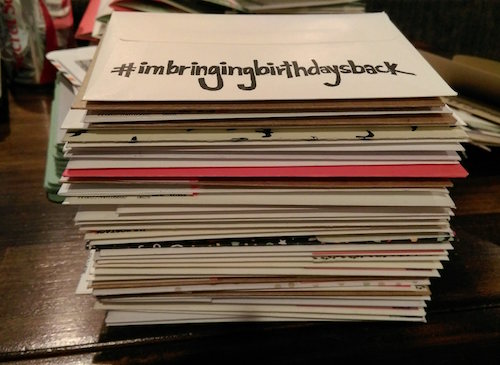 Stamp-n-Storage has Paper Holders that have 12 open slots in them. They would work great for setting aside ready-to-send cards for your friends and family throughout the year! Just designate each slot of the Paper Holder for one month to help you stay organized. We think it would be a wonderful way to join in on the #imbringingbirthdaysback movement!