Blendabilities(TM) Possibilities
Mary Fish of Stampin' Pretty blog, has helped us come up with some alternate uses for the Marker Holder for Blendabilities™. Since Stampin' Up (R) is not currently shipping these products, we wanted to give you some ideas for other practical craft supplies arrangements when using your Marker Holder for Blendabilities™. So far we've discovered that the possibilities are nearly endless!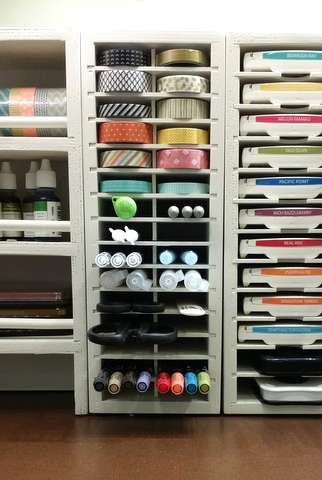 Here we see that Mary has placed the Washi Tape in the top compartments. There are two columns of 15 compartments, so that makes room for up to 30 rolls of your favorite colors. To make sure they don't slide to the back we are selling spacers which will easily keep the tapes towards the front. You can buy these spacers HERE.
By taking one shelf out you have room for small and medium lock down punches. All of the shelves in this Marker Holder are removable except for one near the middle, so you can make up to 14 double-height compartments. The punch spacers are visible in the compartments, and can purchased HERE.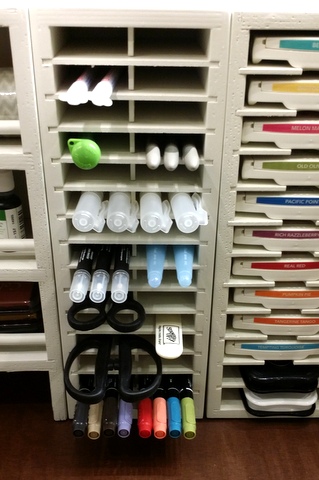 This arrangement shows the Marker Holder for Blendabilities™ without any Washi Tape being stored. Mary was excited to see that two pair of her scissors fit well and are in a convenient location while she crafts! Also shown here are her spritzers and other small tools that she likes to keep handy.
Have you come up with any great solutions like Mary has? Take a couple photos of how you've converted your Marker Holder for other uses and send them to us! We'd love to hear from you. Email the photos to contact@stampnstorage.com