April Studio Showcase Winner
Esther T is our April Studio Showcase winner. She has been using Stamp-n-Storage products since she started her crafting hobby and has loved the benefits of incorporating them into her craft room.
Have you recently renovated your studio with Stamp-n-Storage products? Would you like to win a $75 refund to take off of your next purchase? If so, just submit a few photos of your crafting space and email them to contact@stampnstorage.com. You could be our next winner!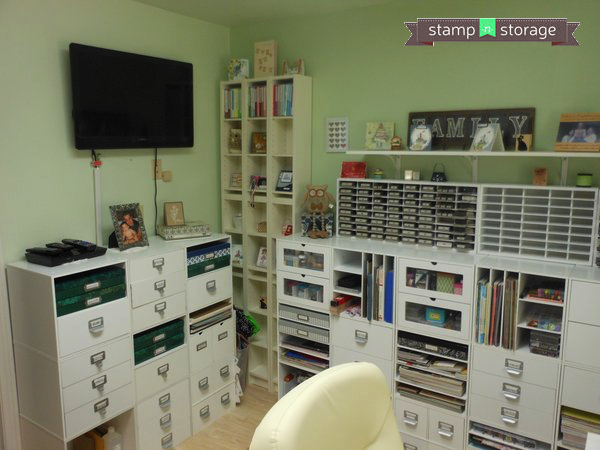 Esther's vibrant green walls create a feeling of happiness, as well as restfulness. We can just imagine the wonderful times she must have while crafting in this beautiful space!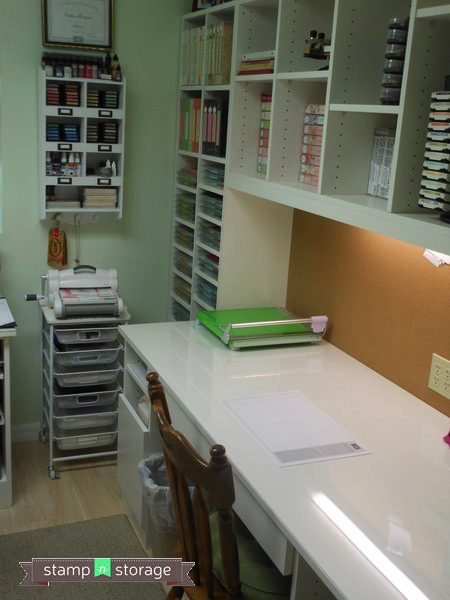 The contrast of the white cabinetry against the green walls provides an airy atmosphere throughout the space. You'll see in the following pictures that Esther even painted her Stamp-n-Storage products white so that they would match the shelving and desk.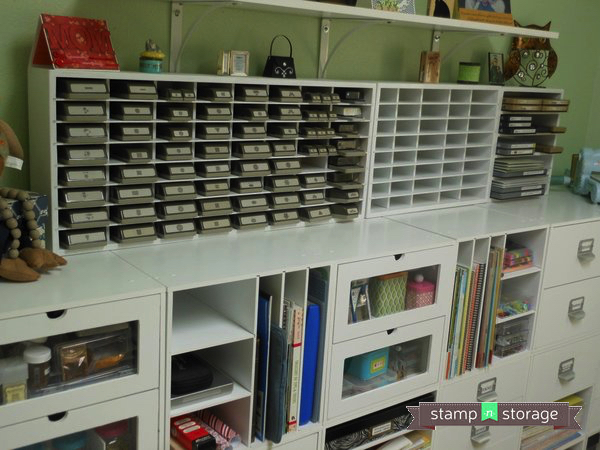 Esther has placed her two sizes of Lock-Down Punch Holders on top of her cabinets. The 64 compartment Large Lock-Down Punch Holder is to the left and the 40 compartment Standard Lock-Down Punch Holder is to the right. Further to the right is the Medium Die Shelf that fits at least 30 BigZ dies. This keeps all of the supplies off the desk top and easy to reach.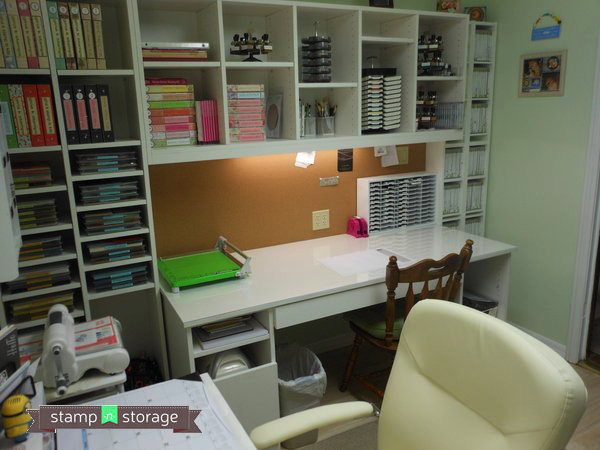 We see here on Esther's desk that she has the Standard 60 Ink Pad Holder to the right. Her ink pads remain all together, as well as within her line of vision. It's the perfect way for her to have all of her ink colors ready to go!
In the photo above is the 60 compartment Standard Ink Pad Holder which rests on Esther's desktop. She has all of her ink pads labeled by name! So organized!
Esther told us that she finds her Stamp-n-Storage products to be very space efficient, well constructed, and they allow her to have a place where her crafting materials are all at her finger-tips for ease of access. Congrats, Esther, for creating a space that is functional and really allows you to unleash your creativity!