April Studio Showcase Winner - Esther T
Esther T is our April Studio Showcase winner! She has been using Stamp-n-Storage products since she started her crafting hobby and loves the products.
Have you recently transformed your craft room studio with Stamp-n-Storage products? Are you interested in winning a $75 refund to go towards your next purchase? If so, all you have to do is submit a few photos of your studio and email them to contact@stampnstorage.com. You could be our next winner!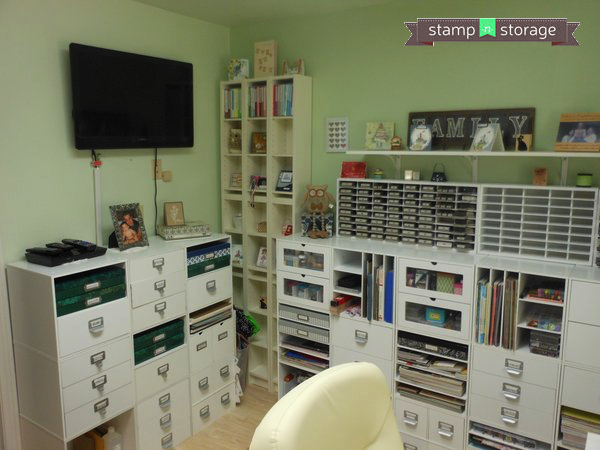 The shade of green on her walls makes us happy when we look at the pictures of her room! It's cheerful, as well as restful. We can only imagine the joy Esther must have as she spends her time paper crafting in the studio!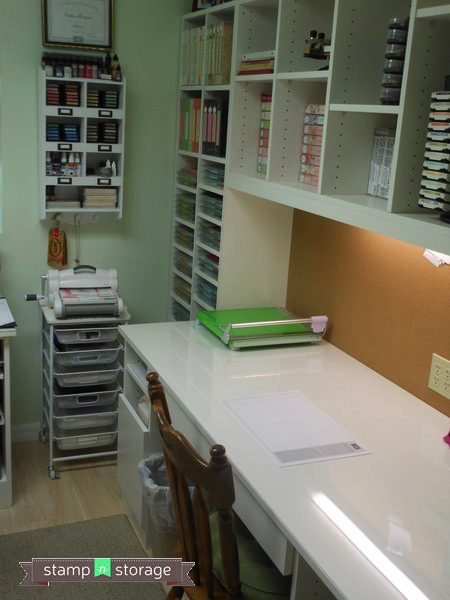 The green is a nice contrast to the white cabinets, the desk, and even her Stamp-n-Storage products which she painted white to match. This creates a crisp and streamlined look throughout her craft room.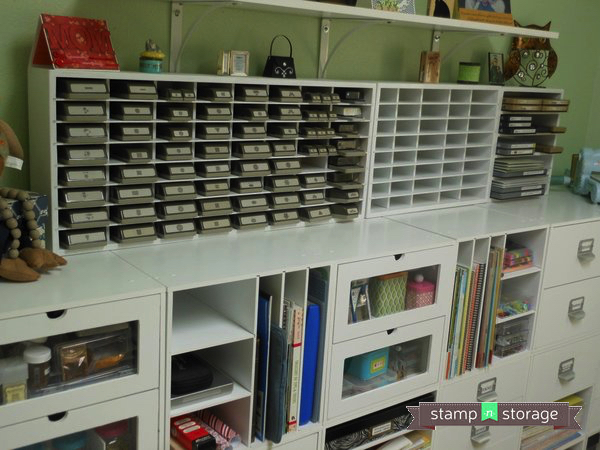 Above the counter top is the Stamp-n-Storage Large Lock Down Punch Holder which has 64 compartments. To the right is a 40 compartment Standard Lock-Down Punch Holder which gives Esther so much more space for storing other punches. Furthermore, she has a Medium Die Shelf filled with her BigZ dies. This keeps her dies organized neatly and always easy to find!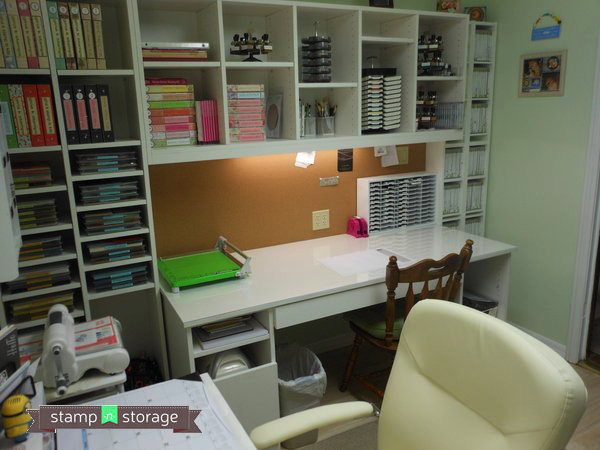 Above, we see that on Esther's desk she has a 60 Standard Ink Pad Holder on the right side. There's plenty of room for her to store her ink pads and the unit doesn't take up much of her counter top space.
The picture above shows a close-up view of the 60 Standard Ink Pad Holder. Esther even has all of her ink pads categorized with name labels. So organized!
Esther says that she finds that her Stamp-n-Storage products are very space efficient, well constructed, and they help keep her crafting materials at her fingertips for ease of access. Congrats, Esther, on creating a studio that suites your crafting needs and helps you unleash your creativity!