Announcing the BIG winners!
Our Roll Top Desk giveaway is complete, and the winners have been chosen!
We've never had a contest like this, and it has been REALLY fun!
Grand Prize Winner
The grand prize winner of the Roll Top Desk is Maria V, of San Bernadino, CA. It was so fun to talk to her on the phone and hear her excitement!
But the conversation didn't start out like I had planned, and I have to share this story with you! When I called Maria to tell her about her prize, the conversation went something like this:
Brett: I'm from Stamp-n-Storage, and I have some great news to share with you! Do you remember signing up for our Roll Top Desk giveaway contest?
Maria: (Pause) Um ... no.
Brett: I see here that you followed a link on Facebook and completed our entry form.
Maria: (another pause) I don't remember that.
Brett: (at this point I'm getting a little worried ... what do I do next???!!! I read the address that had been submitted ...) Is this your home address?
Maria: Yes.
Brett: Are you involved with paper crafting and scrapbooking?
Maria: Yes.
Brett: Well ... congratulations! You've won a Roll Top Desk, valued at $2,200!
Maria: REALLY???!!! Wow!
The conversation continued, and I asked her to look through the options on the desk and call me back with the configuration she wanted.
When she called back she had done some investigating and found out it was her granddaughter that had entered her in the contest!
First Place Winners
We also had three first-place winners, and they're all excited to receive their prize packages!
- Kelly B of San Bernadino, CA (Yes - two randomly chosen winners from the same city...)
- Francine T of Colorado Springs, CO
- Lora Z of Valparaiso, IN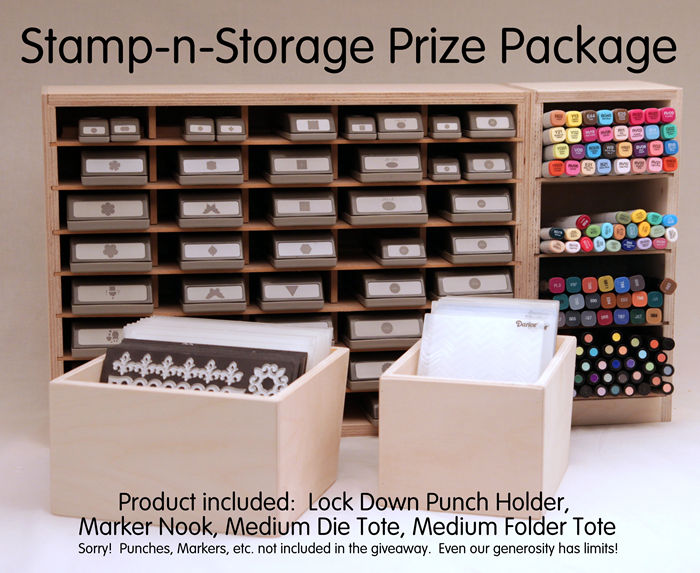 A HUGE congratulations to our winners, and a big thank you to everyone who entered our contest!